Supplements - Hair & Nails
Supplements For Healthier Hair & Nails
Regular price
Sale price
€40,00
Unit price
per
Sale
Sold out
Healthier hair and nails.
This multivitamin complex (Vitamin B1, B2, B3, B5, B6, B12, C, D3, E) combined with L-Cystine, Matcha and Biotin is specifically designed to improve the strength, volume and shine of your hair and nails.
✴ No preservatives
✴ No Colorants
✴ No Gluten
✴ No Allergens
✴ Non-GMO
✴ No sugar
⋆ L-CYSTINE + BIOTIN + IRON + MAGNESIUM ⋆
It is key to add important nutrients, vitamins and minerals to your healthy diet and to strengthen your hair and nails. These essential vitamins and minerals will help to grow thicker stronger hair and nails, increase hair's shine and luster, follicle hair growth and reduce hair loss.
⋆ CEREMONIAL GRADE MATCHA: HEALTHIER HAIR AND NAILS ⋆
Matcha green tea is rich in catechins, which help to reduce dihydrotestosterone (DTH), responsible for hair loss. It is good for hair health as it helps in controlling split ends, softens the hair and strengthens hair roots (follicle). Matcha will also strengthen your nails and eliminate yellow discoloring.
⋆ IT'S TIME TO IMPROVE YOUR HAIR & NAILS ⋆
WEEK 2 
NAIL DISCOLOURATION REDUCTION
Calcium deficiency may lead to dry, broken and bittle nails. Ensuring you are getting enough calcium will keep your nails strong, less prone to dryness and to return back to its natural color.
WEEK 4 
HAIR LOSS REDUCTION, BETTER HYDRATION
Up to 50% of adults report hair loss by the time they reach 50 years of age. The key to a healthy hair starts from within. Magnesium is an anti-stress mineral, which is a major component in hair loss. By week 4, hair loss is reduced and your hair hydration starts to visibly improve.
WEEK 6 
STRONGER, HEALTHIER NAILS FROM THE ROOT
Biotin and minerals will reduce brittle and splitting nails. Cuticles will be healthier and will prevent your nails from infections. A healthy cuticle is key to enable stronger growth of your nails.
MONTH 2 
VOLUME AND SHINE HAIR BOOST
For best results, you should be consistent in your intake. By now, hair thickness and shine are noticeably increased and the overall hair health is enhanced.
⋆ CAN I MIX THE SUPPLEMENTS? ⋆
You can combine Matcha & CO supplements with each other. If you want to combine it with other supplements, it's recommended to ask your doctor.
⋆ HOW MANY CAPSULES PER DAY DO I HAVE TO TAKE? ⋆
Only 2 capsules per day.
⋆ WHEN DO I HAVE TO TAKE THE CAPSULES? ⋆
It's recommended to take 2 capsules, together with your breakfast, in the morning.
⋆ KEY INGREDIENTS ⋆
5 fundamental ingredients to renew your hair and nails. Only ingredients you really need.
L-CYSTINE - L-Cystine(l-Cys) is a non-essential amino acid and thus is one of the building blocks required for the synthesis of proteins. L-Cystine may help to reduce hair loss and strengthen hair abilities.
VITAMINS - Contains vitamins B1, B2, B3, B5, B6, B12, C, D3, E, key vitamins for healthy hair and nails.
CEREMONIAL GRADE MATCHA
-
137x more antioxidant than regular green tea. The EGCG catechin helps to slow down the ageing process by preventing cell oxidation, inhibiting mutation of DNA and helping to restore damaged DNA.
BIOTIN - Biotin is good for not only hair growth but also almost anything to do with good hair. From growing long hair to helping reduce shedding, it is widely known that you can use biotin to thicken your hair, make it grow long and look shinier. Biotin daily intake should not exceed 300 µg.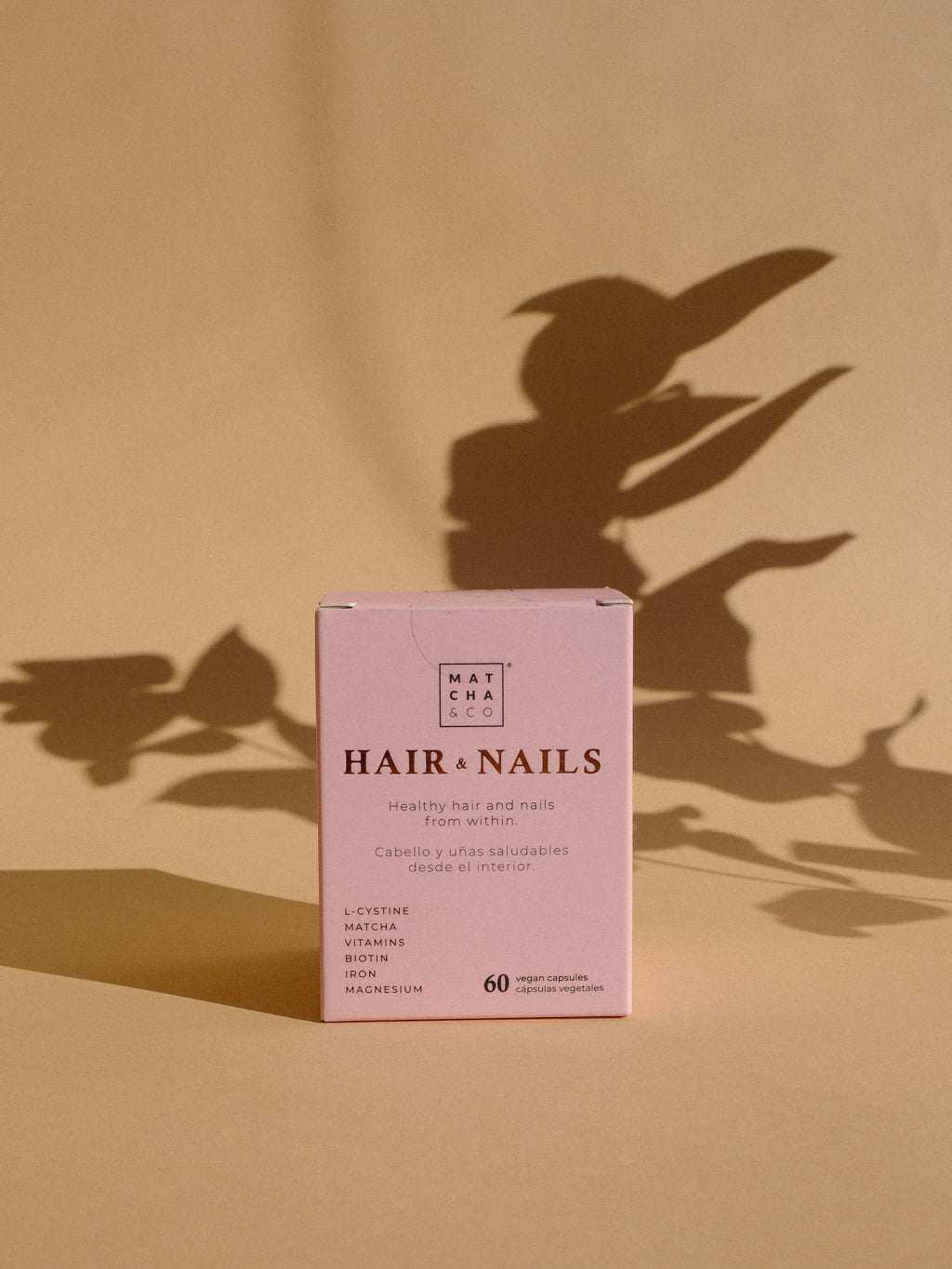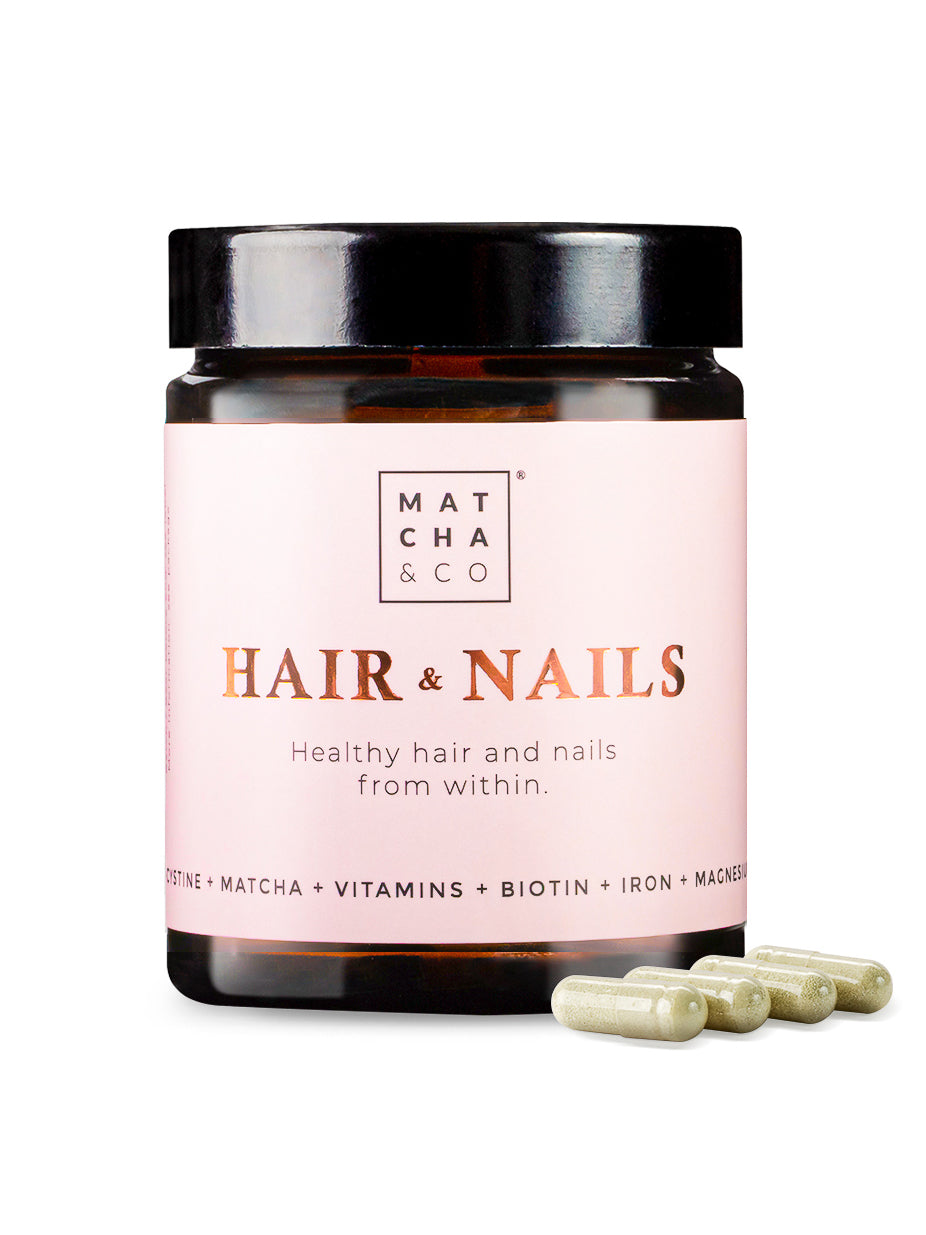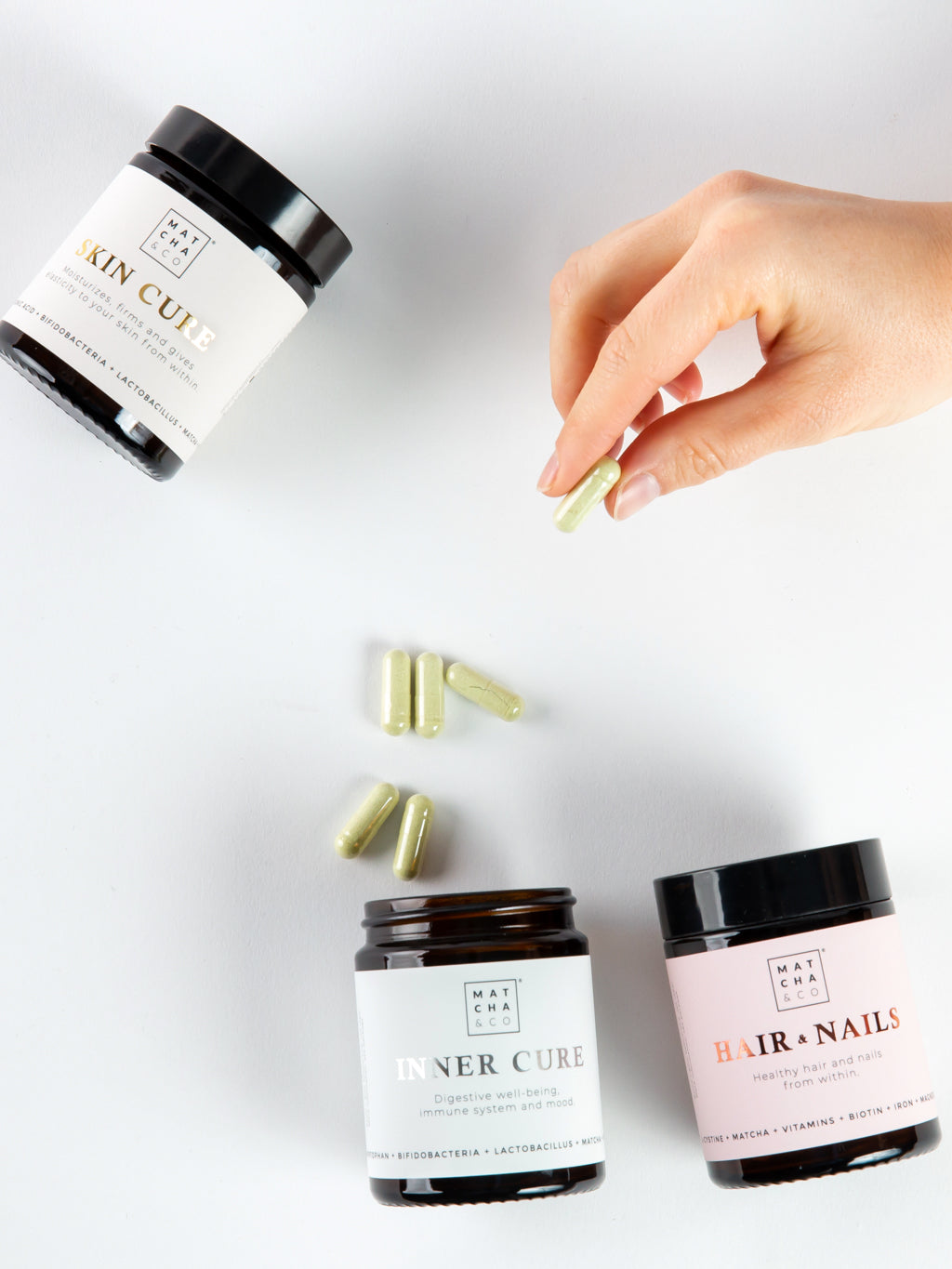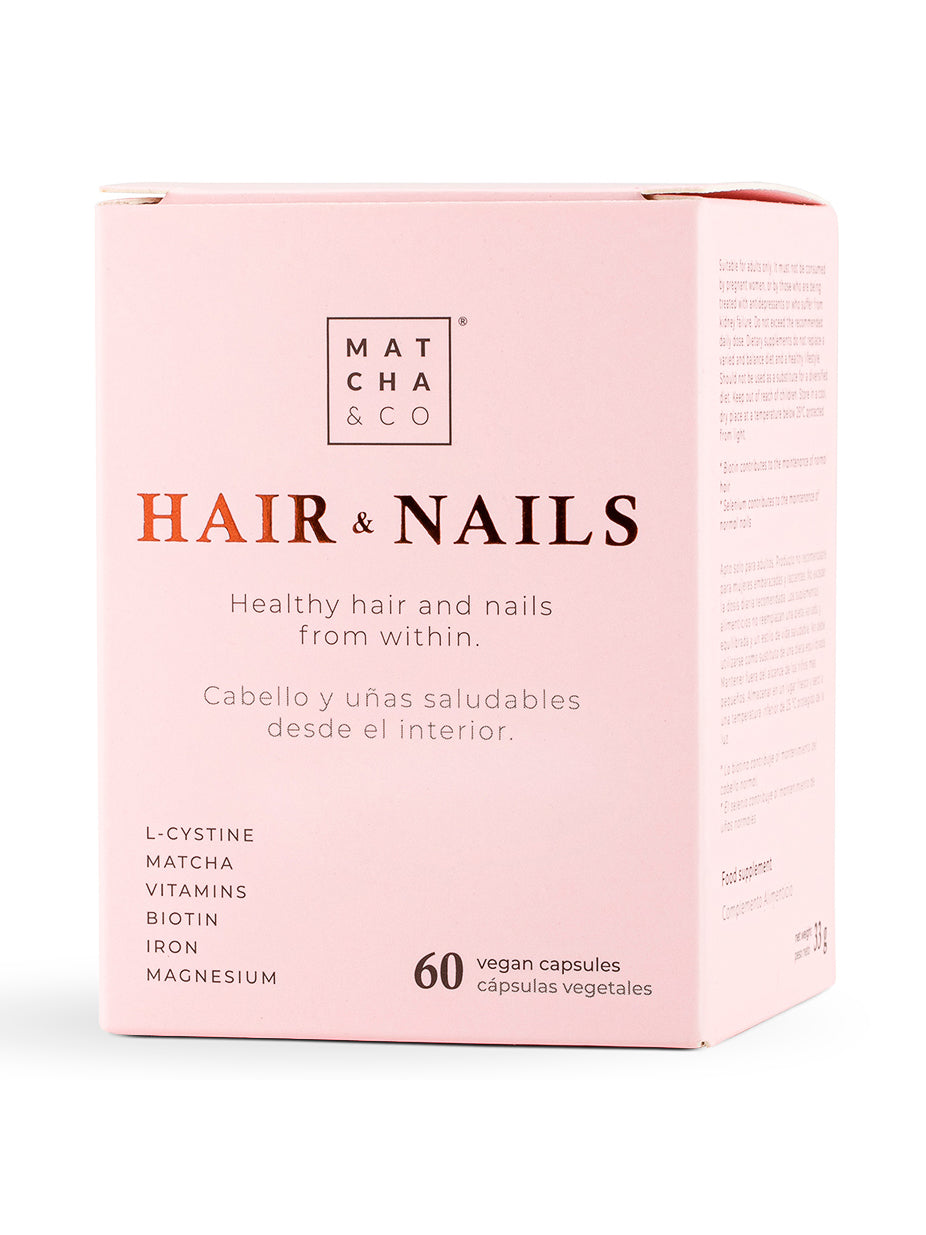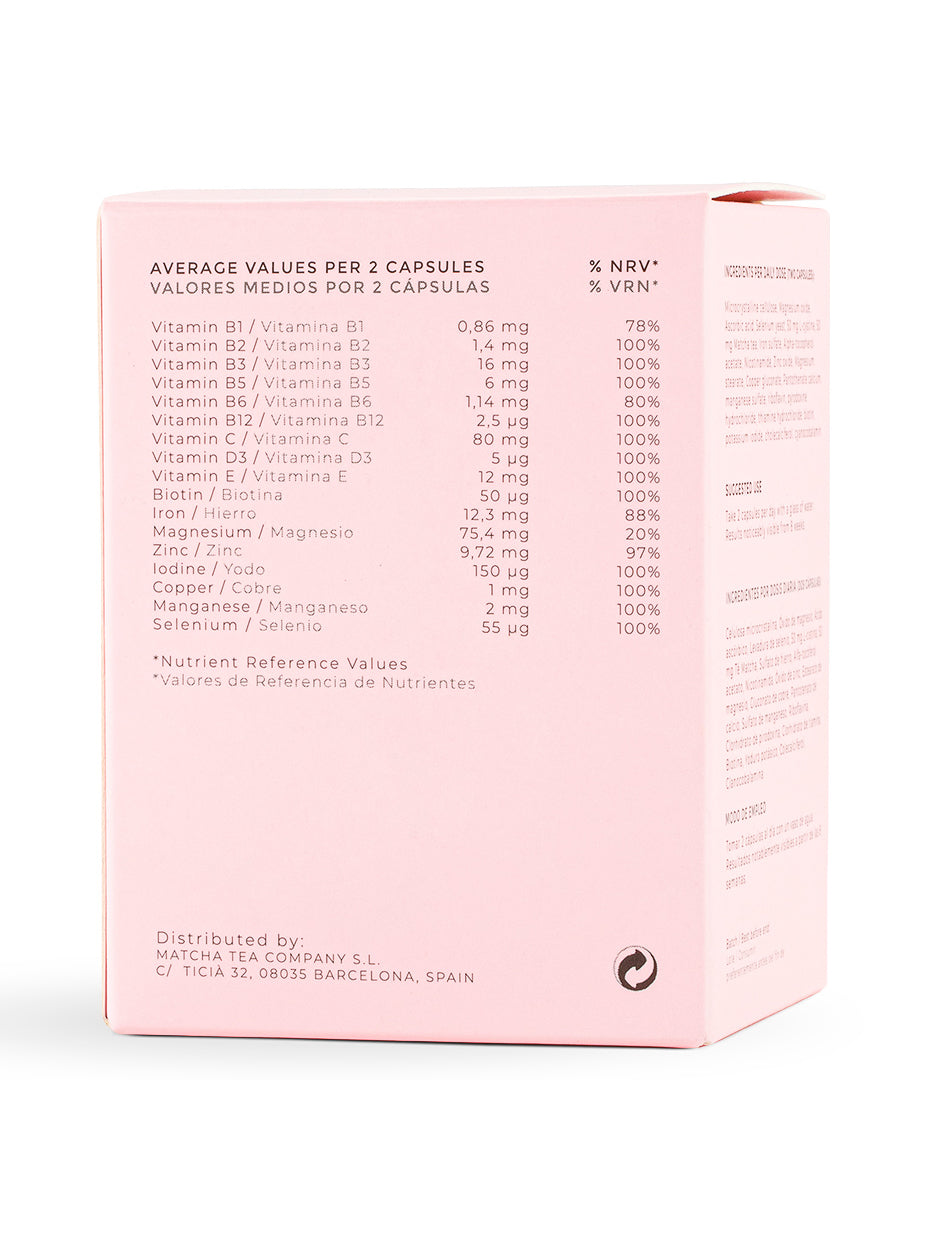 ❊ Matcha & CO ❊
Matcha - a (magical?) source of energy that increases concentration and well-being.
Matcha is rich in antioxidants and contains Vitamins A, B2, C, D, E, K, potassium, proteins, calcium, iron and chlorophyll, components that protect against the harmful free radicals responsible for aging and tissue deterioration.
Explore Matcha & CO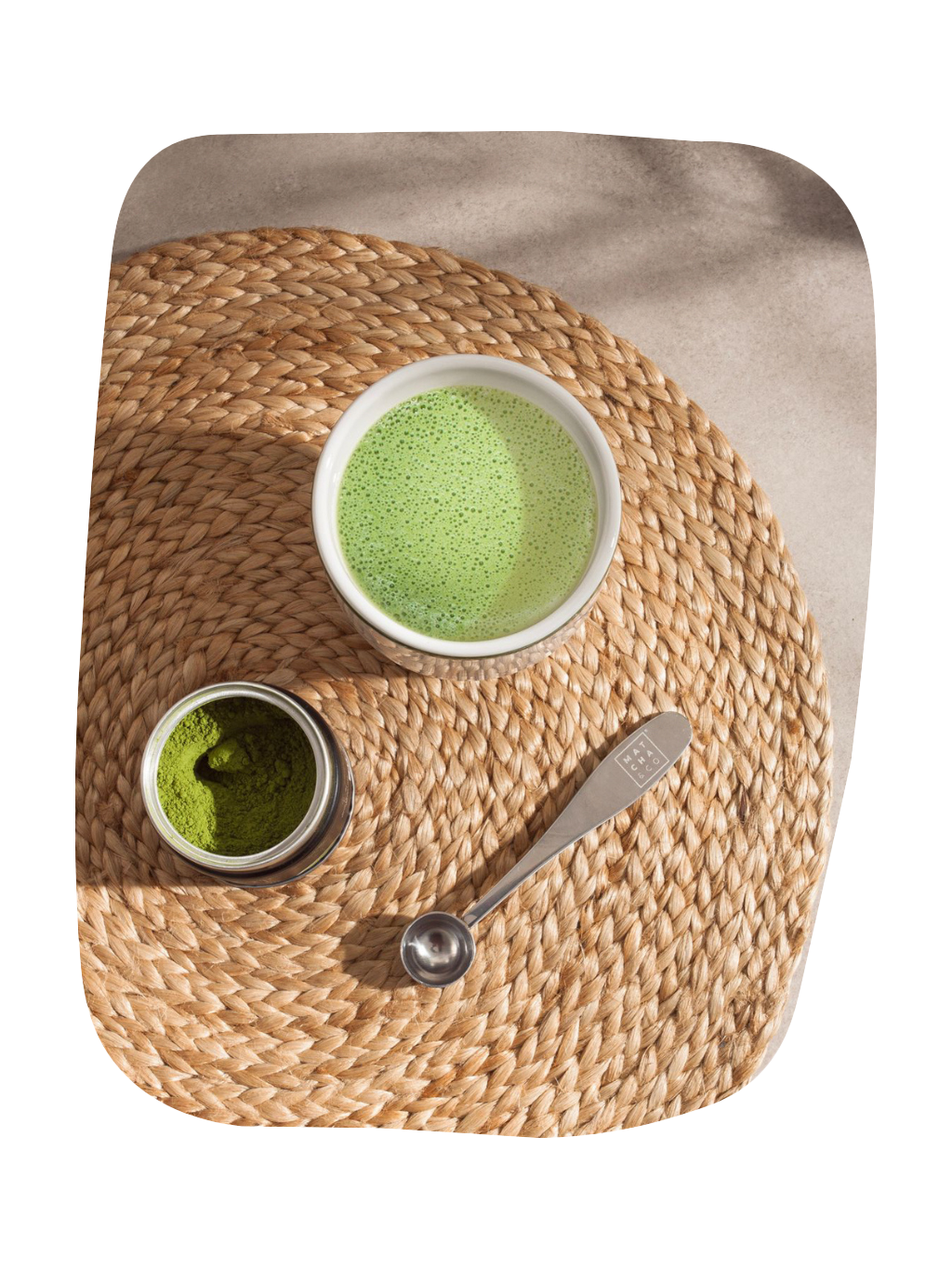 Every day the community of matcha lovers grows not only in Japan but is also becoming popular in the West. Matcha & CO wants to help consolidate this trend and help you discover all the magical properties of this antioxidant rich tea.
⥈
Matcha & CO works closely with Japanese farmers who have been growing and producing matcha for more than five generations and who have adapted their plantations to produce in an ecological and sustainable way.
⥈
Matcha in Japanese means "tea powder", this powder comes from the best ground green tea leaves.
All varieties of Matcha & CO matcha tea are Ceremonial grade, 100% organic in origin, without sugar, without preservatives or dyes, without gluten and suitable for vegans.
It's grown in the Uji region, Kyoto, a region specially dedicated to planting and harvesting green tea; where they have been producing the best qualities of matcha tea for hundreds of years.