Supplements - Inner Cure
Supplements Improving Digestive System, Immune System & Mood
Regular price
Sale price
€45,00
Unit price
per
Sale
Sold out
Improves your gut health, shows on your mood.
Developed with experts in the microbiome, Inner Cure aims to improve the digestive system, the immune system and mood. This hardworking formula brings instant relief to uncomfortable stomachs and helps achieve long-term bloat reduction.
✴ 50 billion CFU of probiotics
✴ No preservatives
✴ No Colorants
✴ No Gluten
✴ No Allergens
✴ Non-GMO
✴ No sugar
⋆ PROBIOTICS FOR YOUR GUT HEALTH ⋆
Contains 5 probiotic strains with 50 billion CFU (Colony-forming unit) per gram of probiotics specific for the improvement of the gut microbiome. Matcha, a natural prebiotic, will enable to get the most out of the live colonies that you will ingest.
⋆ HAPPY GUT HAPPY YOU ⋆
The gut microbiome is like a second brain that affects our phisical and emotional state. A balanced microbiota is key as it directly infuences your overall mood.
⋆ IT'S TIME TO FEEL BETTER ⋆
WEEK 1 
POSITIVE CHANGES IN YOUR DIGESTIVE TRACT
You may feel that your gut is full or bloated which means that the probiotics are doing its job. Probiotics are like vaccines that may counter react at first but will improve your microbiota in the long term.

WEEK 2 
IMPROVES INTESTINAL TRANSIT
Intestinal transit is decreased, intestinal inflammation is lowered and inflammatory response is reduced. Your gut bloating may improve.
WEEK 6 
STRONGER IMMUNE SYSTEM AND BETTER MOOD
Your immune system is reinforced thanks to the benefits of the prebiotics and probiotics. Your gut microbioma is richer, has better probiotics and less pathogenic bacteria. Your second brain is healthier, and you will feel it in your mood.
MONTH 2 
BALANCED MICROBIOTA
Your gut microbiota is balanced and your inmune system improved which will contribute to a better mood. Your gut bloating may be gone.
⋆ CAN I MIX THE SUPPLEMENTS? ⋆
You can combine Matcha & CO supplements with each other. If you want to combine it with other supplements, it's recommended to ask your doctor.
⋆ HOW MANY CAPSULES PER DAY DO I HAVE TO TAKE? ⋆
Only 2 capsules per day.
⋆ WHEN DO I HAVE TO TAKE THE CAPSULES? ⋆
It's recommended to take 2 capsules, together with your breakfast, in the morning.
⋆ KEY INGREDIENTS ⋆
Only ingredients you really need.
L-TRYPTOPHAN - Behaviour and mood is influenced by our gut microbiota. L-Tryptophan is an amino acid that helps to liberate serotonin, a chemical in the brain that can affect mood.
L-tryptophan is considered an essential amino acid because our bodies can't make it.
PROBIOTICS (BILAVIT®) - Powerful probiotic mix of Bifidobacterium lactis, Bifidobacterium breve CNCM I-4035, Bifidobacterium longum ES1, Lactobacillus paracasei CNCM I-4034 and Lactobacillus rhamnosus.
The probiotic mix has a potency of at least 50 billion (5.0E+10) CFU (Colony Forming Units) per gram.
CEREMONIAL GRADE MATCHA
-
137x more antioxidant than regular green tea. The EGCG catechin helps to slow down the ageing process by preventing cell oxidation, inhibiting mutation of DNA and helping to restore damaged DNA.
VITAMIN B6
- Also known as pyridoxine, may improve mood and reduce symptoms of depression. It also helps your digestive system process the protein that you eat.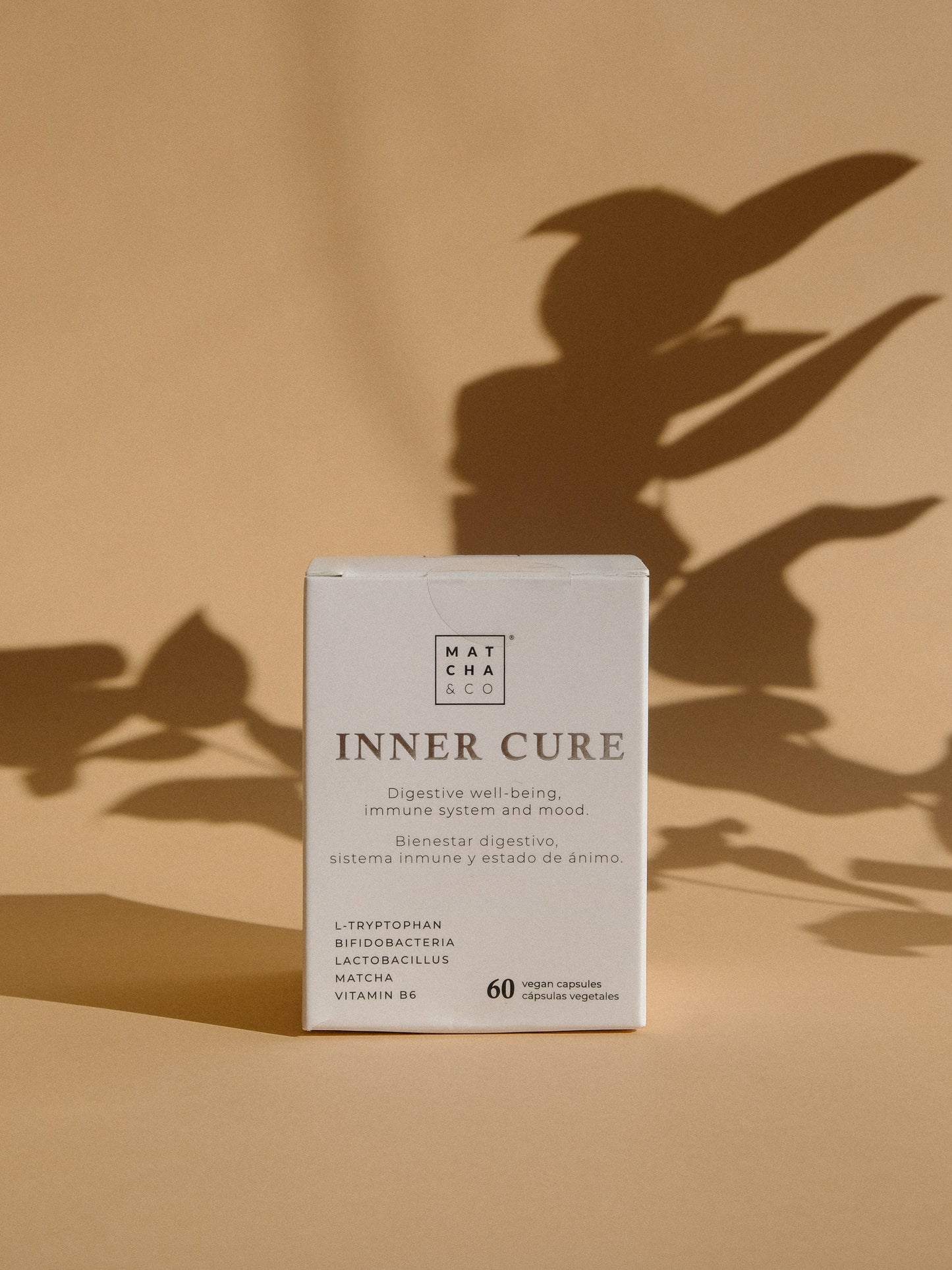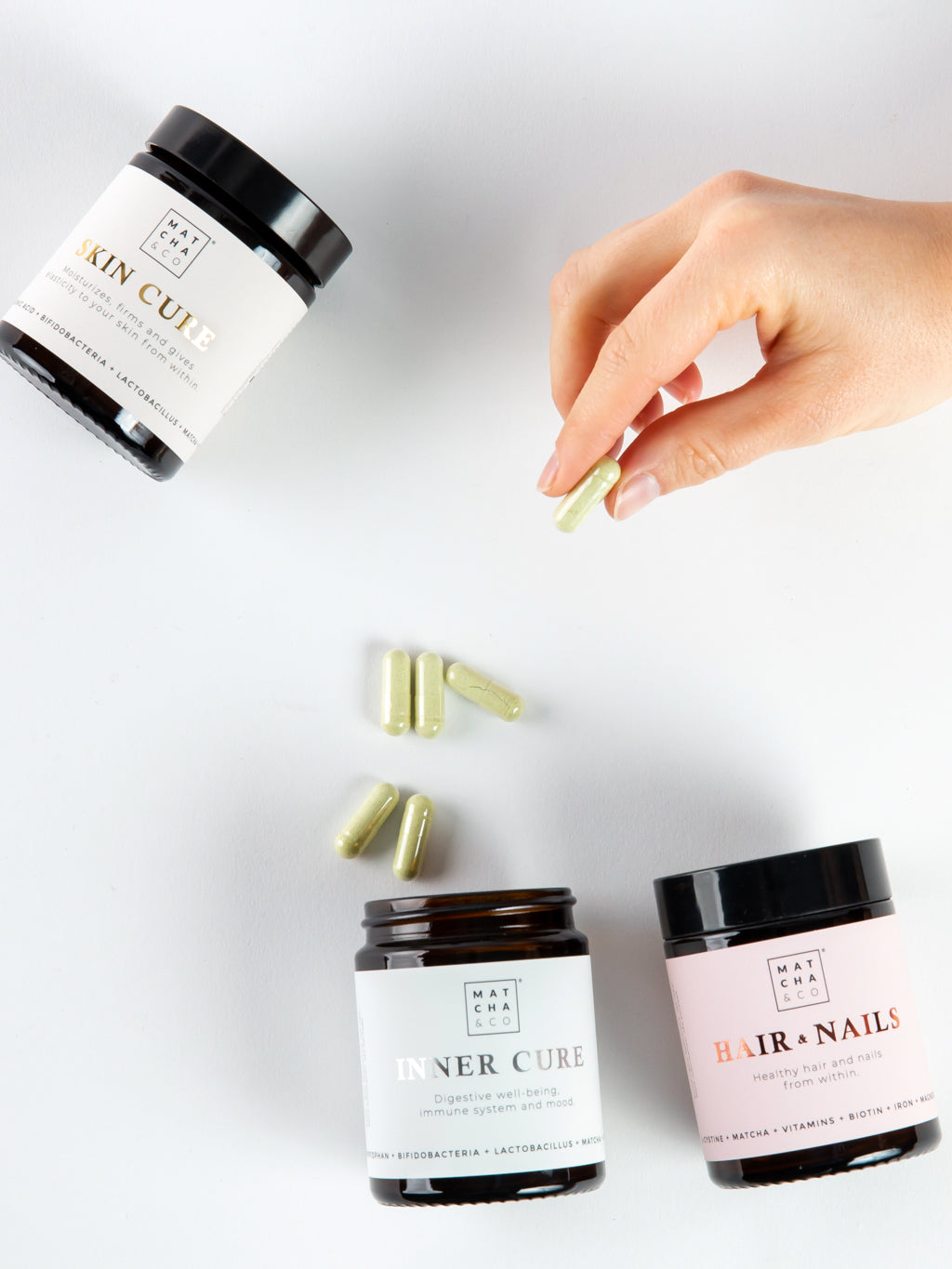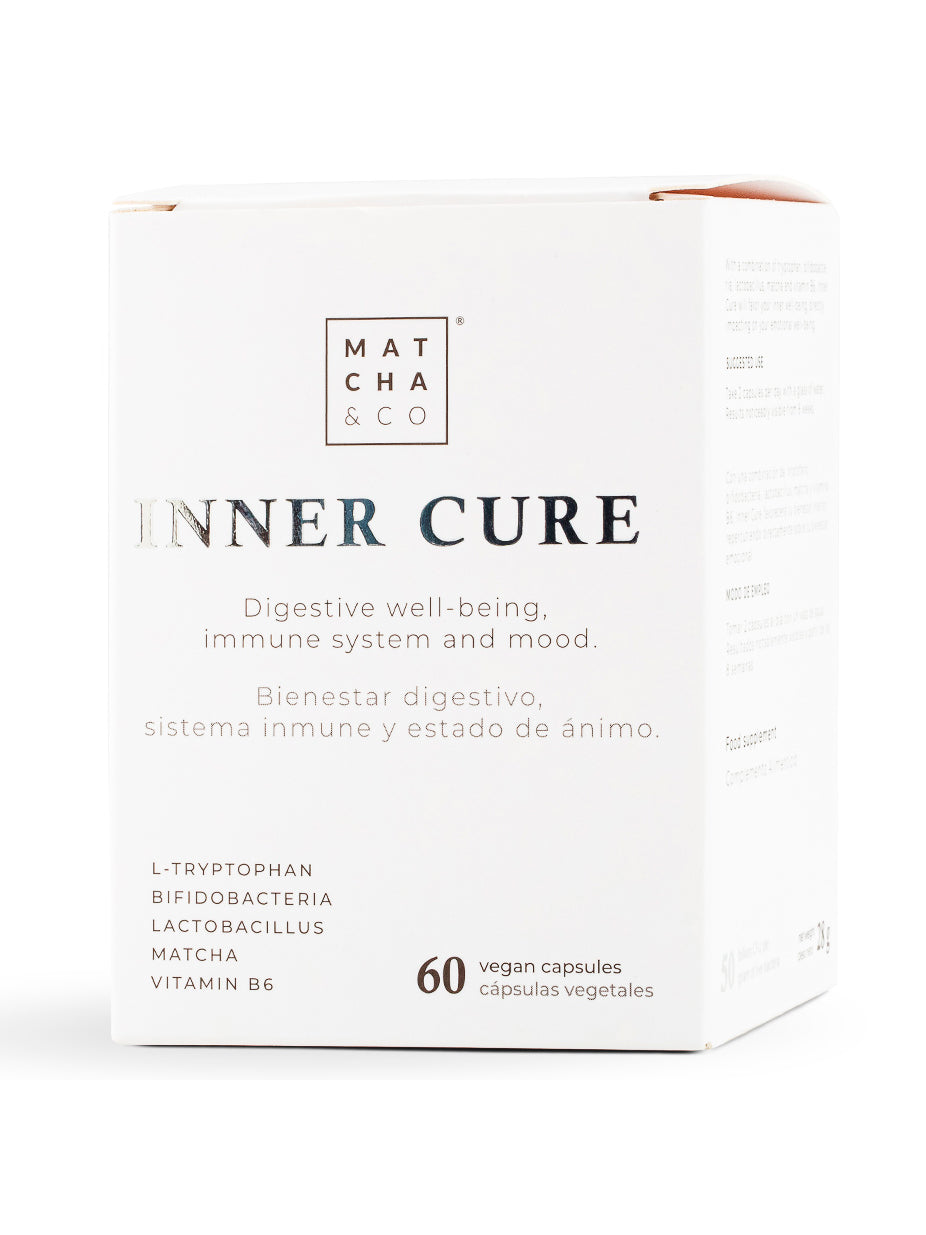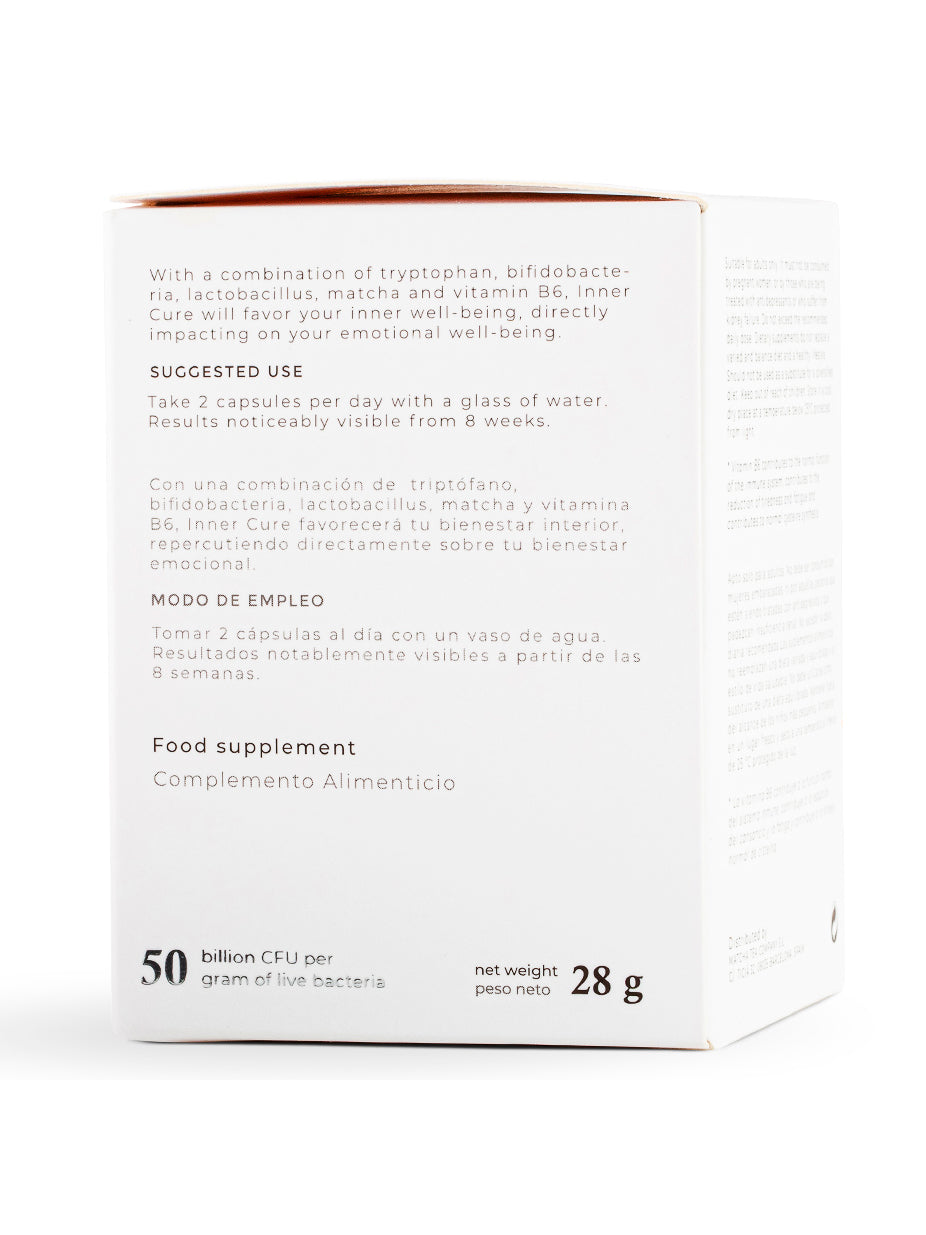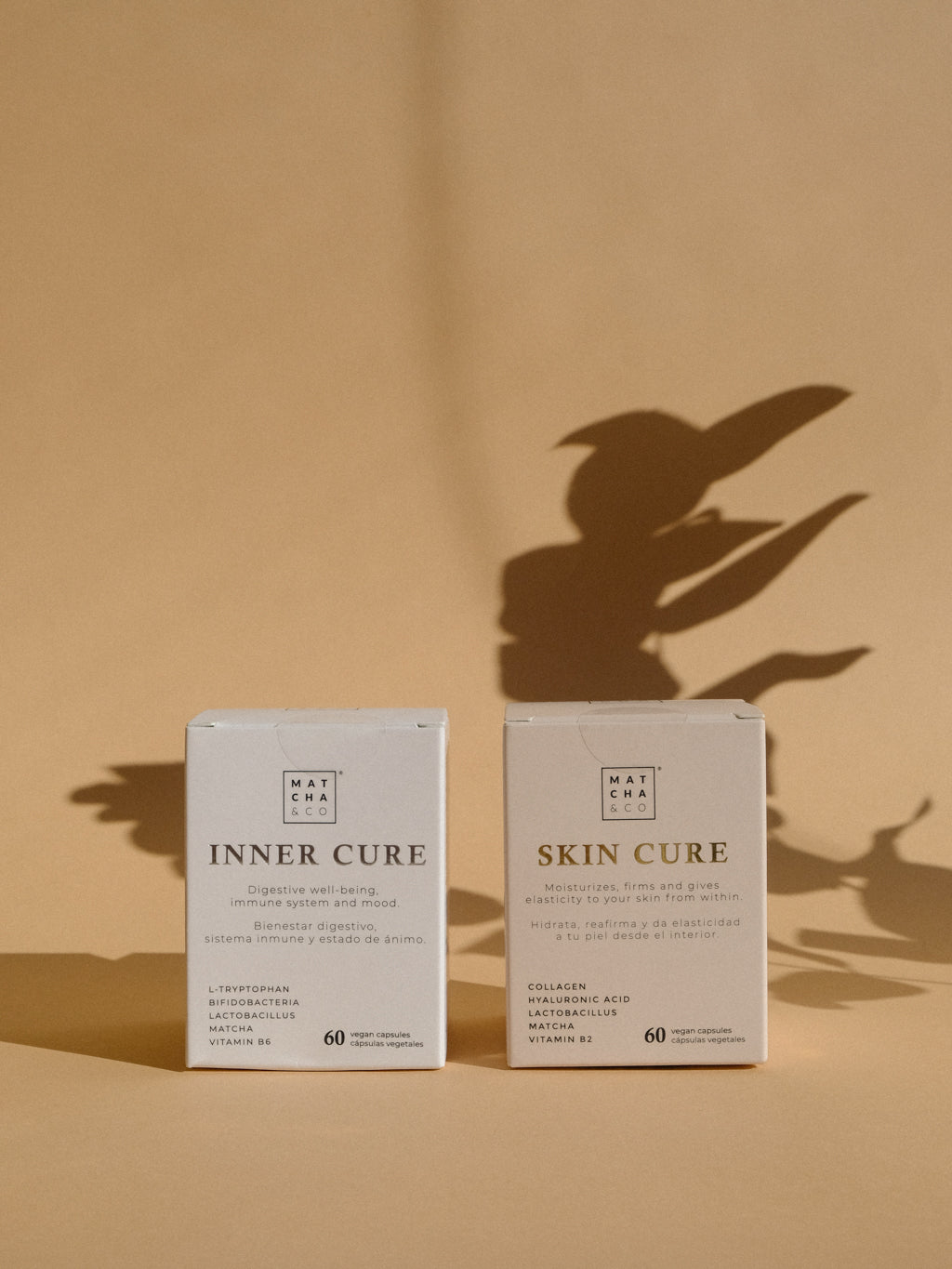 ❊ Matcha & CO ❊
Matcha - a (magical?) source of energy that increases concentration and well-being.
Matcha is rich in antioxidants and contains Vitamins A, B2, C, D, E, K, potassium, proteins, calcium, iron and chlorophyll, components that protect against the harmful free radicals responsible for aging and tissue deterioration.
Explore Matcha & CO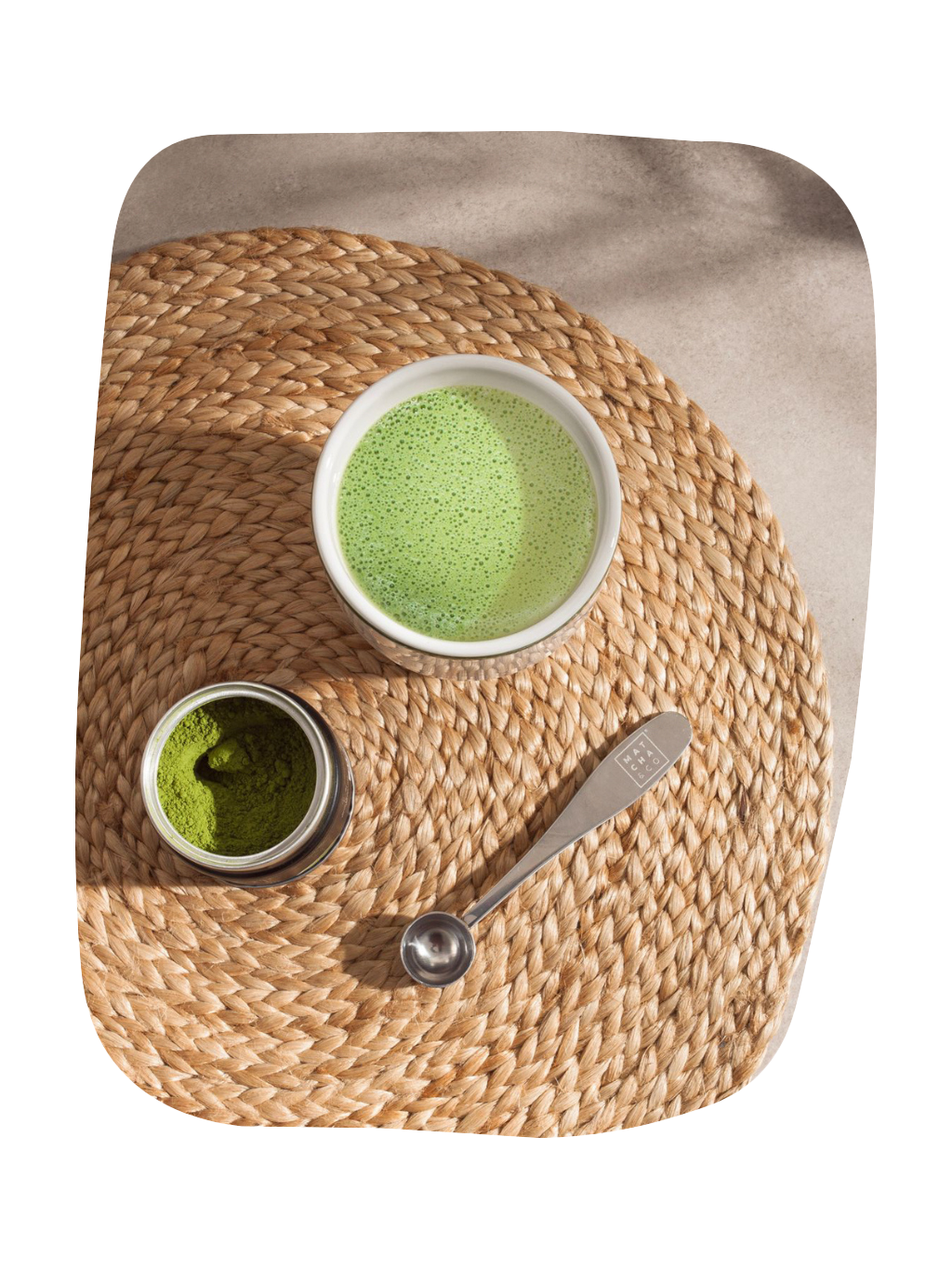 Every day the community of matcha lovers grows not only in Japan but is also becoming popular in the West. Matcha & CO wants to help consolidate this trend and help you discover all the magical properties of this antioxidant rich tea.
⥈
Matcha & CO works closely with Japanese farmers who have been growing and producing matcha for more than five generations and who have adapted their plantations to produce in an ecological and sustainable way.
⥈
Matcha in Japanese means "tea powder", this powder comes from the best ground green tea leaves.
All varieties of Matcha & CO matcha tea are Ceremonial grade, 100% organic in origin, without sugar, without preservatives or dyes, without gluten and suitable for vegans.
It's grown in the Uji region, Kyoto, a region specially dedicated to planting and harvesting green tea; where they have been producing the best qualities of matcha tea for hundreds of years.