Natural Incense FREYR - Abundance Spell
Natural Incense With Hemp Stem, Leaves & Leaf Oil
Regular price
€0,00
Sale price
€7,00
Unit price
per
Sale
Sold out
The product comes with labels in English.
This natural hand-made hemp and wild herbs incense are for those who aspire to improve their financial situation. This magical aroma of incense and a simple meditation/affirmation ritual might help to:
Open paths and opportunities for financial flows to reach your home;
Realize your plans and aspiration related to the material plane of life;
Plan finance, income, and expense;
Protect your material wealth from unexpected expenses and jealousy of others.
In Norse mythology, the god Freyr is the patron of fertility and prosperity. With the help of Freyr, this incense will allow you to plant a seed of the magical money tree that brings financial wealth to your home.
The magic fragrance of this natural incense is based on old customs, traditions, and the belief that every plant or aroma has its own magical purpose. It is like a witch recipe, where each plant and its aroma have a very important aromatherapeutic and magic function.
♪ Head notes: -
♪ Heart note: Hemp
♪ Base note: -
Hemp: the aromatic part of the incense stick is made of hemp stem, leaves, and hemp leaf oil. The scent is rich, piercing, and exotic. This incense has a soothing and relaxing effect, it helps to overcome the feeling of restraint, negativity, and stimulates creativity and fantasy. In medicine hemp oil is considered an antidepressant, it also used to be applied as an anti-inflammatory measure. Since ancient times hemp seeds have symbolised harvest and abundance.
To create their natural incense Smells Like Spells do not use charcoal, unnatural glue, fragrance oils, or other additional materials (eg wooden sticks). Their incense is made exclusively from natural plants, which are reinforced with a special natural binder made from guar gum.
Incense burning: These incense sticks have no wooden stick, so we recommend filling a small jar with a non-combustible material (such as salt or sand) that you can put in the incense stick.
Burning time: The package contains 5 sticks. Each stick burns approx. 30 – 40 minutes. The burning duration might differ depending on temperature, humidity, and changes in the atmosphere.
Together with these incense sticks, you will get a detailed description of the incense purpose; a description of the aromatherapeutic effect of the incense and its compounds (plants and herbs); a simple magical ritual for revealing the power of this incense. With the help of Freyr, this incense will allow to plant a seed of the magical money tree that brings financial wealth to your home.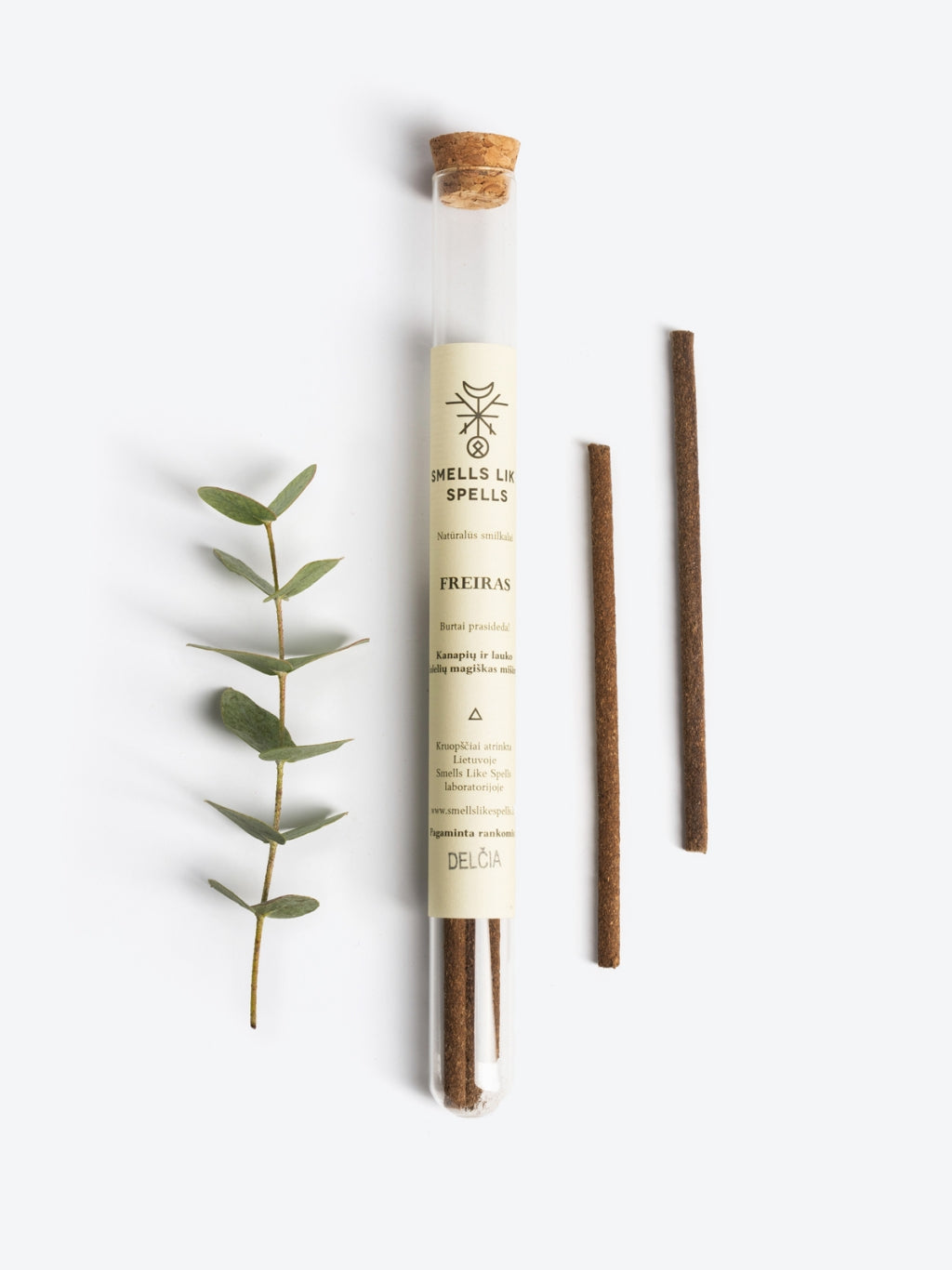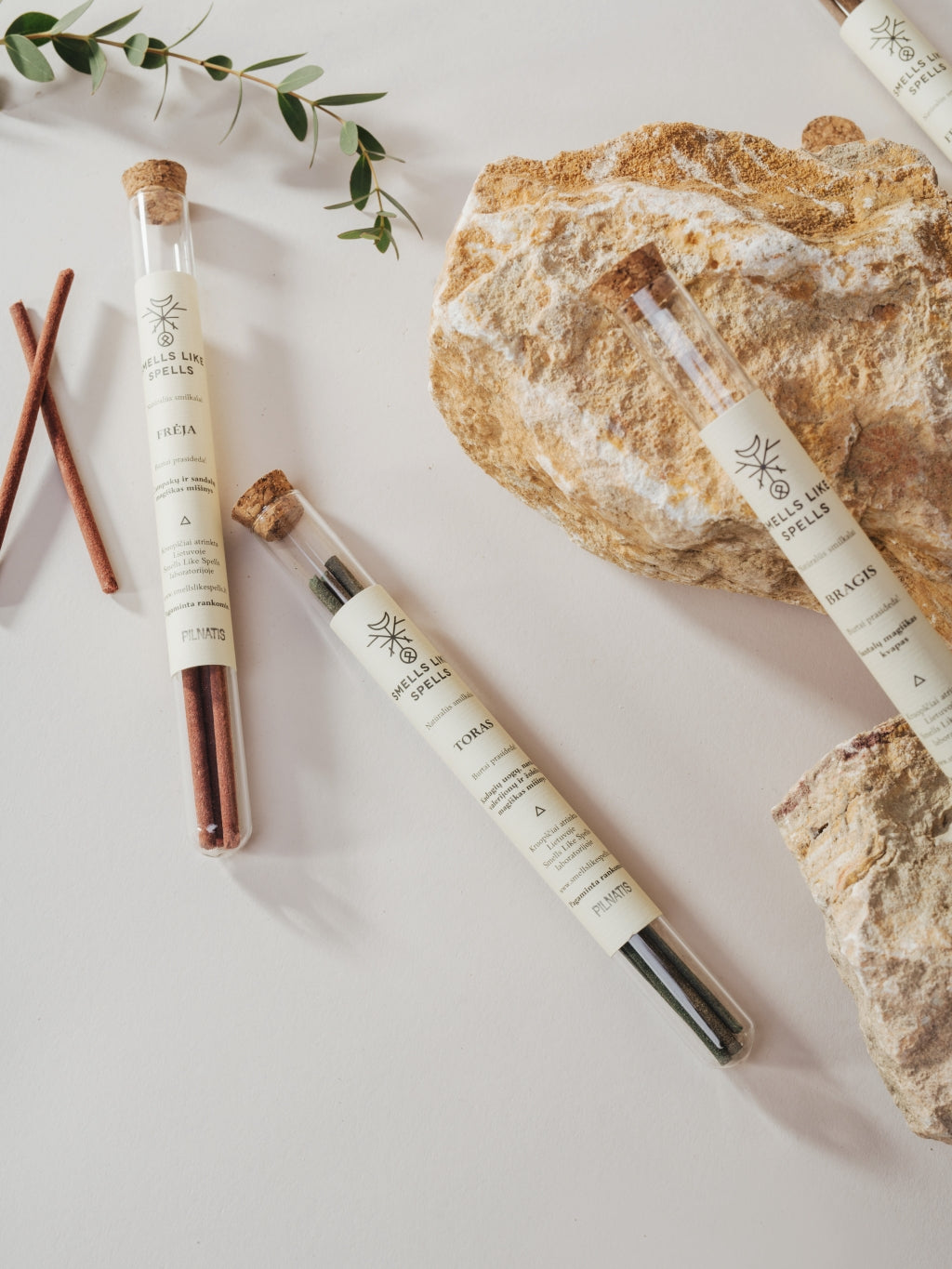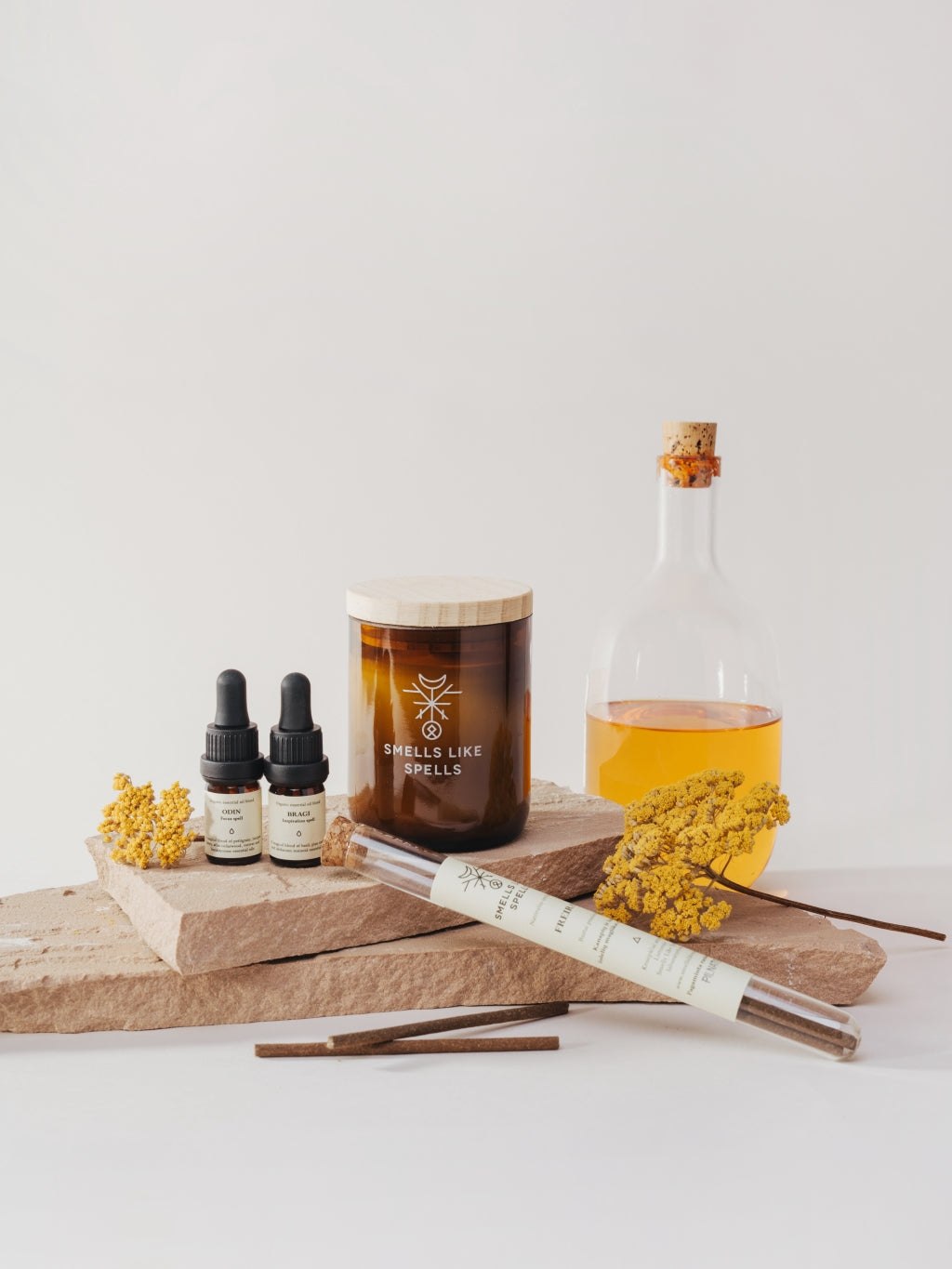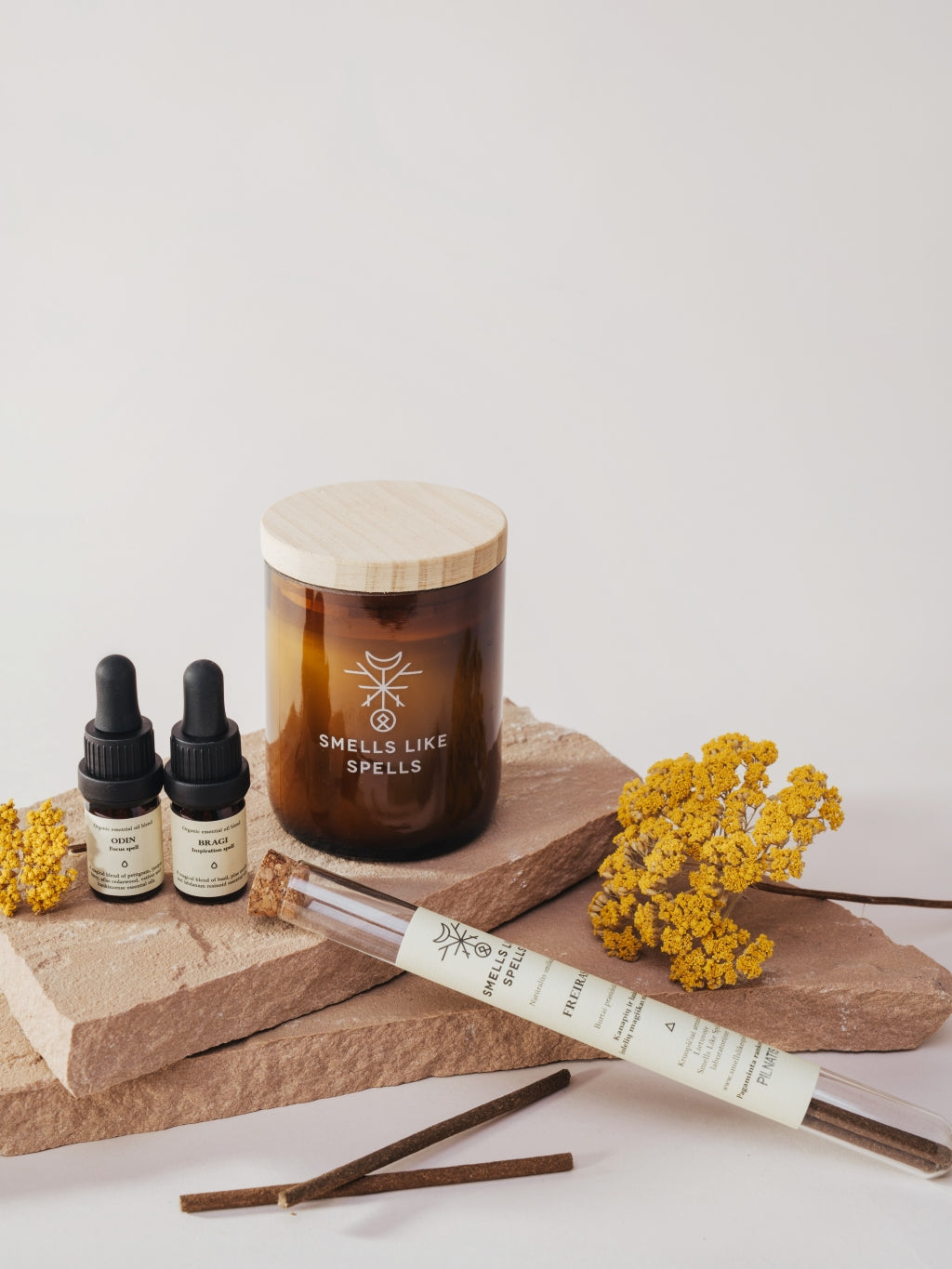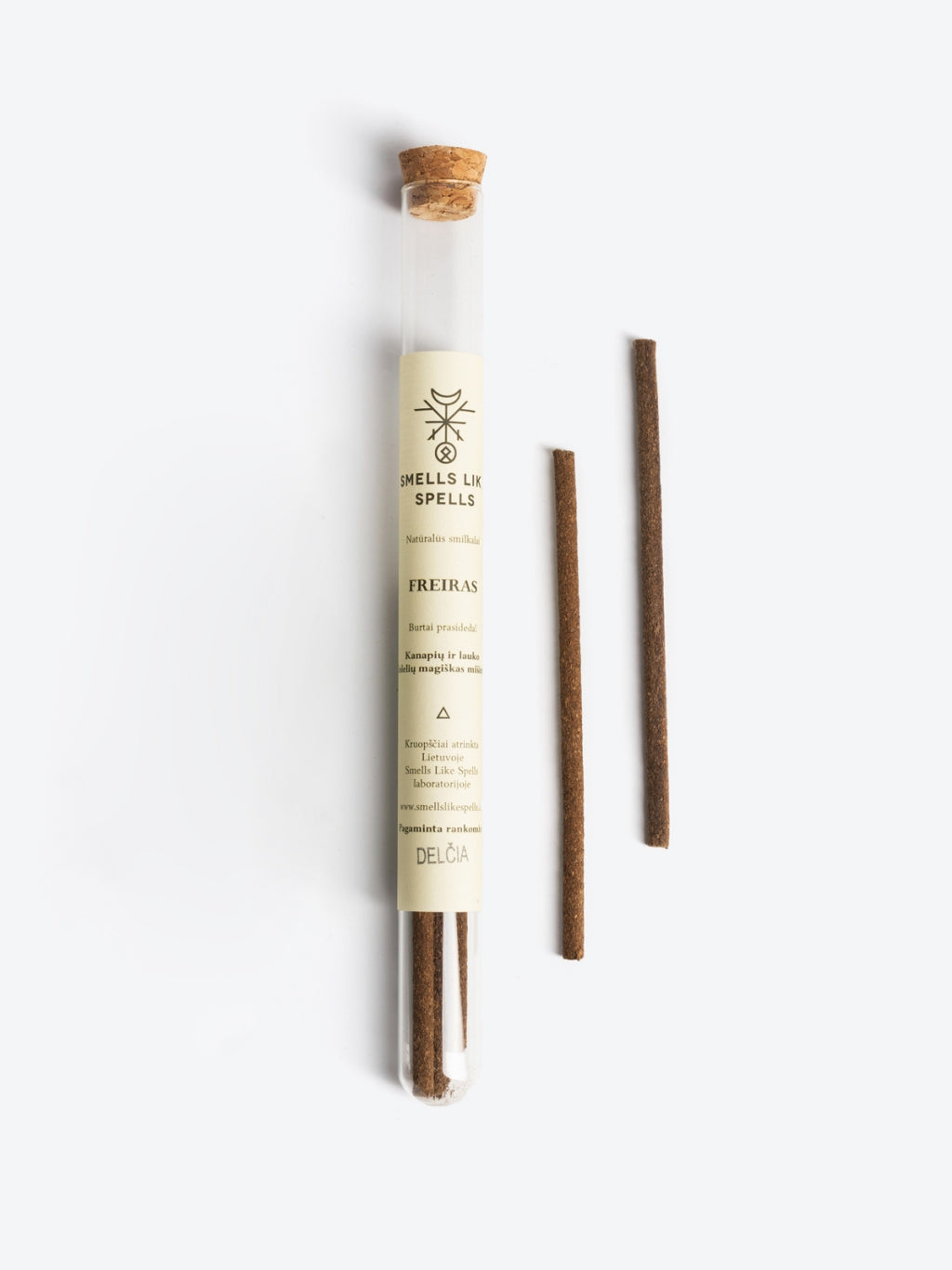 ☽ Smells Like Spells ☾
Everybody needs a little bit of magic in their daily life!
Cast a love spell by burning natural handmade incense FREYA, attract money and success with an organic essential oil blend NORNS, or cleanse your home and get rid of bad energy with a rune candle HAG.
Find Your Spell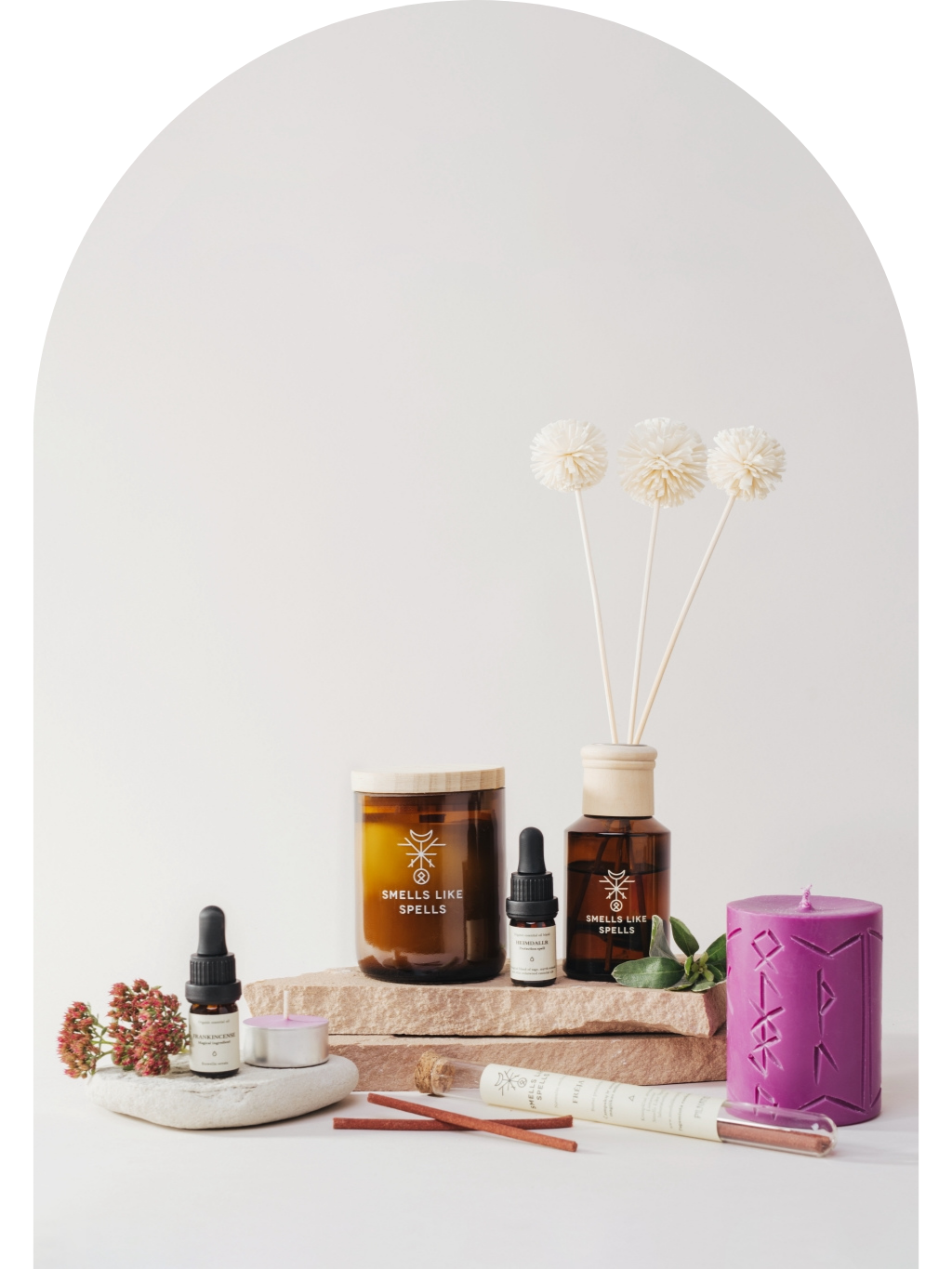 Lithuanian brand Smells Like Spells offers us a selection of magical home goods - candles, incense, essential oil blends - fragranced with incredible natural scents. Each product is handcrafted using traditional folk wisdom combined with modern perfumery, candle, and incense craft methodology.
⥈
Each unique fragrance recipe, rune sign, or color is created or chosen following folk wisdom and magical qualities of plants which could help attract love, abundance, happiness, and luck into your life.
⥈
When you are choosing the magic product for yourself or as a gift, you should answer the most important question: What would you like to wish for yourself or for your loved ones?