Scented Tealight Candles EIR - Healing Spell
Soy wax tealight candles with Lime, Mint, and Myrrh essential oils
Regular price
€11,00
Sale price
€11,00
Unit price
per
Sale
Sold out
This product comes with labels in English.
In Norse mythology, the chief god Odin's wife Frigga had many companions, friends, and maids. One of her best and most loyal companions was Eir – the goddess of health. With her help you might:
Gain physical and spiritual powers;
Strengthen your physical body and immunity;
Get help when battling illnesses;
Harmonize the body's energy centers and points;
Protect your physical body from illnesses.
For these handmade aromatic tealight candles, Smells Like Spells created a magical aroma of mint, lime, and myrrh, that symbolizes nature's forces, harvest, abundance, and health. These aromatic tealight candles might help gain the favor of the medicine and health goddess Eir.
♪ Heart note:
Secret magic ingredient
Mint: has a positive effect on humans' biological energy: it improves mutual understanding between people and removes neurological tension. The aroma of spearmint stimulates body and soul and increases concentration. It is also a wonderful freshener and mood booster.
Lime: helps to successfully adapt and dwell in new conditions, with new people, strengthens life goals, awakens creativity at work and in the family. It also helps to overcome difficult situations.
Myrrh: the old civilizations used the resin of myrrh trees as perfume and incense, as well as in medicine. The fragrance of myrrh helps to sort out thoughts, prevents from indulging in non-relevant details. This scent is particularly suitable for meditation, as it helps to ward off egocentric thoughts, calms irritation, and improves sleep. It also increases sexual sensitivity.
Dimensions: 4 × 4 × 24 cm
Wick: Cotton and paper wick. Please do not forget to trim the wick before each time you light the candles
Wax: Natural soy wax that does not emit toxic chemical compounds when burning; burns three times as long as ordinary candles; does not leave any stains, the spills are easy to clean; does not get hot, as it burns at a lower temperature than paraffin, therefore the aroma of the candle emanates slowly and unchanged.
Burning time: Estimated tealight candle burning time 4 hours.
Together with this soy wax candle, you will get a  detailed description of the tealight candles' purpose; a description of the aromatherapeutic effect of different scents; a simple meditation/affirmation ritual that will help you gain the favor of the medicine and health goddess Eir.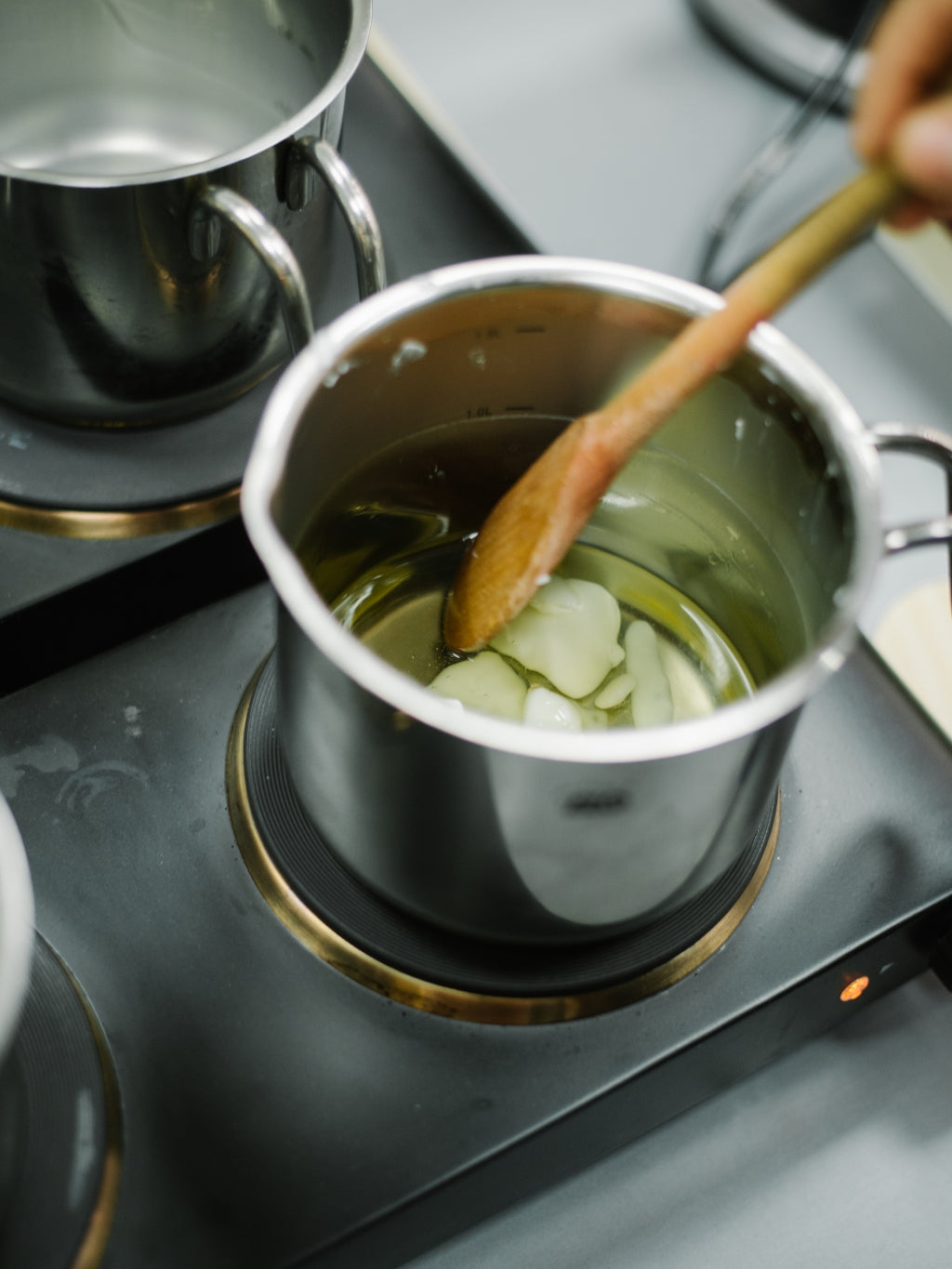 ☽ Smells Like Spells ☾
Everybody needs a little bit of magic in their daily life!
Cast a love spell by burning natural handmade incense FREYA, attract money and success with an organic essential oil blend NORNS, or cleanse your home and get rid of bad energy with a rune candle HAG.
Find Your Spell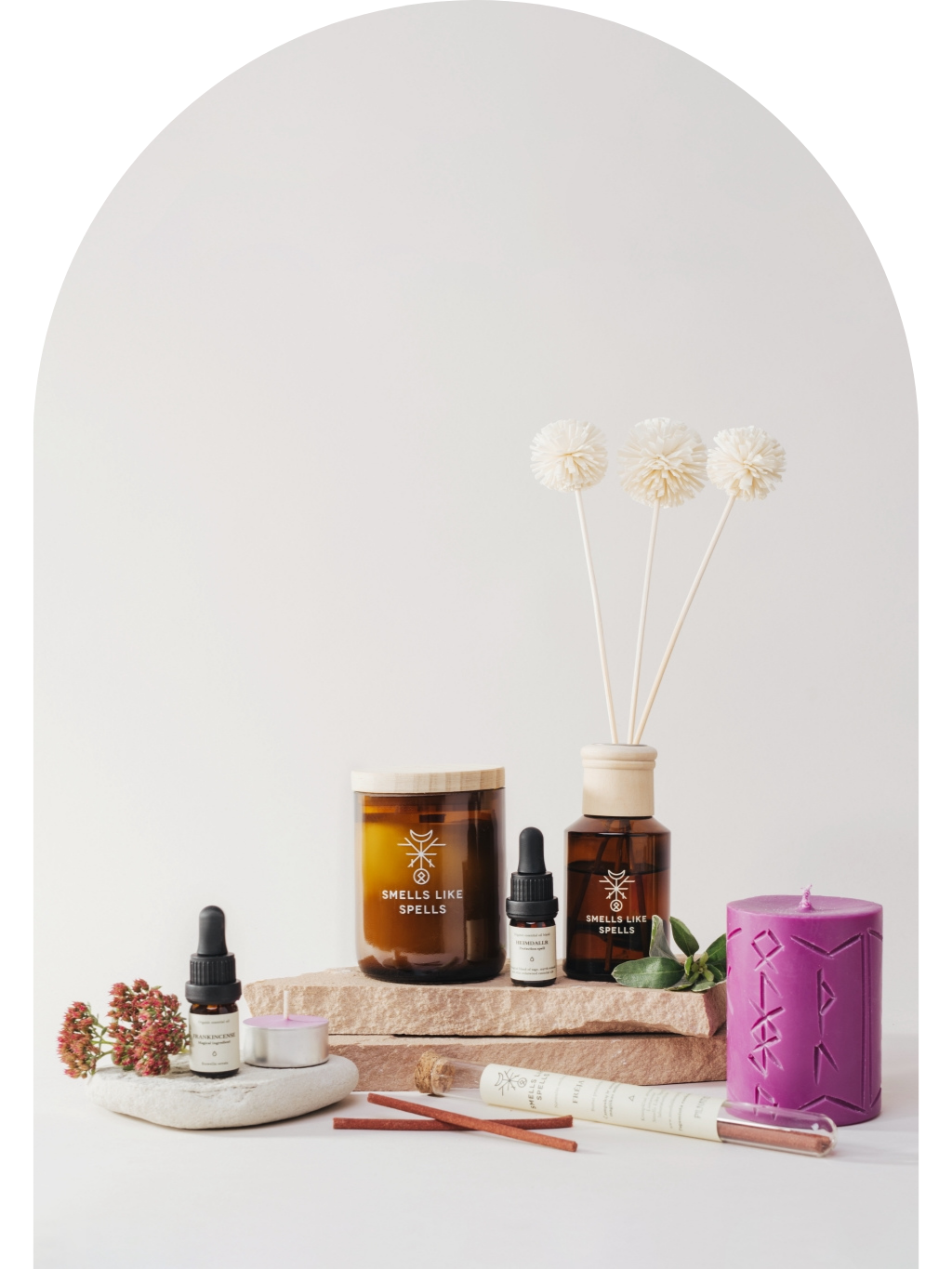 Lithuanian brand Smells Like Spells offers us a selection of magical home goods - candles, incense, essential oil blends - fragranced with incredible natural scents. Each product is handcrafted using traditional folk wisdom combined with modern perfumery, candle, and incense craft methodology.
⥈
Each unique fragrance recipe, rune sign, or color is created or chosen following folk wisdom and magical qualities of plants which could help attract love, abundance, happiness, and luck into your life.
⥈
When you are choosing the magic product for yourself or as a gift, you should answer the most important question: What would you like to wish for yourself or for your loved ones?