Amour - Soap for Normal to Dry Skin
Handmade Soap With Pink Clay & Geranium Essential Oil
Regular price
Sale price
€12,00
Unit price
per
Sale
Sold out
✶ FACE ✶ BODY ✶ HANDS ✶
Skin: normal to dry, sensitive
Benefits: moisturizing, softening
Smell: flowery
Key ingredients: pink clay and geranium essential oil
Oils and butters: olive oil, coconut oil, shea butter, cocoa butter
Lather the soap in the palms of your hands. Pass over damp skin by gently rubbing in a circular motion, avoiding the eye area. Let the soap rest on the skin to benefit from all its active ingredients, then rinse thoroughly. Suitable for cleansing the body, face, and hands.
Keep your soap dry between the uses.
Do not ingest.
❀❀❀
KRAKRA soaps are handmade in a workshop in Bordeaux according to the cold saponification method. Due to their artisanal manufacture, products may vary from the presentation photos, but all the ingredients in the recipe remain unchanged.
✶ 100% natural ingredients
✶ Vegan
✶ Cruelty-free
✶ 100% biodegradable
✶ Made using the ancestral method of cold saponification
Ingredients:
Oléa Europaea fruit oil - Coco nucifera oil - Aqua - Sodium hydroxide - Theobroma cacao seed butter - Butyrospermum parkii butter - Illite - Kaolin - Pelargonium grave olens flower oil - Cymbopogon martini herb oil - Geraniol* - Citronellol*
*naturally present in essential oils

Not suitable for children under 3 years of age and pregnant women.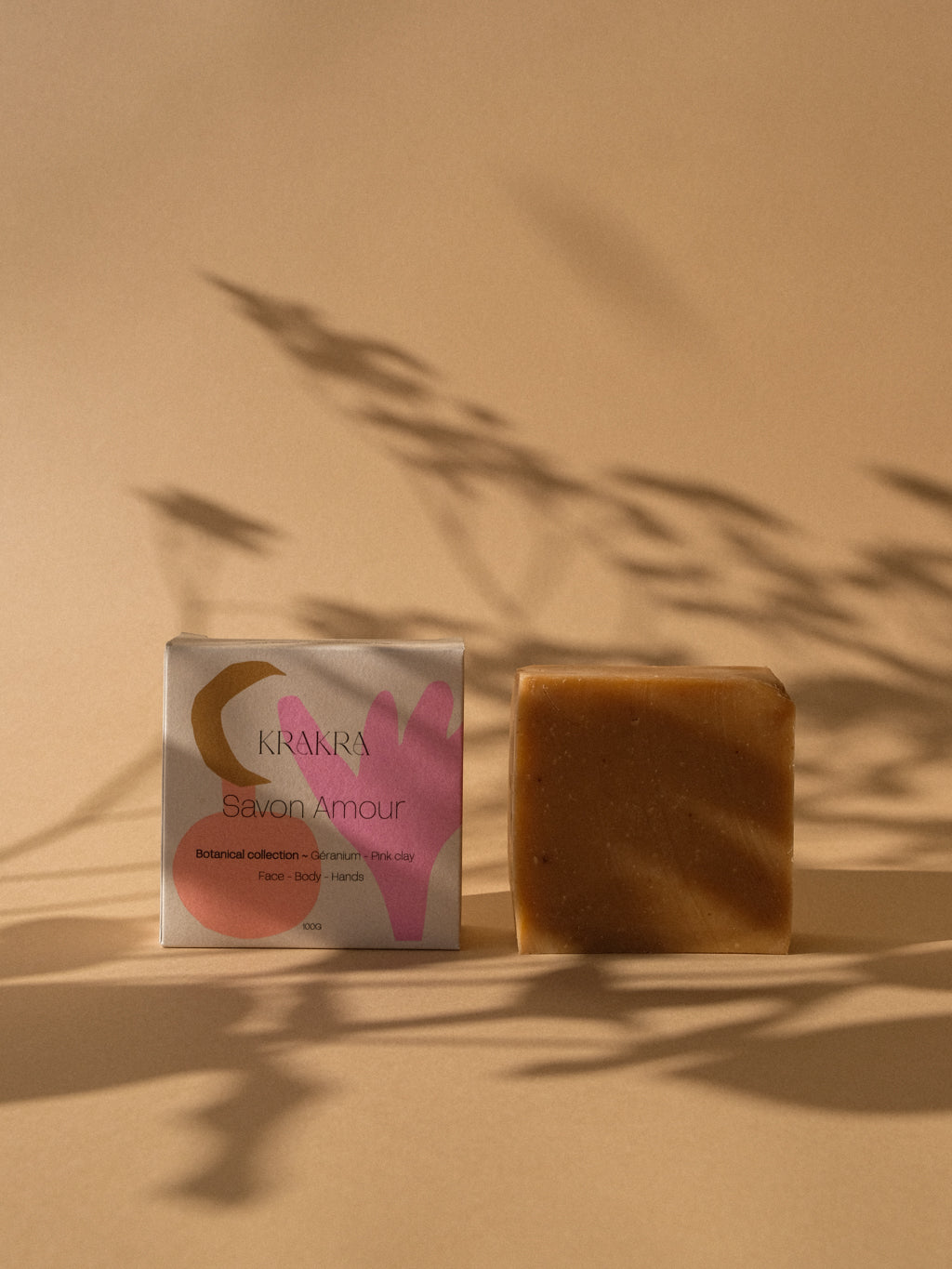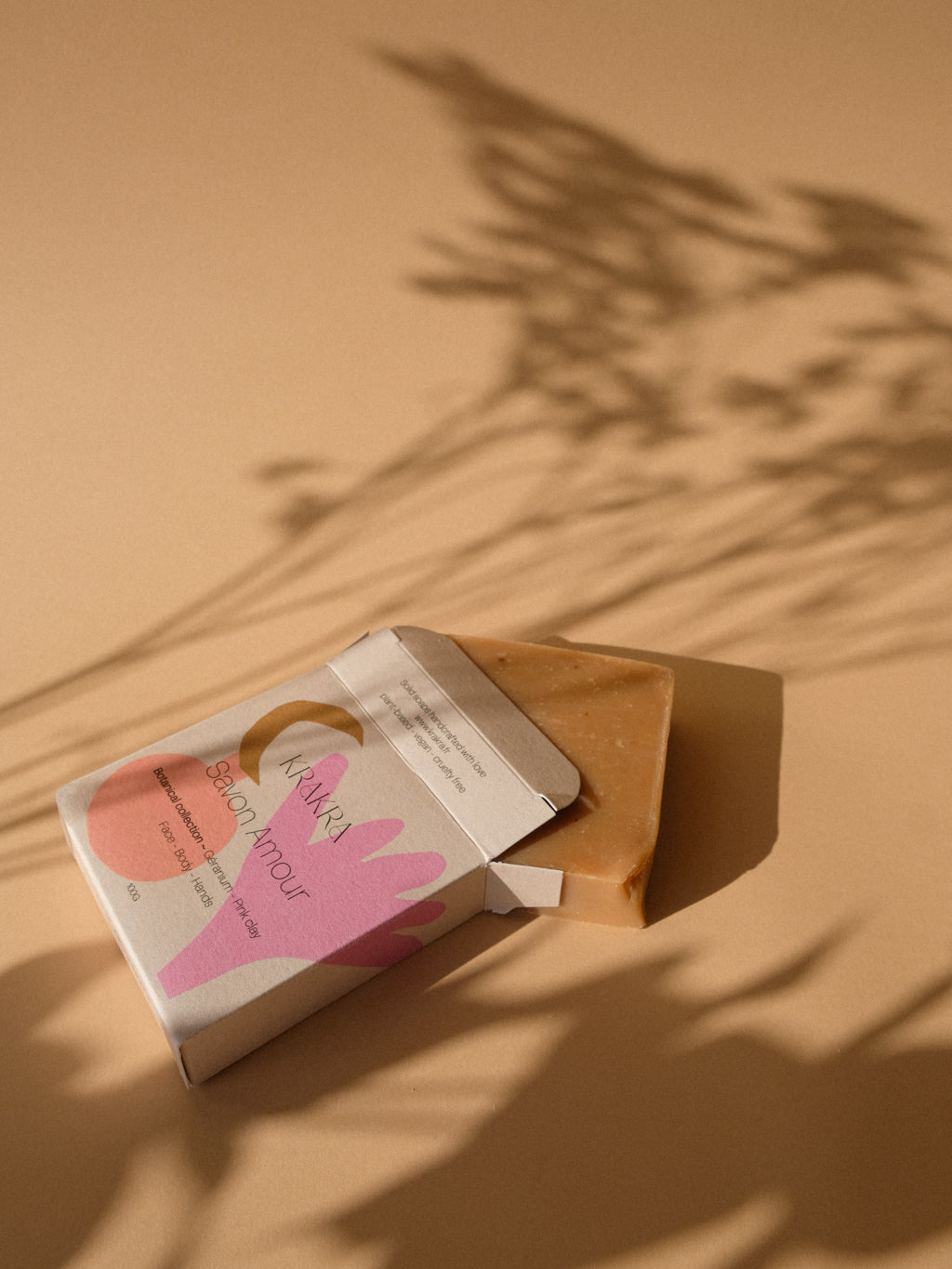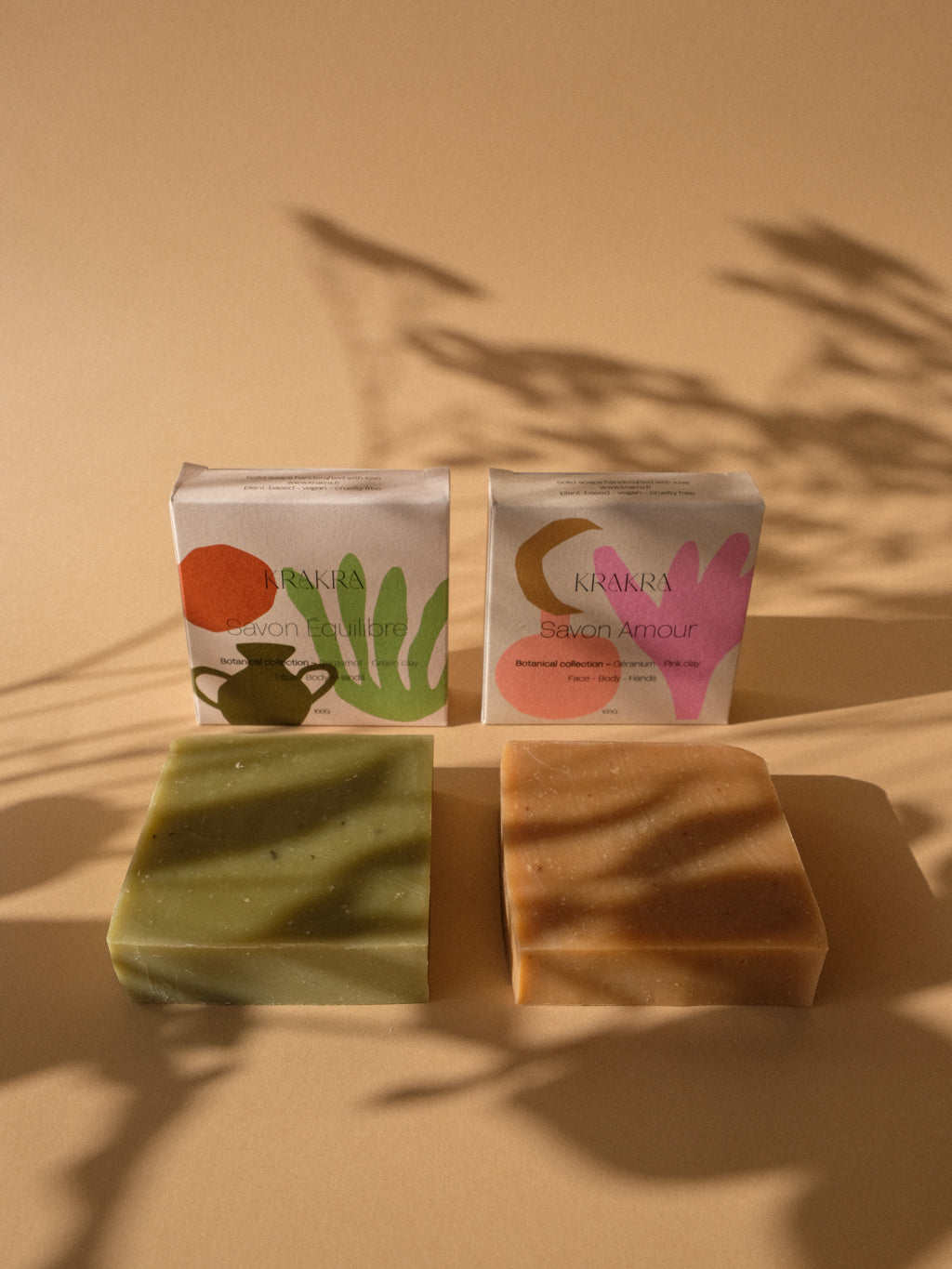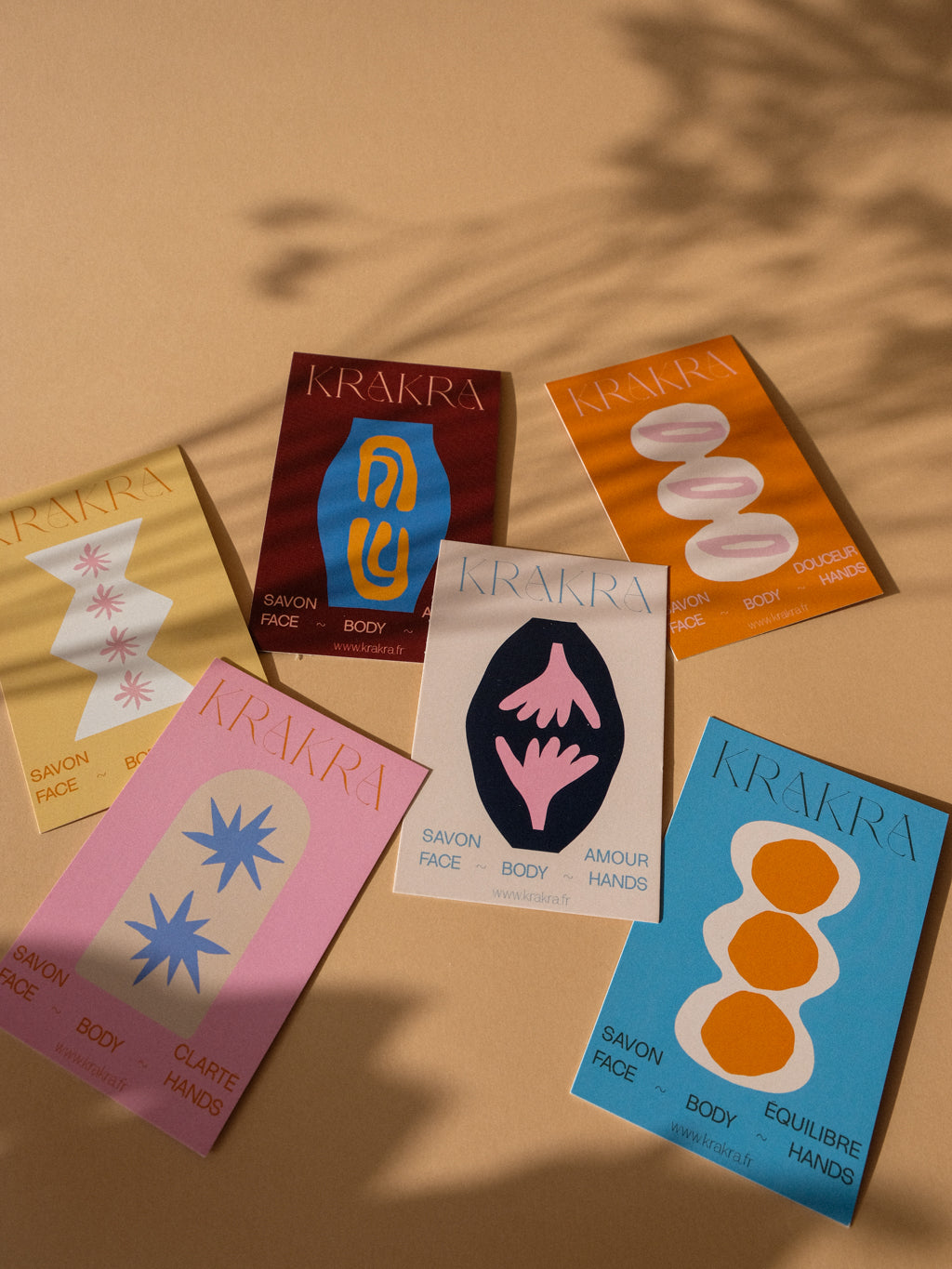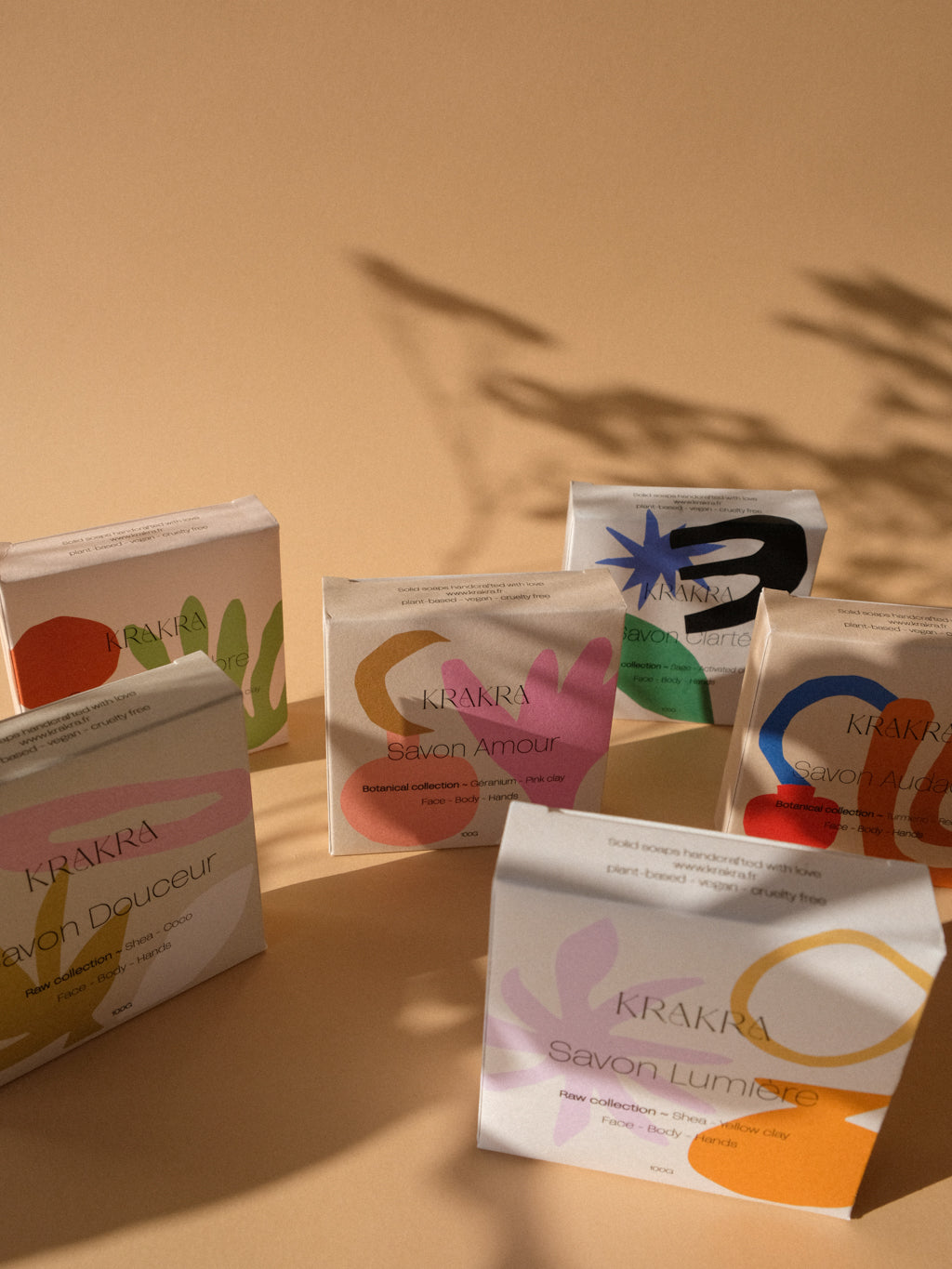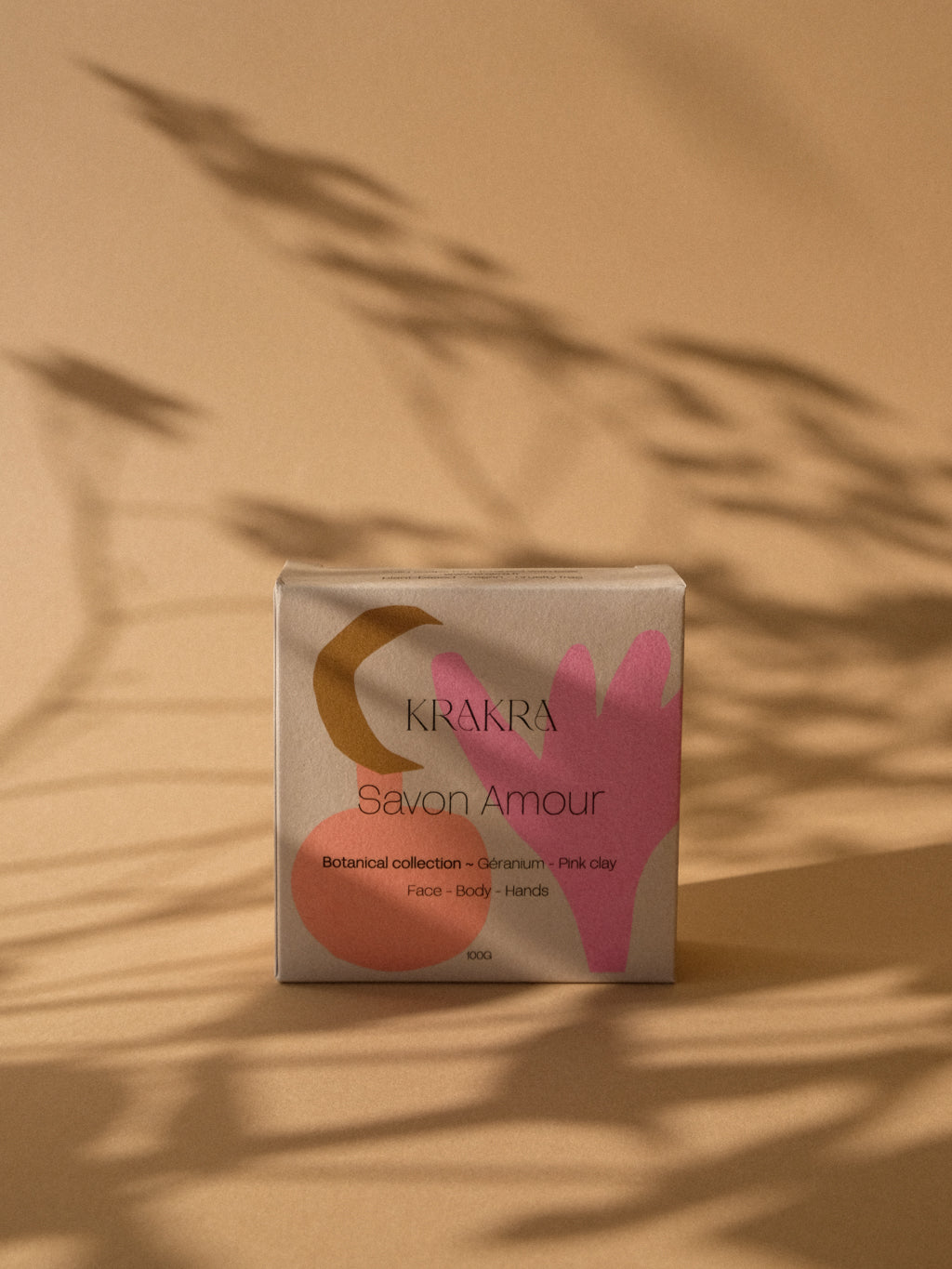 ❀ KRAKRA ❀
Imagine going back in time and taking a Roman bath, enclosed in a flower garden bathed in sunshine on a warm summer evening. The smell of soil and flowers, and the salty Mediterranean sea is in the air...
An indie cosmetics brand based in Bordeaux, France, KRAKRA offers us a selection of solid soaps inspired by ancient beauty rituals, the nature that surrounds us, the beauty of the human body, and the fine aesthetics of ancient architecture.
Explore KRAKRA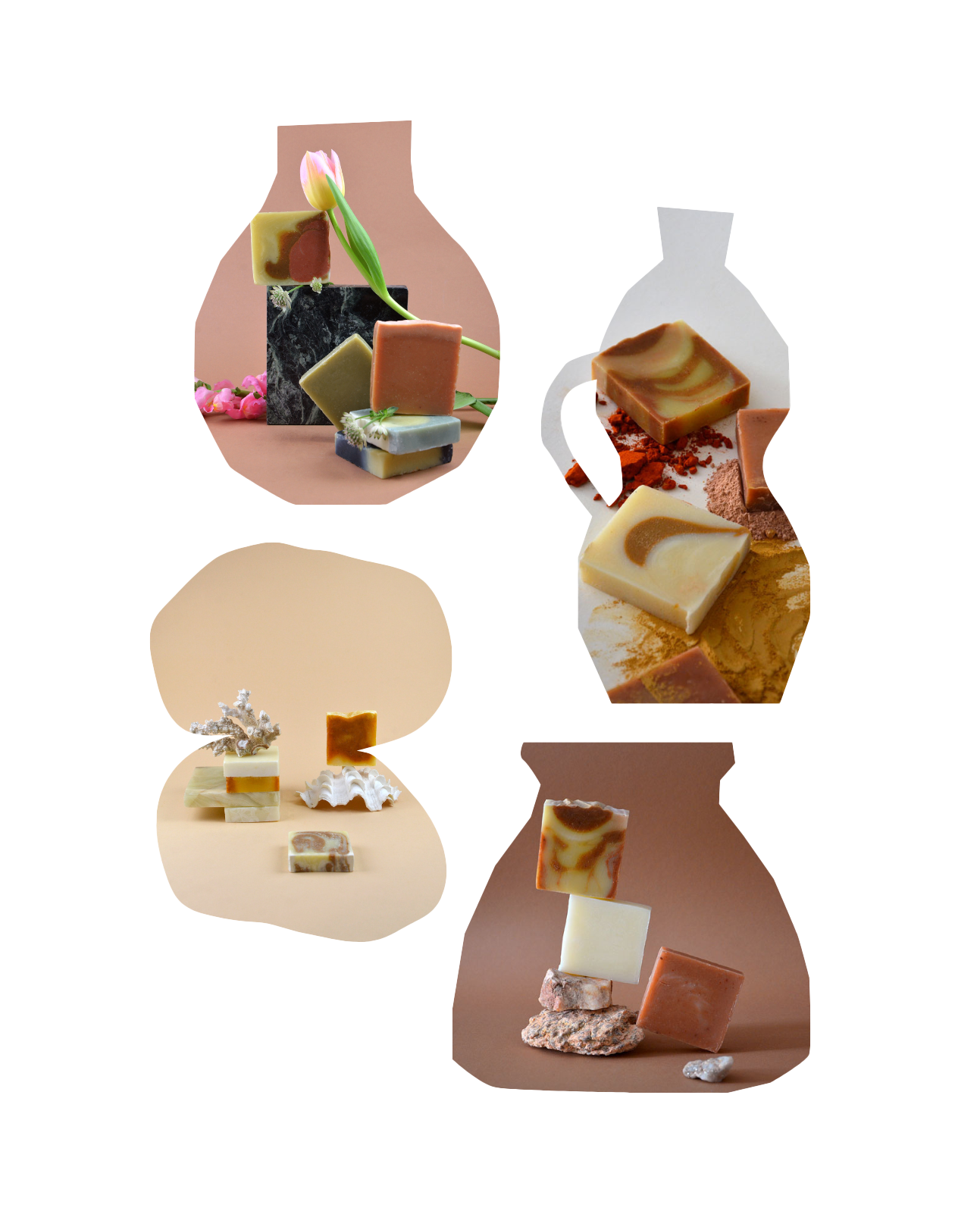 The soaps are made with natural ingredients used since ancient times: clays, oils, spices, and flower essential oils, selected for their high concentration of active ingredients.
They are free of palm oil, synthetic detergents, artificial colors, parabens, sulfates or animal products.
⥈
Each of the soaps has been formulated to meet the specific needs of different skin types: sensitive skin, dull skin, combination skin, problem skin, and very dry skin.
⥈
The soaps are made using the ancestral method of cold saponification that preserves the properties of the oils used, and also guarantees that soaps are rich in natural glycerin, providing softness and hydration.
⥈
KRAKRA is committed to working with well-identified ingredients, traceable both environmentally and socially, slowing down the pace of production & controlling the supply chain to ensure sustainable use.
⥈
The beautiful colourful iconography is inspired by masters such as Matisse & Cocteau.