Supplements - Skin Cure
Supplements Improving Skin Hydration, Firmness & Elasticity From The Inside
Regular price
Sale price
€45,00
Unit price
per
Sale
Sold out
Improve your skin from the inside.
Designed to radically improve skin hydration, firmness and elasticity from the inside. Contains a unique mix of probiotics specific for skin health plus collagen, hyaluronic acid, matcha and vitamin B2.
✴ 100 billion CFU of probiotics
✴ No preservatives
✴ No Colorants
✴ Eggshell membrane hydrolysate
✴ No Gluten
✴ No Allergens
⋆ EGGSHELL MEMBRANE, A NOVEL FOOD FOR YOUR SKIN ⋆
Egg membrane hydrolysate has recently been approved as a Novel Food in the EU. Its main constituents are Collagen type I, Elastin and Hyaluronic acid, key ingredients to prevent skin water loss, promote skin hydration and elasticity.
⋆ PROBIOTICS, THE KEY TO A HEALTHY SKIN ⋆
A balanced gut means halthy skin. Probiotics or "good bacteria" are live bacteria in your microbiome that can help combat wrinkles, spots, and skin dehydration from withinn. Skin Cure contains more than 100 billion CFU (Colony-forming unit) per gram of probiotics specifically designed to improve your skin microbiome.
⋆ IT'S TIME TO HAVE A BETTER SKIN ⋆
WEEK 1 
BODY REACTION TO PROBIOTICS AND PREBIOTICS
Your skin is detoxifying and purifying itself from deepinside. Before getting a clear skin your gut microbiome has to be totally balanced and it may take some time to get balanced. Patience is key.
WEEK 4 
SKIN IS MORE HYDRATED AND ELASTIC
Elastin production is enhanced improving the firmness and elasticity of the skin. The entrance of nutrients and humidity is permitted and improve skin hydration from the inside.
WEEK 6 
WRINKLES START TO FADE AND ARE MINIMIZED
Anti-aging effect, skin is more firm and wrinkles are visibly reduced. Spots are reduced and skin dehydration is lower than before.
MONTH 2 
DENSITY OF COLLAGEN IN THE SKIN IS INCREASED
Skin hydration is enhanced with Collagen type I. Skin water loss is prevented and the condition of the face skin is softer, more hydrated and with more luminosity.
⋆ CAN I MIX THE SUPPLEMENTS? ⋆
You can combine Matcha & CO supplements with each other. If you want to combine it with other supplements, it's recommended to ask your doctor.
⋆ HOW MANY CAPSULES PER DAY DO I HAVE TO TAKE? ⋆
Only 2 capsules per day.
⋆ WHEN DO I HAVE TO TAKE THE CAPSULES? ⋆
It's recommended to take 2 capsules, together with your breakfast, in the morning.
⋆ KEY INGREDIENTS ⋆
5 fundamental ingredients to renew your skin. Only ingredients you really need.
EGGSHELL MEMBRANE (OVODERM®) - A novel food in the EU, it contains more than 30% collagen, 20% elastin and 7% hyaluronic acid. It acts directly on the hydration and elasticity of the skin.
PROBIOTICS - Potent tindalized probiotic blend of Lactobacillus paracasei, Lactobacillus plantarum, Lactobacillus acidophilus, and Lactobacillus rhamnosus. Together they contain more than 100 billion CFUs (colony-forming units) per gram of probiotics.
CEREMONIAL GRADE MATCHA
-
137x more antioxidant than regular green tea. The EGCG catechin helps to slow down the ageing process by preventing cell oxidation, inhibiting mutation of DNA and helping to restore damaged DNA.
VITAMIN B2 (RIBOFLAVIN) - Helps maintain the secretion of mucus from the skin to prevent acne breakouts and dry skin.
HYALURONIC ACID - Its main function is to retain water to keep skin tissues well lubricated. This ingredient can help reduce dry skin, wrinkles, redness, and dermatitis.
Use in combination with Facial Glow Serum for some epic results: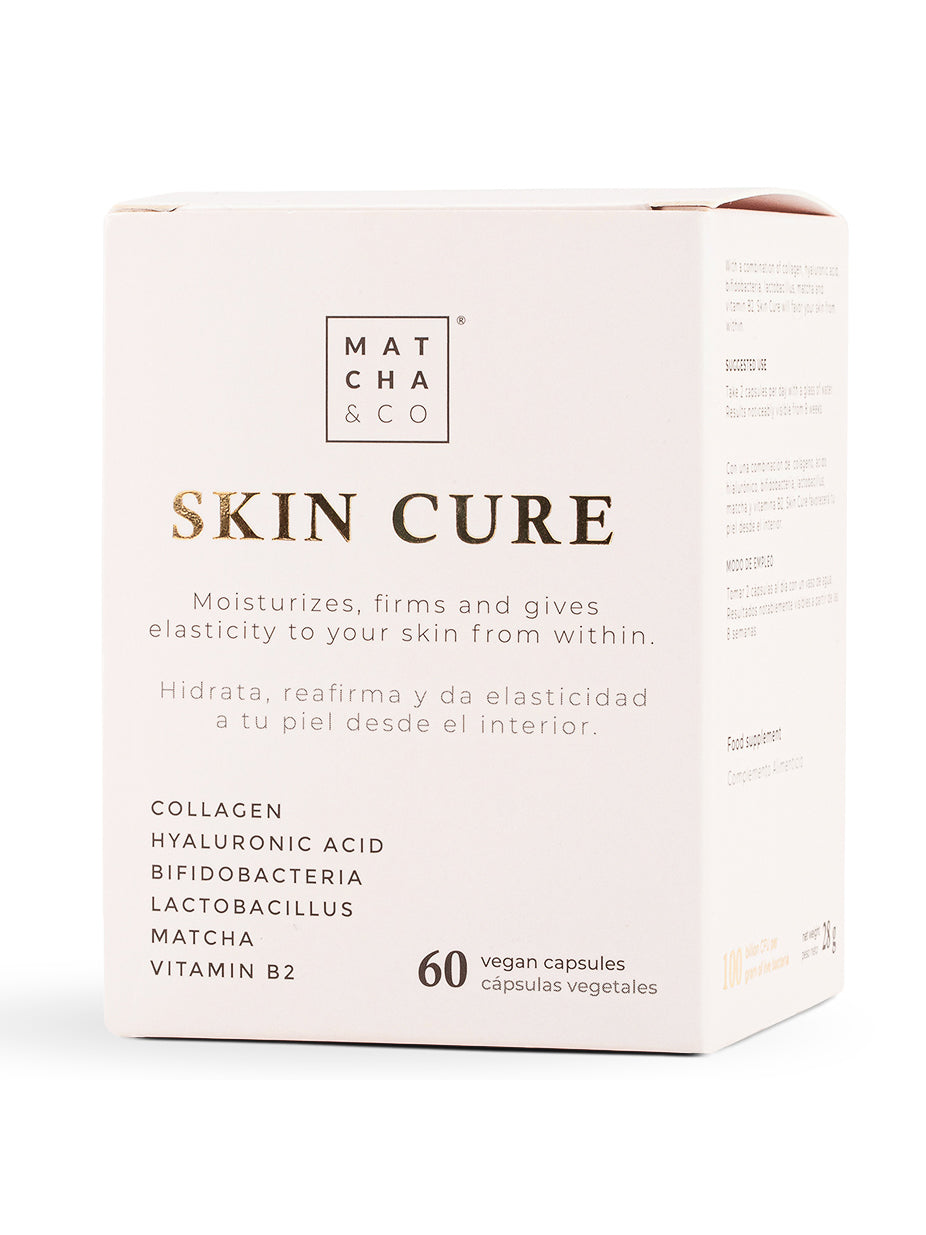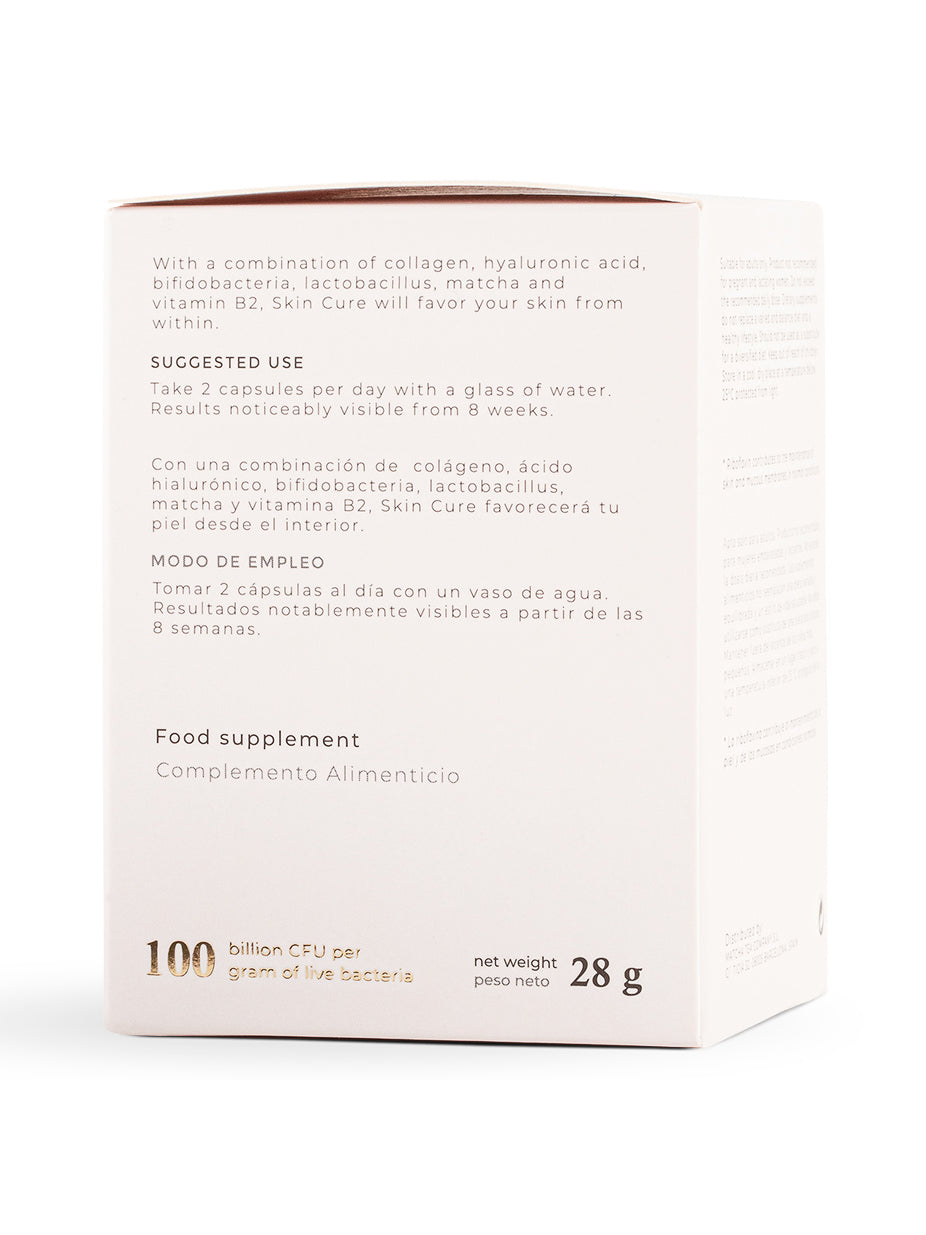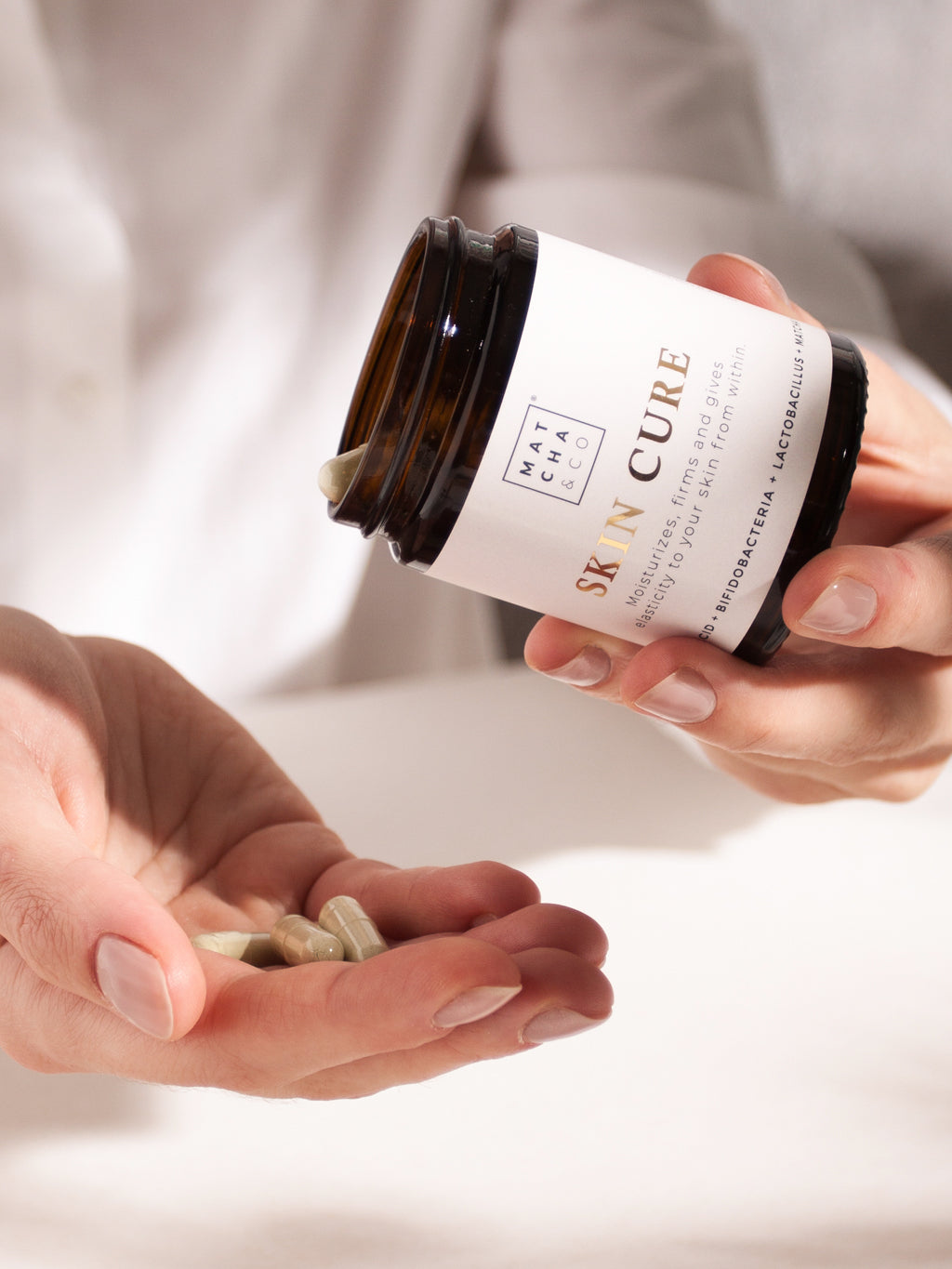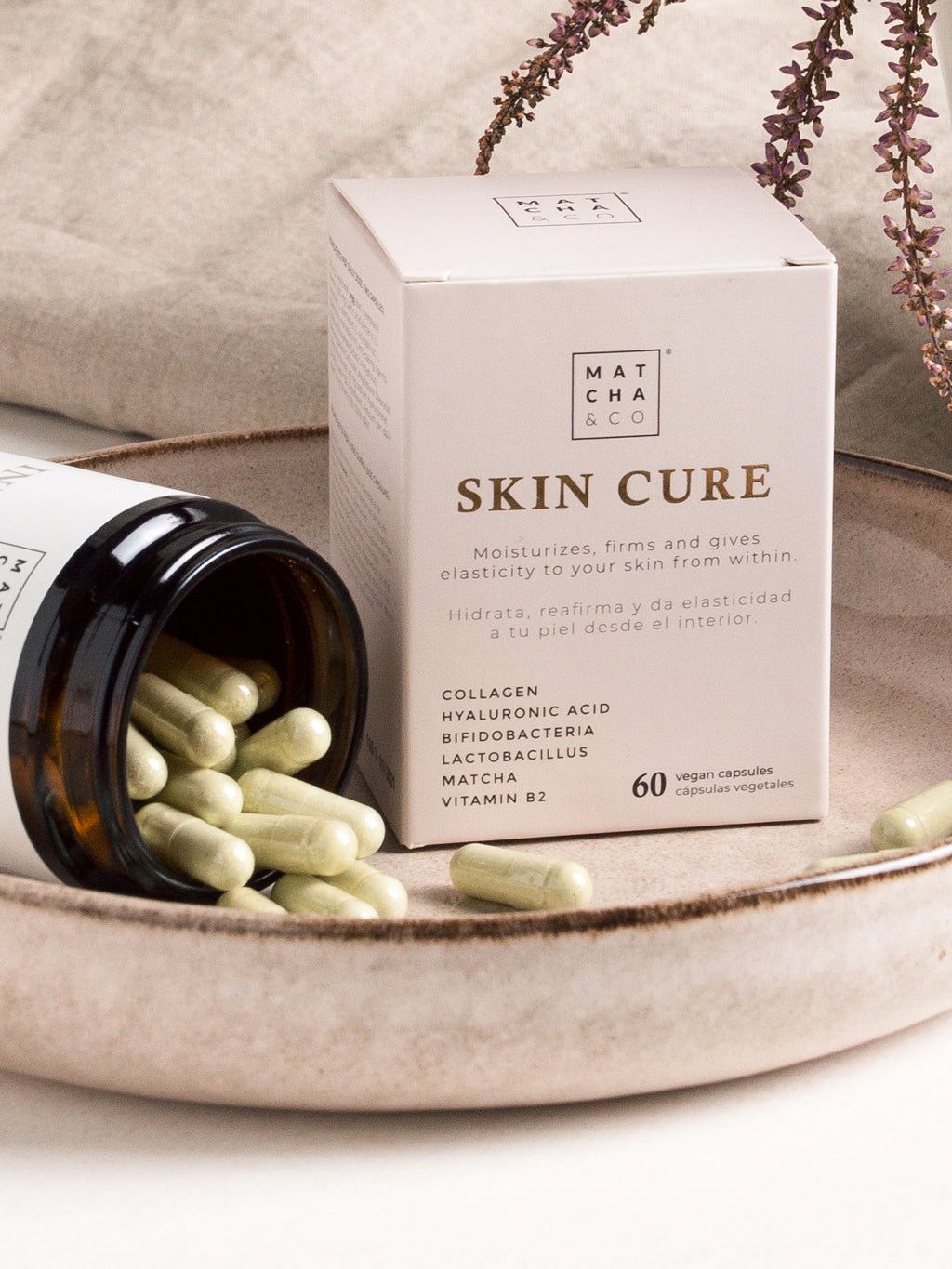 ❊ Matcha & CO ❊
Matcha - a (magical?) source of energy that increases concentration and well-being.
Matcha is rich in antioxidants and contains Vitamins A, B2, C, D, E, K, potassium, proteins, calcium, iron and chlorophyll, components that protect against the harmful free radicals responsible for aging and tissue deterioration.
Explore Matcha & CO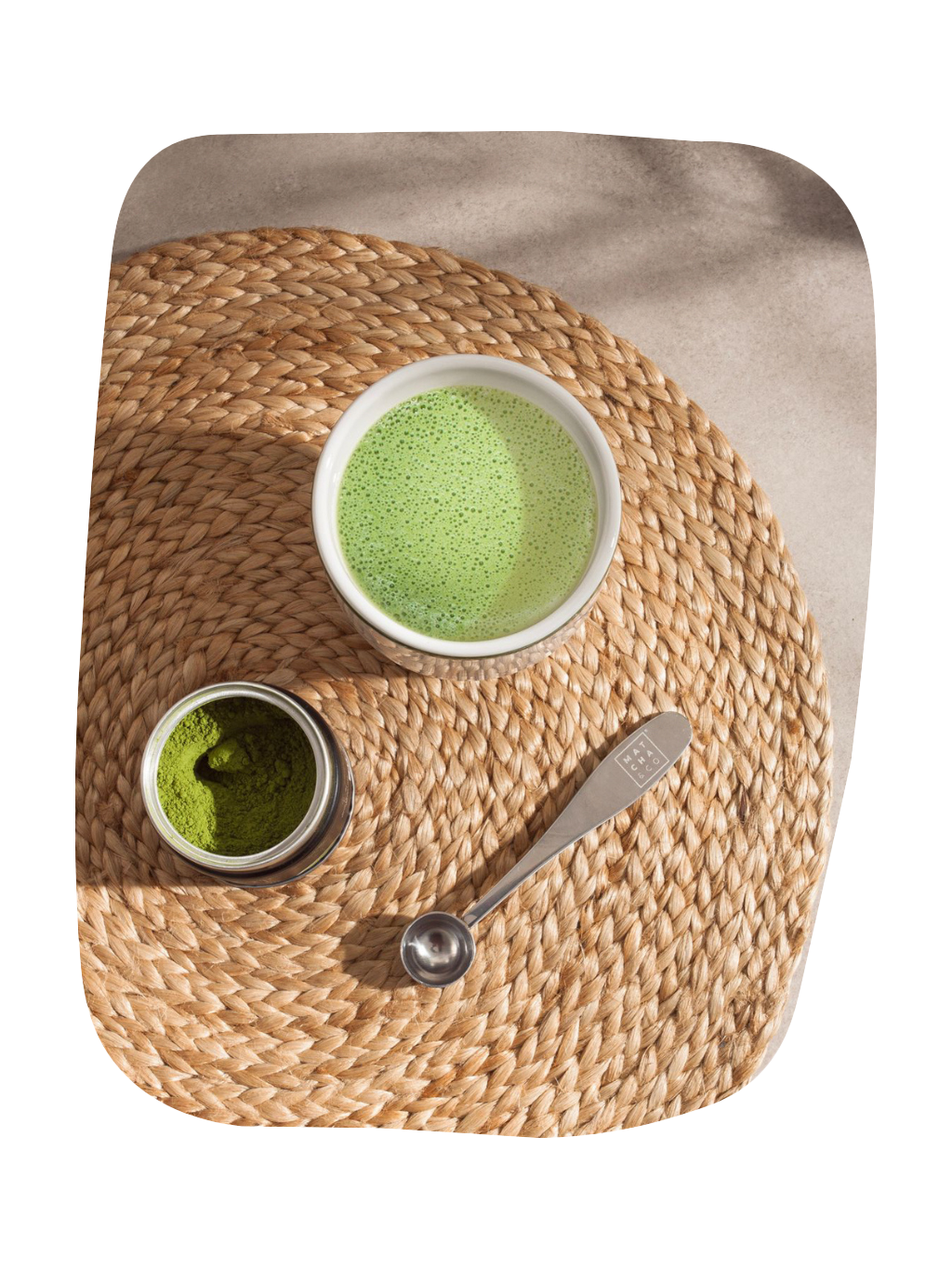 Every day the community of matcha lovers grows not only in Japan but is also becoming popular in the West. Matcha & CO wants to help consolidate this trend and help you discover all the magical properties of this antioxidant rich tea.
⥈
Matcha & CO works closely with Japanese farmers who have been growing and producing matcha for more than five generations and who have adapted their plantations to produce in an ecological and sustainable way.
⥈
Matcha in Japanese means "tea powder", this powder comes from the best ground green tea leaves.
All varieties of Matcha & CO matcha tea are Ceremonial grade, 100% organic in origin, without sugar, without preservatives or dyes, without gluten and suitable for vegans.
It's grown in the Uji region, Kyoto, a region specially dedicated to planting and harvesting green tea; where they have been producing the best qualities of matcha tea for hundreds of years.