Exfoliating Body & Face Soap
Natural Soap with Poppy Seeds
Regular price
Sale price
€12,00
Unit price
per
Sale
Sold out
Exfoliating care for your body and face. The poppy seeds have an exfoliating power that refines the skin texture. A fine and delicate foam for a smooth and soft touch.
A scrub with purifying properties to fight against the impurities accumulated on your skin.
100 % Natural origin.
Who is it for: All skin types. Combination to oily skin types exposed to external aggressions.
Concern: Targeted hygiene - Blackheads - Blemishes - Shine - Working damaged hands.
Application: Natural scrub suitable for every situation.
For a targeted exfoliating treatment on the face/neck: Pass the soap gently over your face in a circular movement on wet skin. Then rinse off.
1 to 2 times per week maximum.
For daily use on your body: Manipulate the soap between your hands until a fine foam appears. Then apply it to clean your body. Then rinse.
This exfoliating soap is also a real asset for working hands
COLD SAPONIFICATION
The exfoliating soap is made using an artisanal and eco-friendly method called cold saponification. With no heating process during its manufacturing cycle, cold saponification is essential for conserving all the properties of the vegetable and essential oils.
✽ ✽ ✽
KEY INGREDIENTS
Organic poppy seeds: Exfoliating, refining skin texture.
Exotic verbena oil: Purifying, cleansing imperfections.
Organic coconut oil: Nourishing and moisturising.
Organic peppermint essential oil: Toning, giving freshness and vitality.
Ingredients: Aqua (Water); Citral***
(Natural fragrance agent found in essential oils - Allergen); 

Citrus Limon Peel Oil** (

Organic lemon peel oil); 

Glycerin*

(Obtained by reaction during saponification); 

Limonene***

(Natural terpene found in essential oils); 

Linalool***

(Terpene alcohol found in essential oils); 

Litsea Cubeba Fruit Oil (

Exotic Verbena Oil); 

Mentha Piperita Oil** (

Organic Peppermint Oil); 

Mentha Spicata Oil (

Spearmint Oil); 

Papaver somniferum seed** (

Organic Sleepy Poppy Seed); 

Sodium castorate* (

Saponified Organic Castor Oil); 

Sodium olivate* (

Saponified Organic Olive Oil); 

Sodium shea butterate* (

Saponified Organic Shea Butter); 

Zea Mays Kernel Meal** (

Organic Maize Grain Powder).



100% natural origin.
*processed from organic ingredients **from organic farming ***naturally in essential oils

100 gr.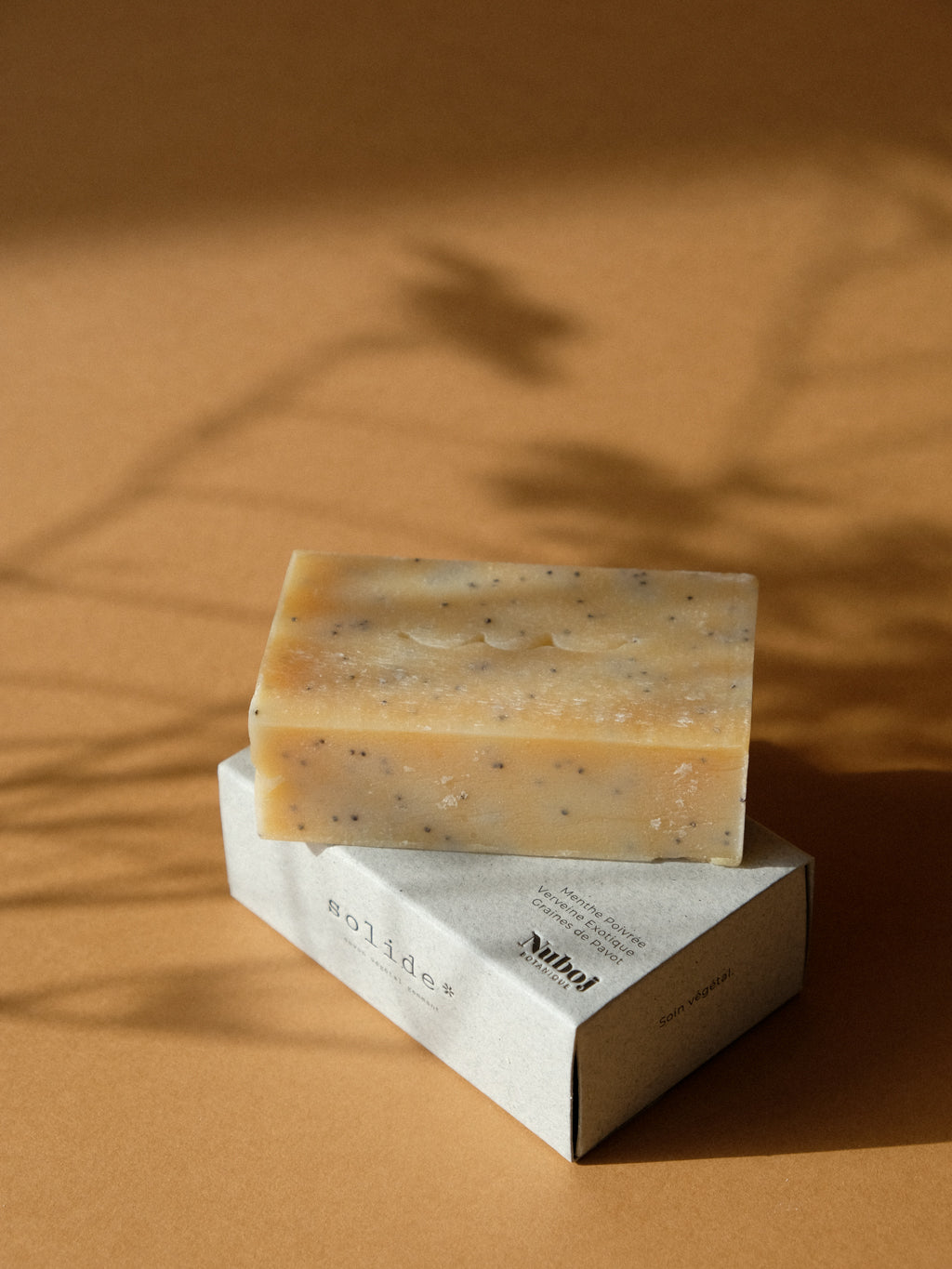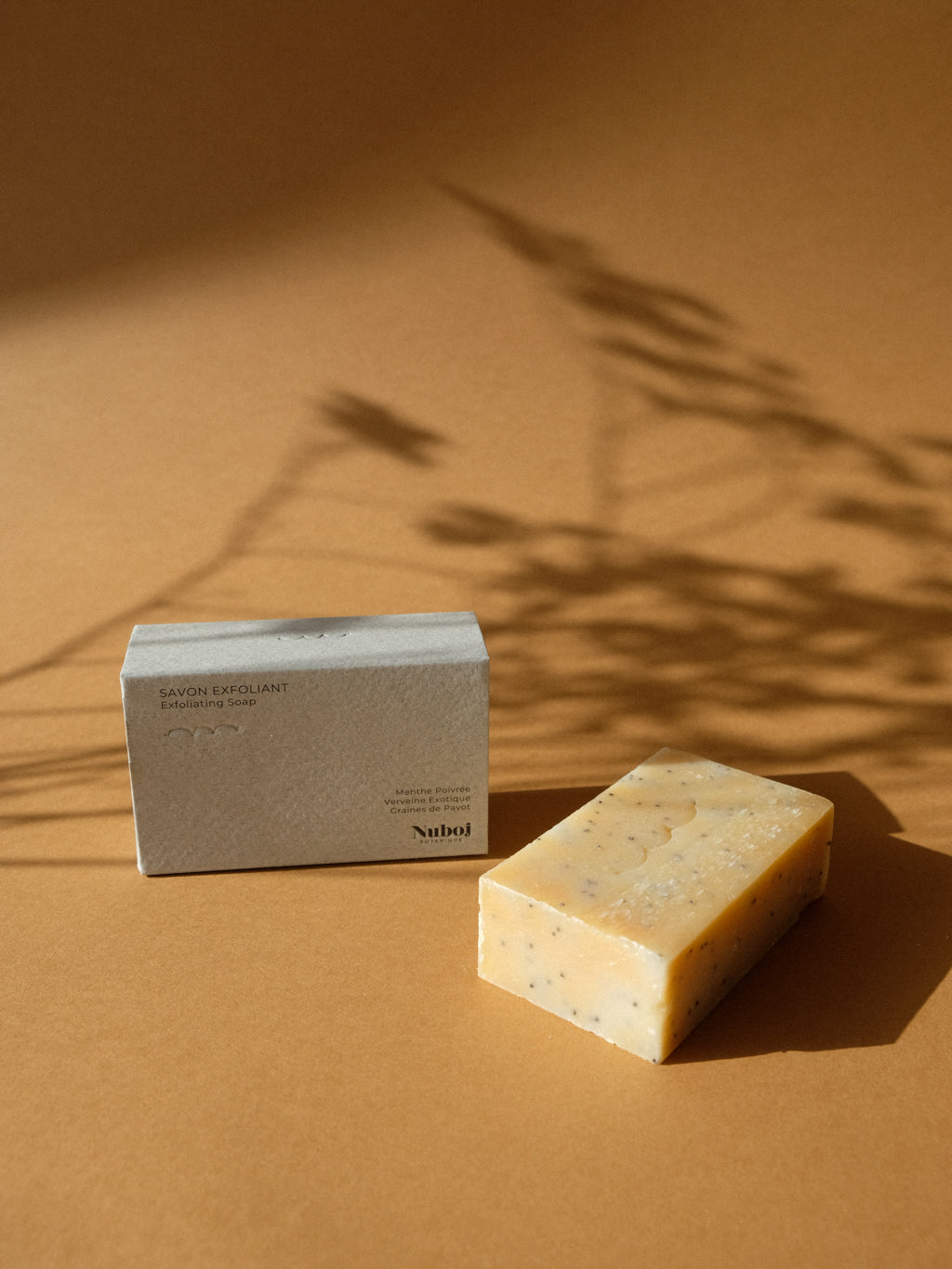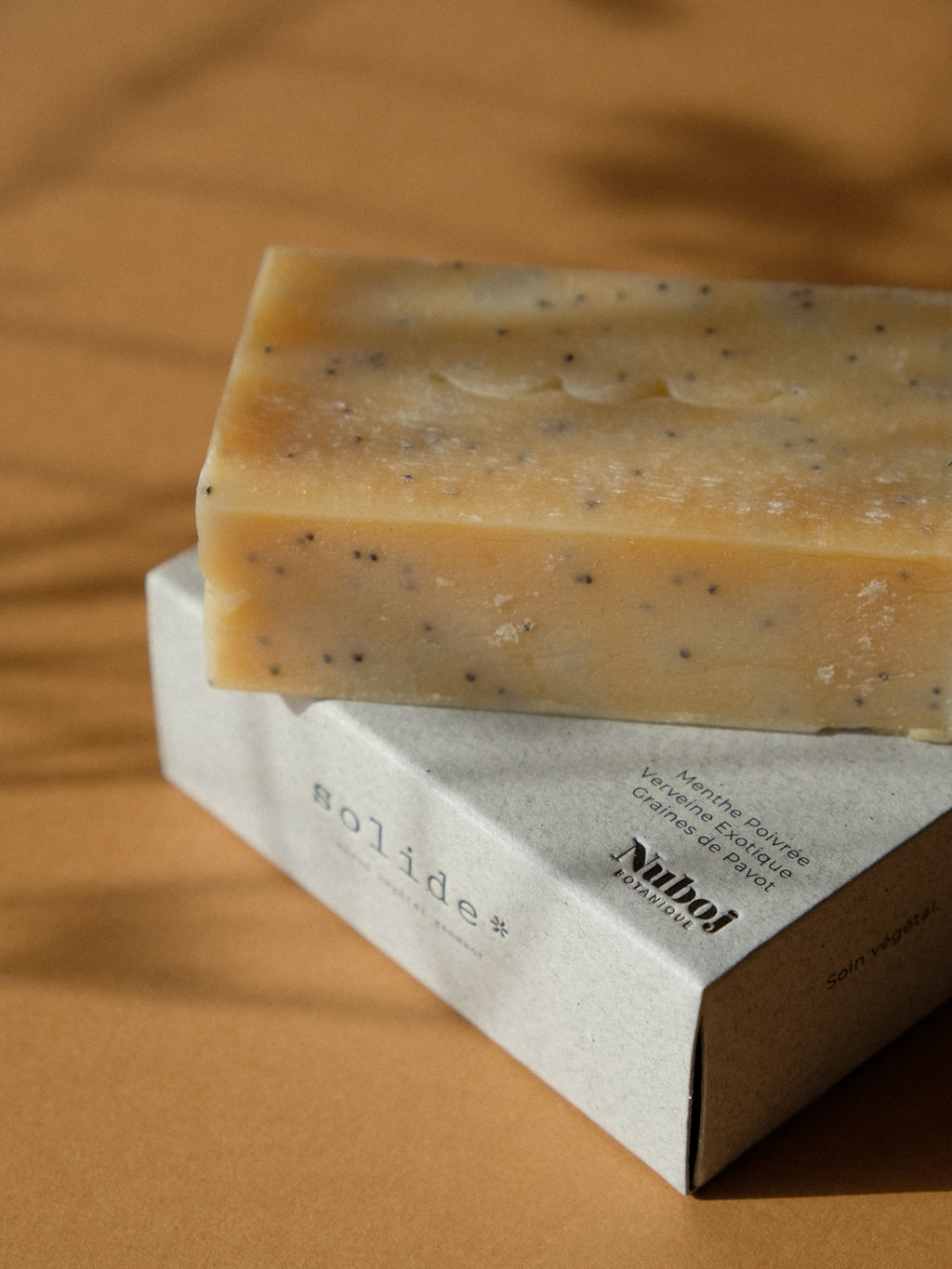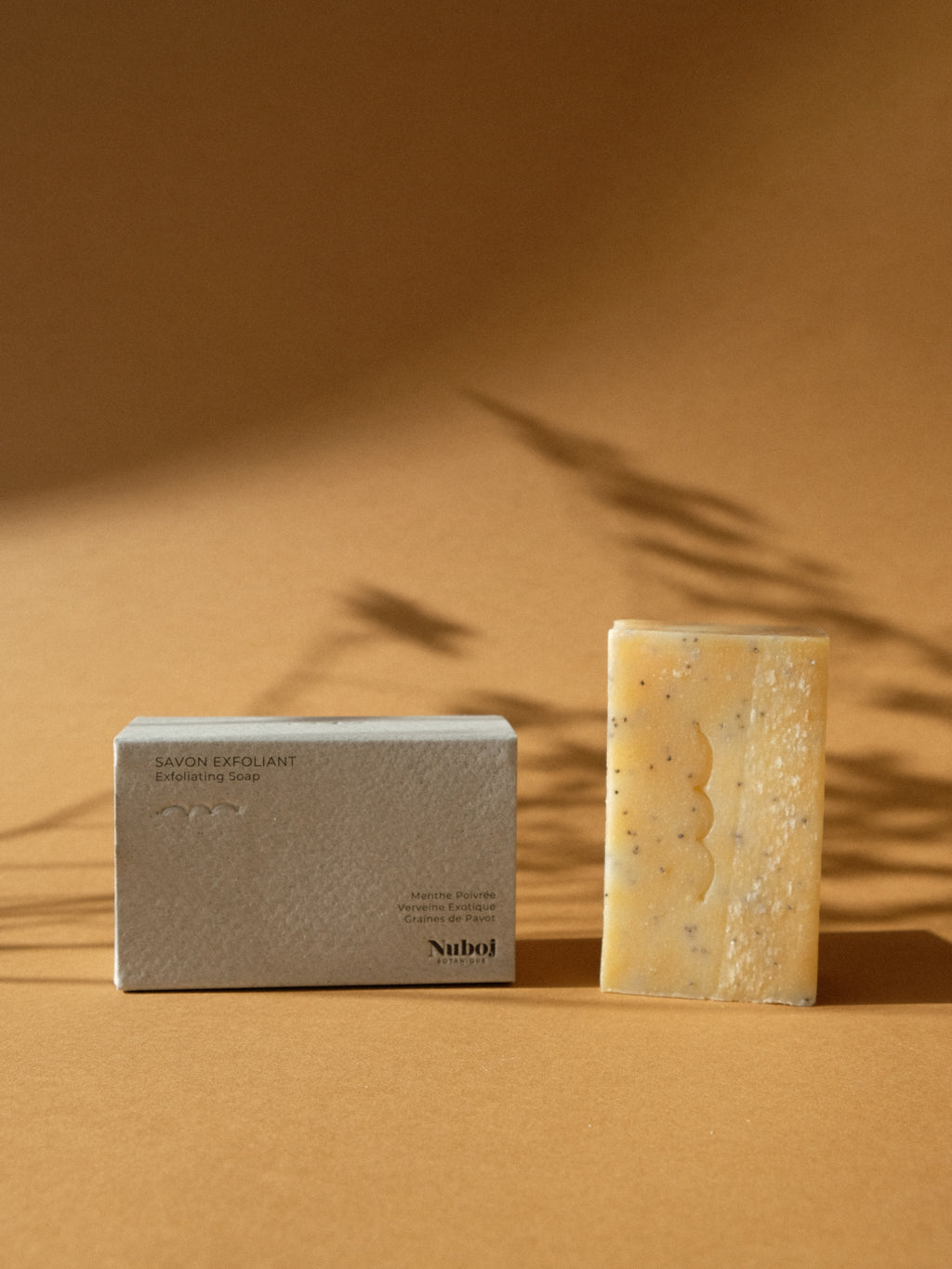 ⋆⫷ Nuboj ⫸⋆
The best nature has to offer packed in a bar soap or a tiny little glass bottle for your everyday beauty and wellness routine.
Created in 2020 by 3 friends, Nuboj Botanique is a 100% natural and eco-responsible cosmetic care brand based in Marseille, Provence-Alpes-Côte d'Azur, France. 
Explore Nuboj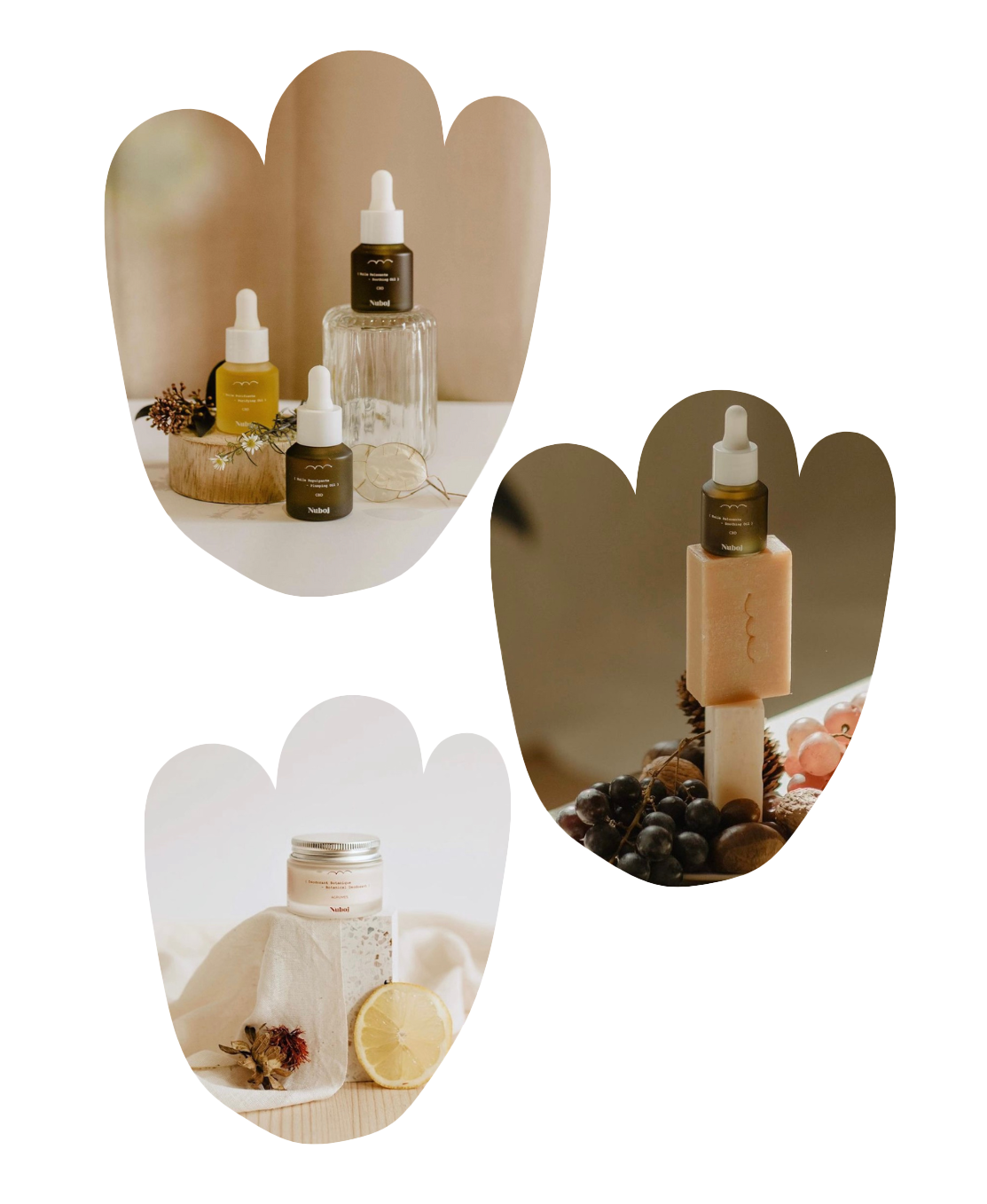 The goal of Nuboj is to help you simplify your daily well-being routine while respecting 4 pillars:
✭ Natural: All Nuboj products are made with 100% natural ingredients.
⥈
✭ Healthy: Their products are healthy, because they do not contain any petrochemicals or endocrine disrupting chemicals and are enriched with plant goodness.
⥈
✭ Effective: Their products are effective because their formulations contain exclusively natural active ingredients recognized for their properties.
⥈
✭ Responsible: Nuboj products are responsible, because they will never compromise on their environmental impact throughout the creation cycle.
⥈
Try a drop of these magical natural potions yourself!