Sage and Eucalyptus Bundle
Bundle of Eucalyptus and White Sage
Regular price
Sale price
€14,00
Unit price
per
Sale
Sold out
Traditionally used for healing and protection, Eucalyptus is used to cleanse negative energy, especially after misunderstandings or during illness, when the level of unwanted energy is high. Eucalyptus has a characteristically minty, fresh scent. Its aroma also contains forest notes, described as sweet and reminiscent of the scent of honey.
White Sage originates from the natural habitats of Salvia Apiana located in the mountains off the coast of California, USA.
Eucalyptus is from California, USA.
✽ ✽ ✽
Sage and Eucalyptus - 
fragrance and properties
Eucalyptus has a strong relaxing effect, helps increase blood flow to the brain, alleviate mental and physical fatigue. For centuries it has been a sacred plant for the indigenous people of Australia. In Aboriginal culture, traditional healers used it in smudging rituals to bring in positive & healing energy. Eucalyptus has a characteristically minty, fresh scent. Its aroma also contains forest notes, described as sweet and reminiscent of the scent of honey.
Sage relieves anxiety, symptoms of depression and hyperactivity. Smoke from burning Sage calms the mind, relaxes the body and positively affects the mood. Research done on the properties of Sage smudging suggests, that the plant stimulates the mental functions, relieves depression, and even stimulates brain memory functions. Due to its unique, intense aroma and properties, it is a great tool for deepening the practice of meditation or yoga. Burning Sage and Eucalyptus helps to balance vibrations received from the environment and neutralize negative energy.
N
atural incense for smudging rituals
Smudging is a mindfulness practice that increases awareness and spirituality. It enhances concentration, harmony and balances the energy that surrounds us. The cleansing ritual can also be performed when we want to free ourselves from unfavorable situations or emotions that currently accompany us. Carrying out such a ritual can become a sign for us that a given stage (for example worrying or uncertainty) is behind us and it is time to move on. Smudging, or cleansing, our space with dried plants affects not only the space itself, but also directly us, cleansing our aura.
How to use?
Hold the incense at a 45 degree angle and light it. Allow a moment for the flame to catch, then blow it out.
Direct the smoke onto areas you wish to clean and purify, creating a sacred space.
Warning:
• Never leave a lit incense alone whilst burning
• Do not use on exposed surfaces as may cause Ash burns and staining
• Clean incense holders regularly to prevent staining
• Keep away from children
• Please do not burn incense if pregnant or have breathing problems
• Please insure incense is extinguished completely and properly before putting away
The approximate dimension of this incense is 10cm. As there are natural plants, the sizes may vary slightly.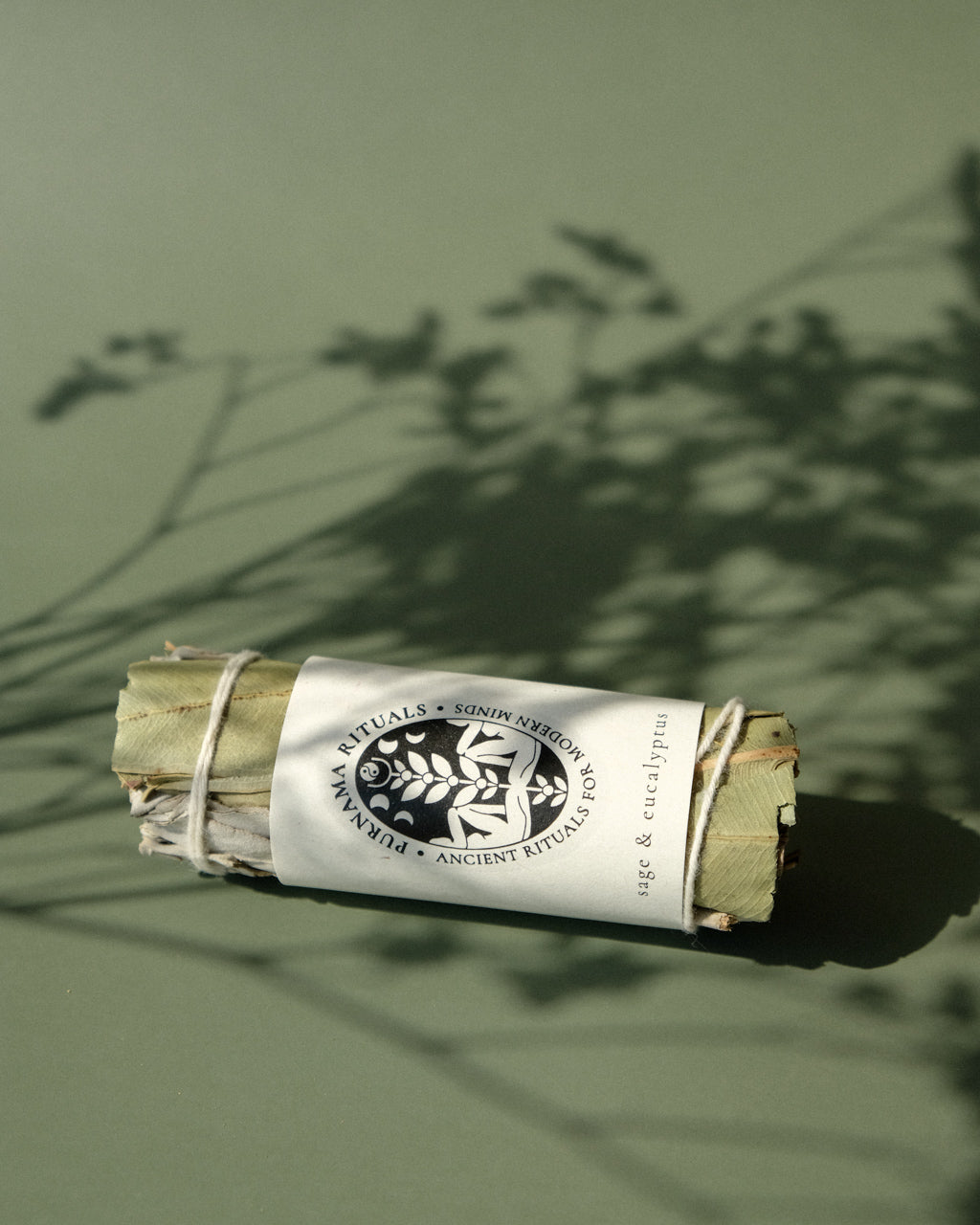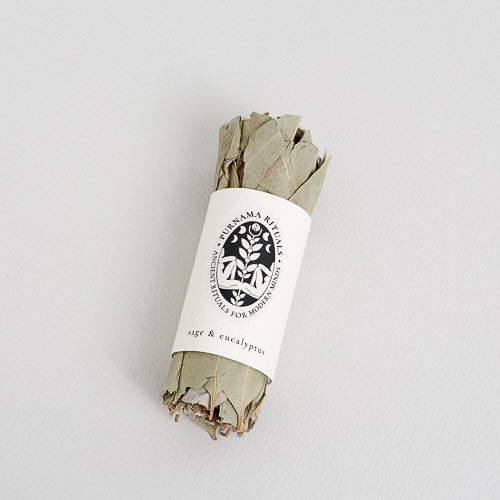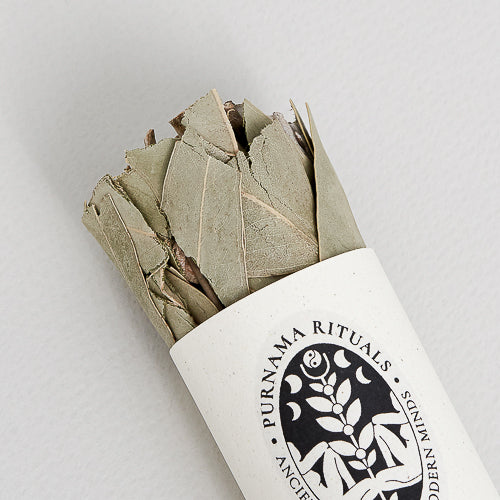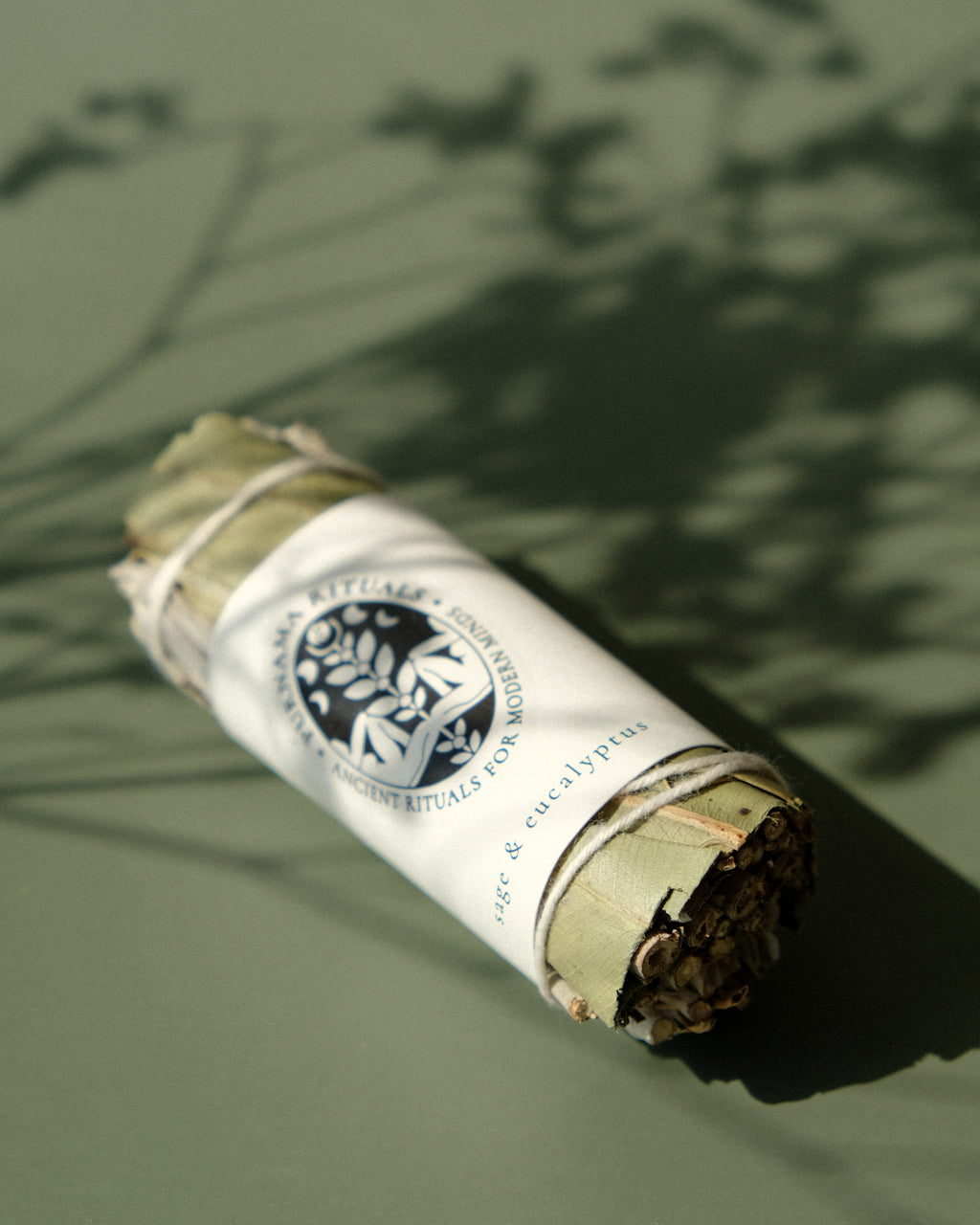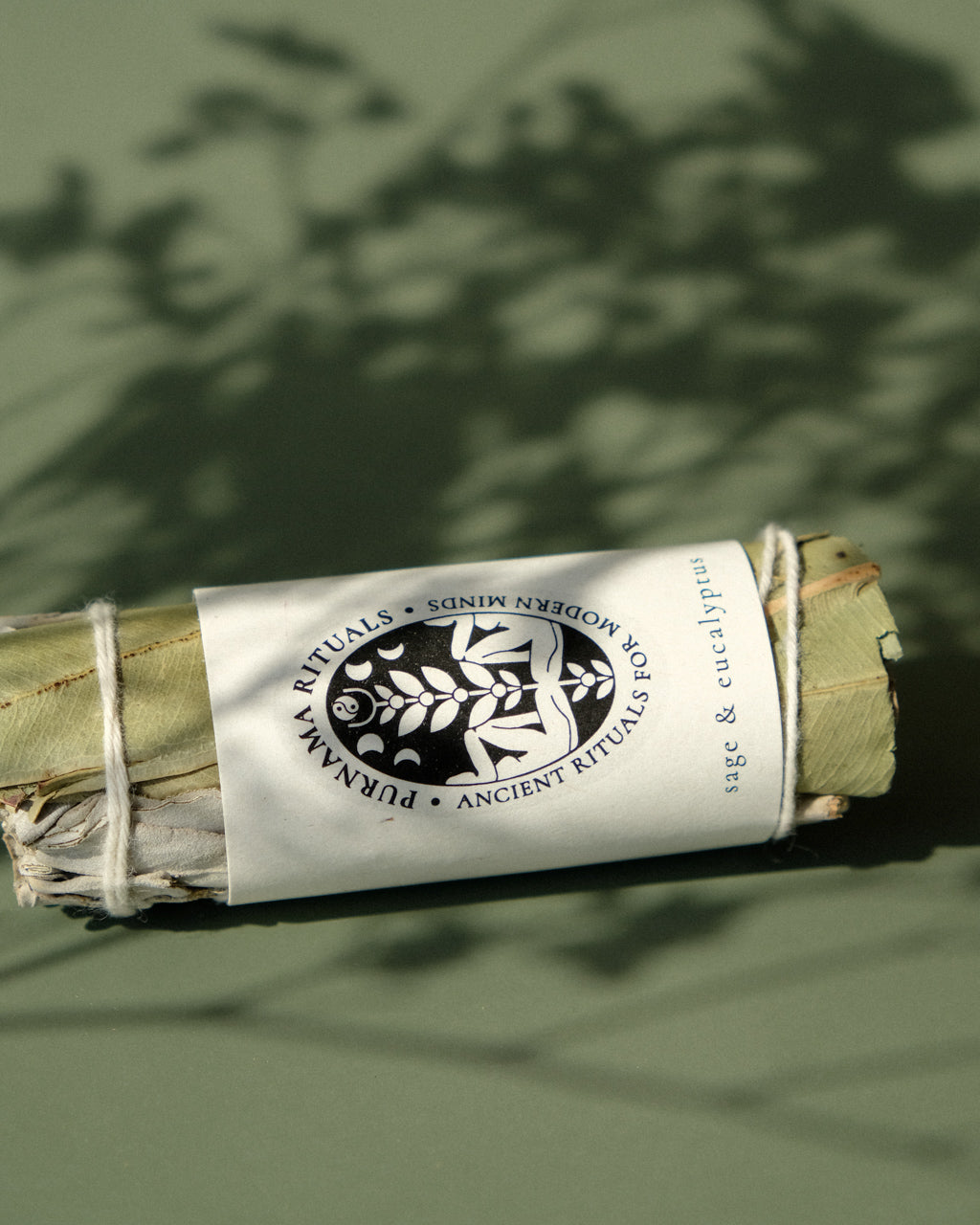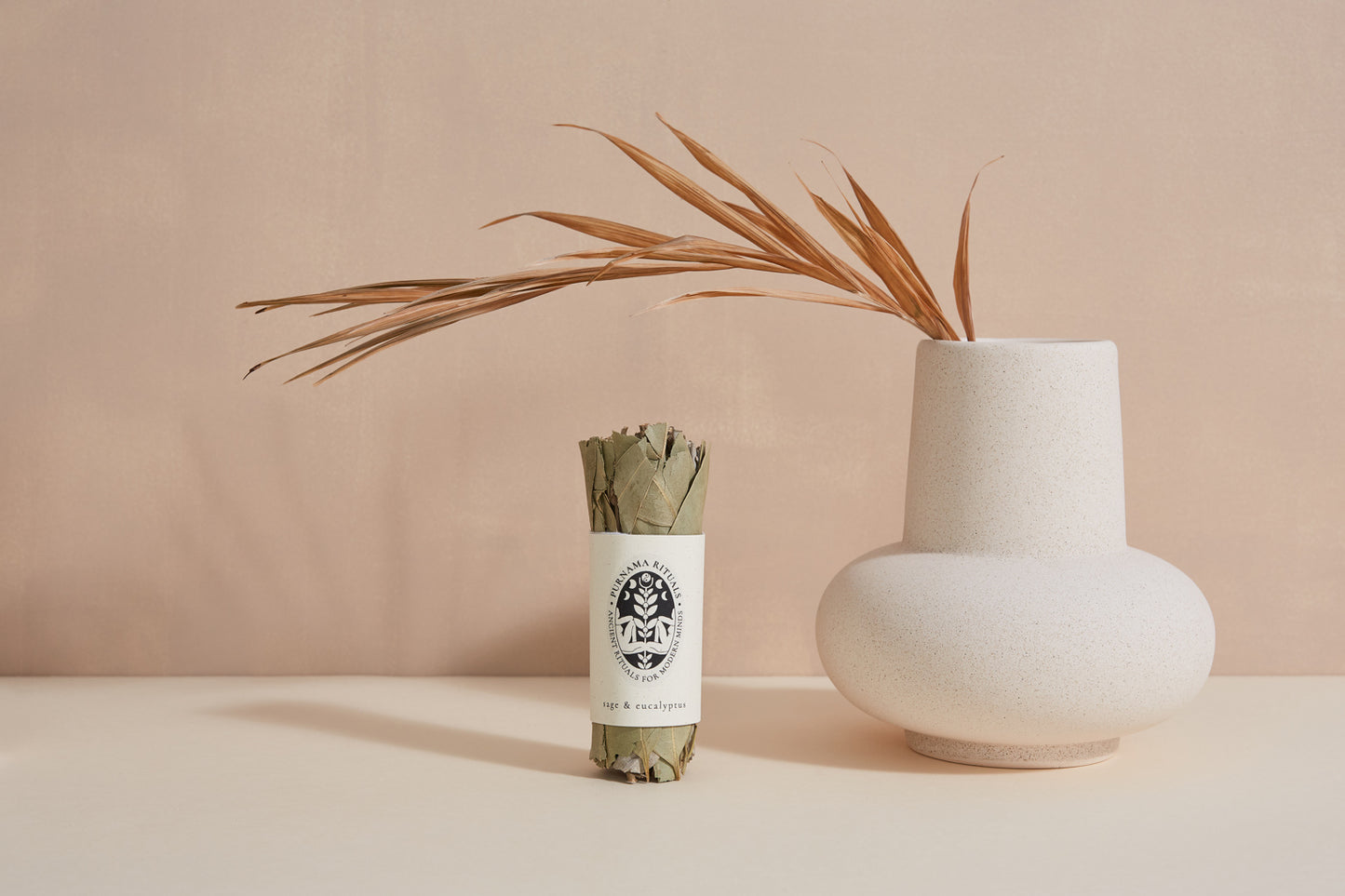 ☽ Purnama Rituals ☾
To make your daily rituals a bit more magical!
Purnama in Bahasa Indonesian means full moon, infinity, and perfection. Purnama Rituals is an act of appreciation of nature, moon phases and rituals associated with them, but also the perfection of nature in itself.
Create Your Ritual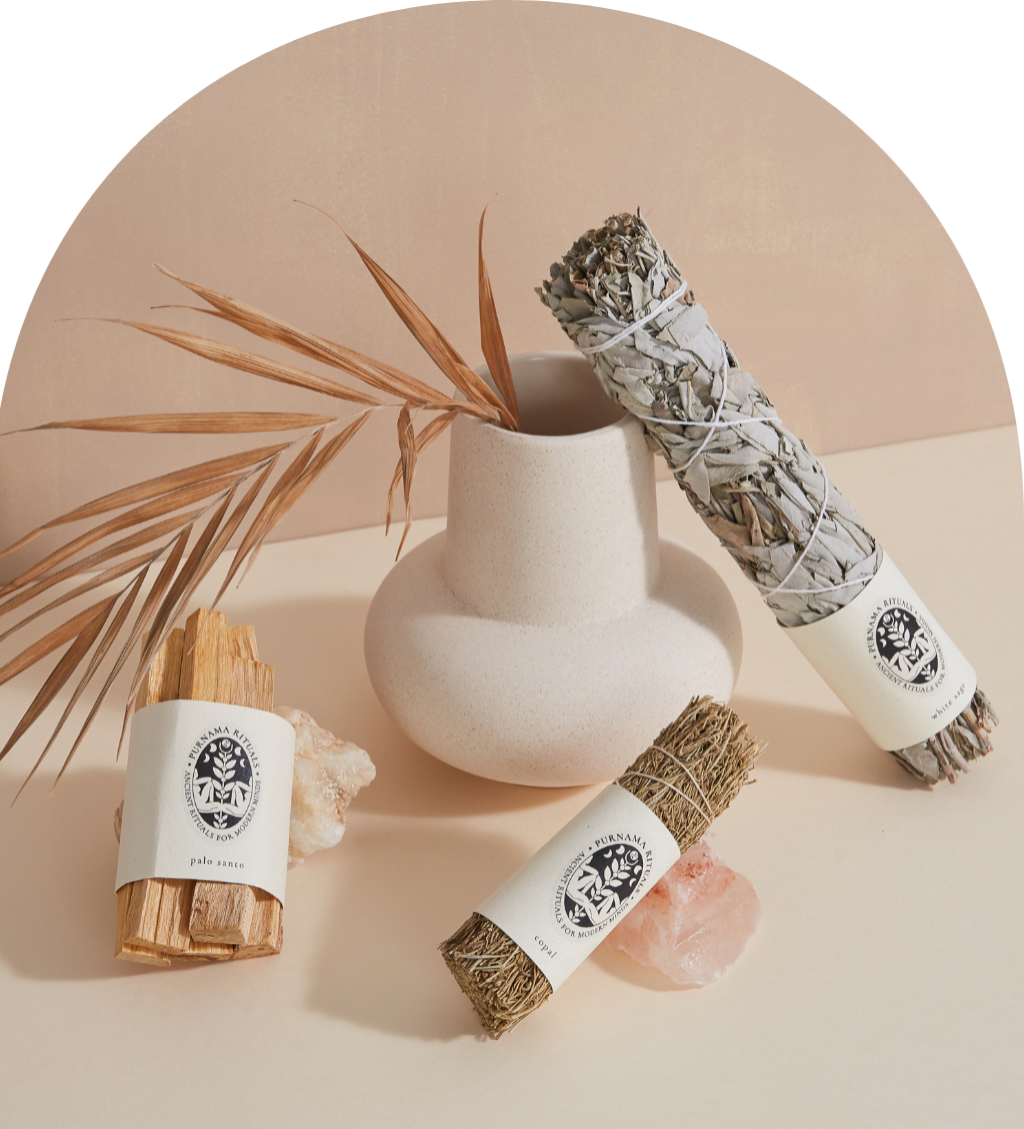 Through our senses we are able to create space for meeting ourselves. Some find that space through the sense of smell, which is why Purnama Rituals specializes in aromatherapeutic, fragrant, plant-based incense.
⥈
Purnama Rituals strives to create a place full of appreciation, respect and connection to nature – not only by accessing it through the use of plants, but also finding it deep within each of us.
⥈
The incense is all natural & contains no additional ingredients. The herbs come from natural habitats & are collected by hand in a way that does not violate their natural environment. Purnama Rituals strives to bring you the absolute best quality products, sourced mindfully & ethically.