Scented Tealight Candles FREYA - Love Spell
Soy wax tealight candles with Jasmin, Verbena, and Rose essential oils
Regular price
€11,00
Sale price
€11,00
Unit price
per
Sale
Sold out
This product comes with labels in Englsih.
These handmade scented tealight candles with a magical aroma are for all lonely souls who long for desire, excitement, and the wind of new love. The tealight candles magical aroma might help to:
Attract a new person of your dreams;
Forge a harmonious and close relationship;
Find happiness and joy in such a relationship;
Add love and material joy.
In Norse mythology, Freya was the goddess of fertility, love, and passion. She was considered to be the most desired goddess. Her love was sought by giants and gods, but she agreed to marry only the chief god Odin. The Norse goddess Freya corresponds to Venus or Aphrodite in the pantheon of Ancient Greek and Roman gods.
♪ Head notes: Jasmin, Verbena
♪ Heart note: Rose
♪ Base note: Secret magic ingredient
Rose: the aroma of roses is especially valued for its effect on emotions, thus being an effective antidepressant. It is particularly recommended for women who lack confidence in their charm and sexual maturity. Rose substances calm the nervous system, reduce anger and irritability, soothe and open the heart. They also take away unnecessary anger, disappointment, and sadness. Rose aroma is a miraculous energizing remedy for heart and mind, it reduces jealousy, anger and helps to free a person from suspicion.
Verbena: the aroma of verbena is believed to act as an aphrodisiac and improve sexual functions. This aroma helps people, suffering from depression, to feel better, calms and refreshes the mind and body, boosts the spirit, and helps to fight stress. Since ancient times verbena has been used in magical concoctions, teas, and ointments for attracting love, waking up passion, and desire.
Jasmine: the aroma of jasmine calms and relieves unpleasant feelings of depression. This scent boosts self-confidence, arouses optimism and euphoria, revitalizes and energizes. This fragrance has a positive effect on women's health, increases self-confidence. In India jasmine used to be called "Moonshine in the garden". Young girls adorned their hair with jasmine blossoms and used them for cosmetic purposes. Cleopatra is said to have had seduced Marc Antony by using jasmine oil during their official meetings in order to arouse his desires.
Dimensions: 4 × 4 × 24 cm
Wick: Cotton and paper wick. Please do not forget to trim the wick before each time you light the candles
Wax: Natural soy wax that does not emit toxic chemical compounds when burning; burns three times as long as ordinary candles; does not leave any stains, the spills are easy to clean; does not get hot, as it burns at a lower temperature than paraffin, therefore the aroma of the candle emanates slowly and unchanged.
Burning time: Estimated tealight candle burning time 4 hours.
Together with this soy wax candle, you will get a  detailed description of the tealight candles' purpose; a description of the aromatherapeutic effect of different scents; a simple meditation/affirmation ritual that will help you to attract to your life a new person, possessing the qualities of your dreams. The scented rune candle will help to create a harmonious partnership with such a person as well as to enrich this partnership with love and material joy.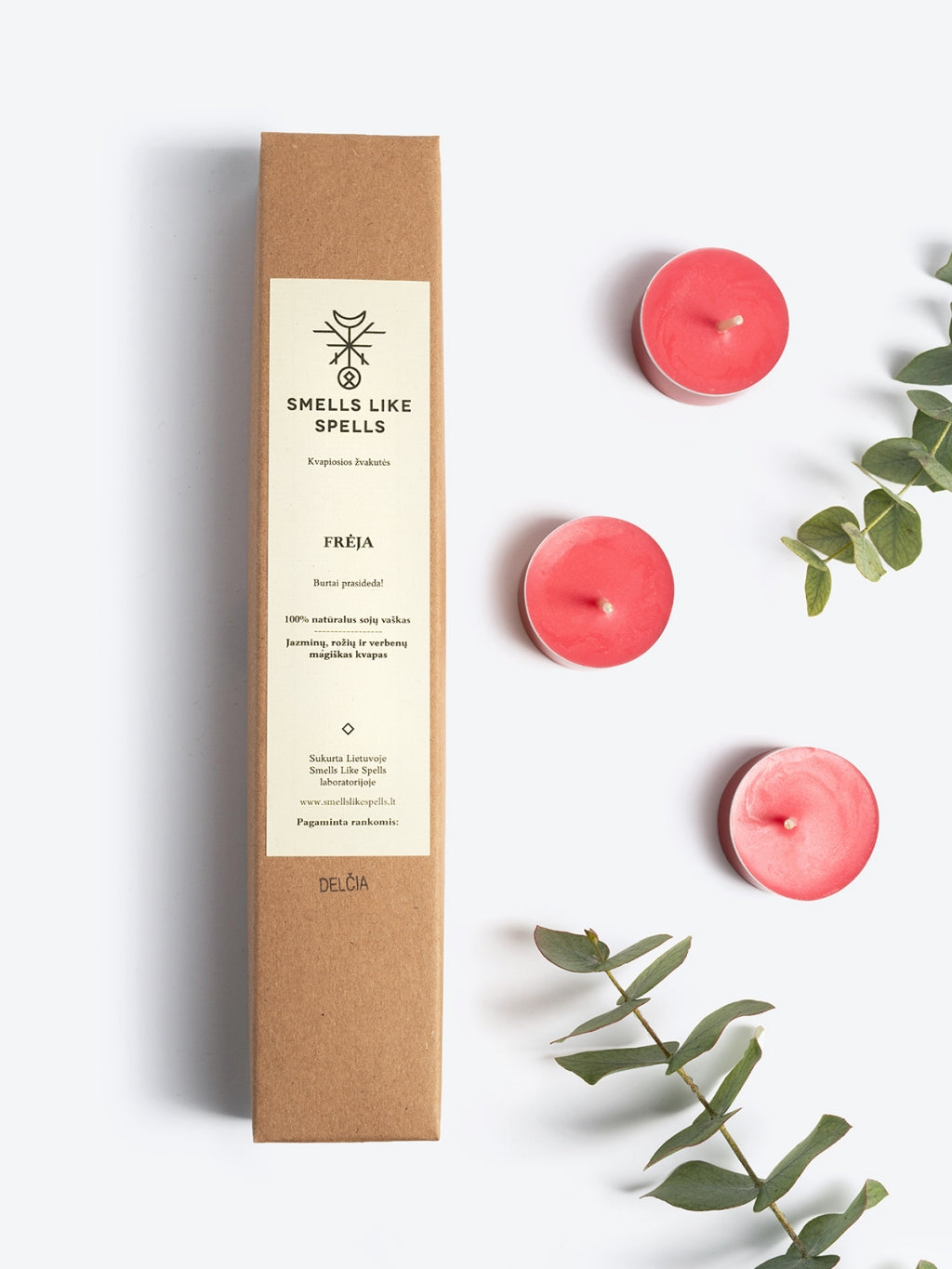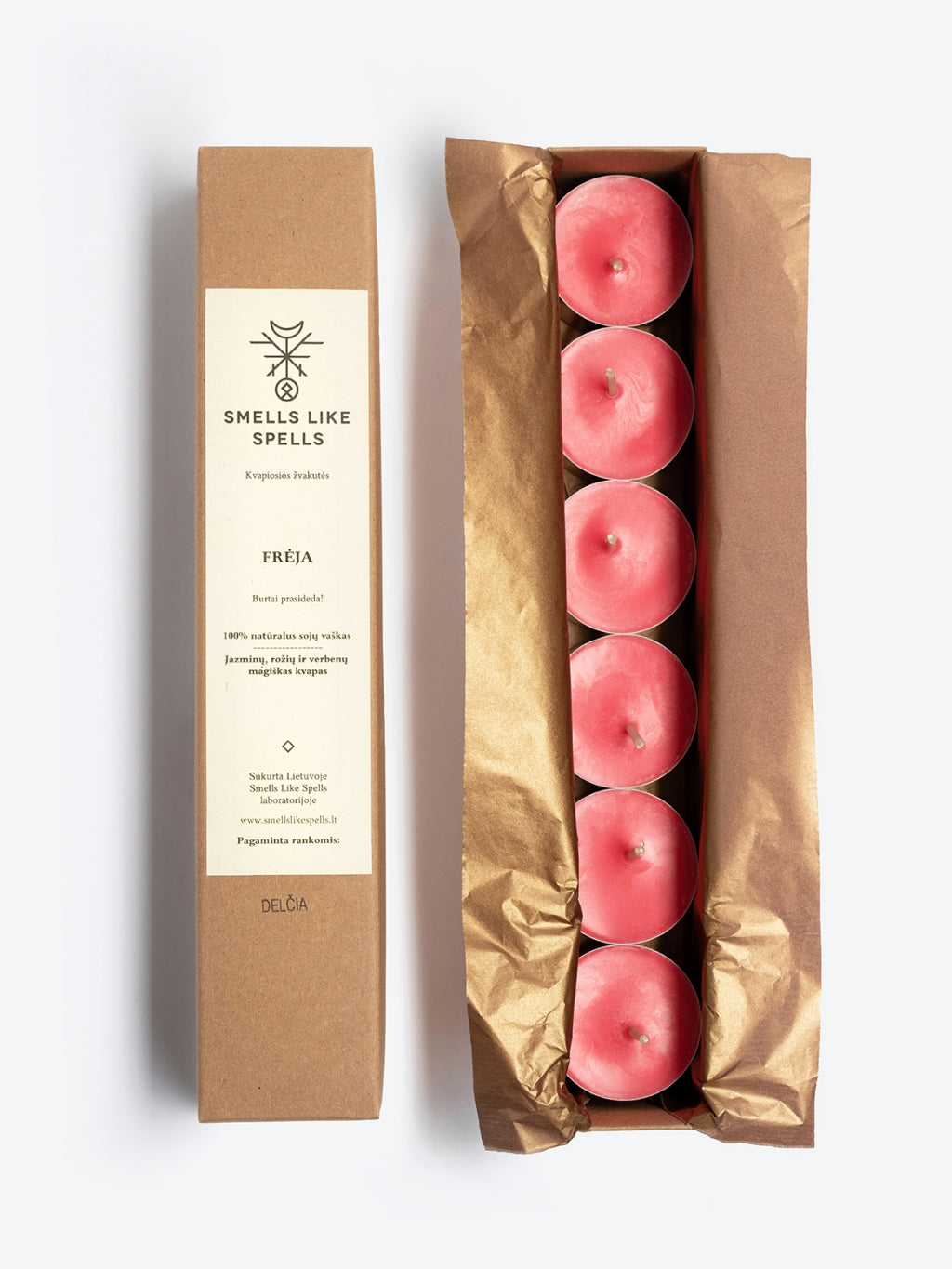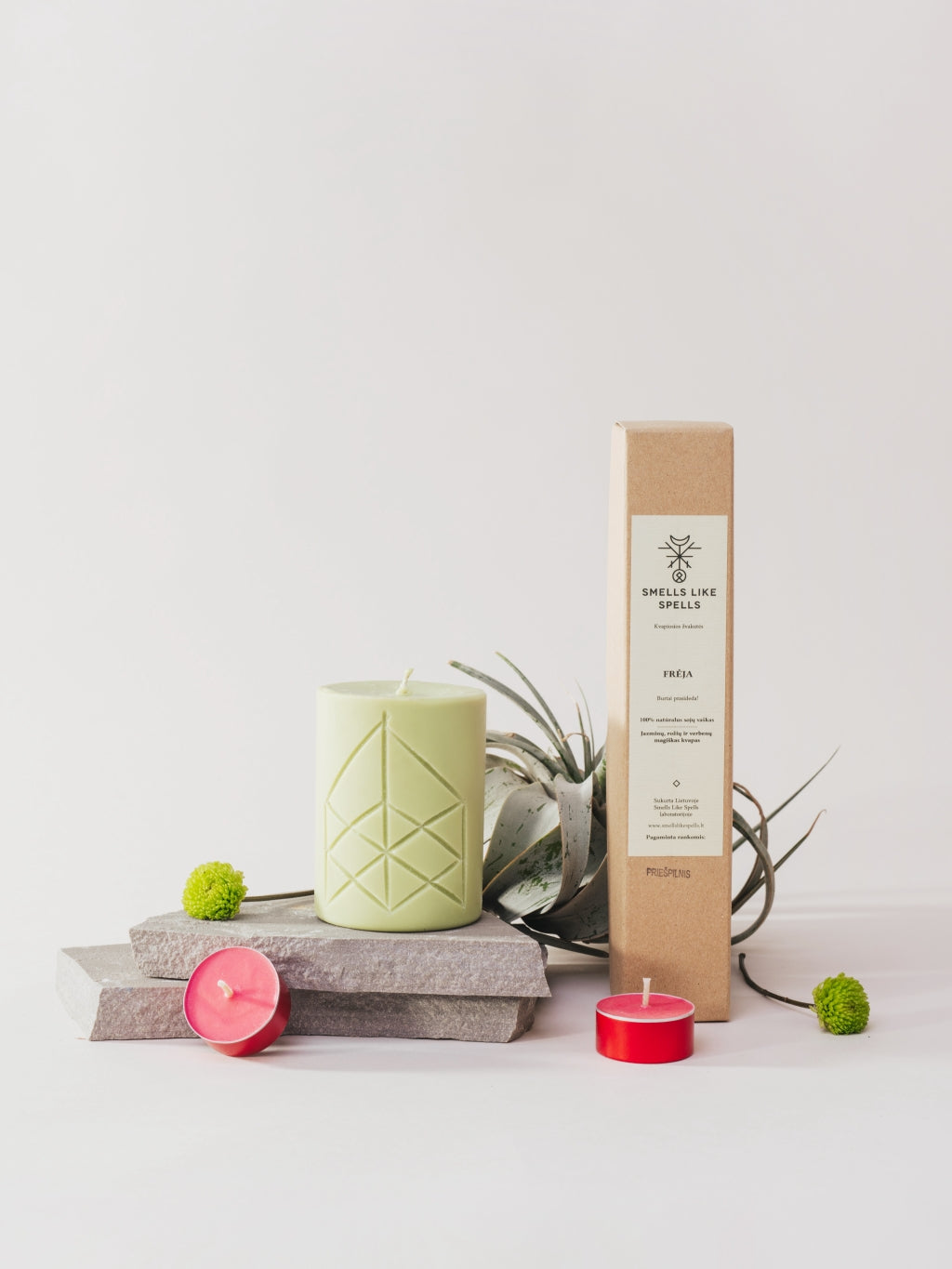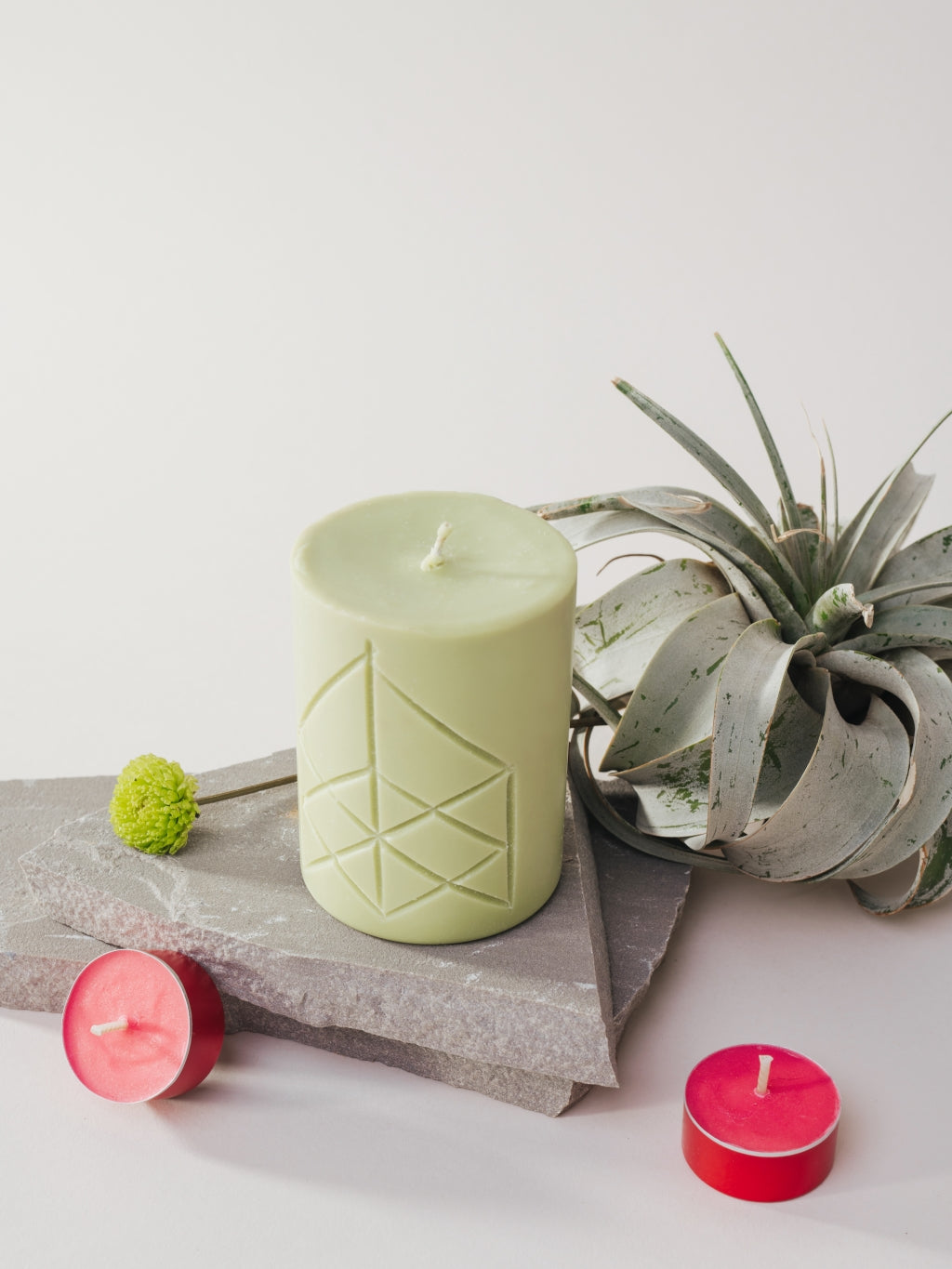 ☽ Smells Like Spells ☾
Everybody needs a little bit of magic in their daily life!
Cast a love spell by burning natural handmade incense FREYA, attract money and success with an organic essential oil blend NORNS, or cleanse your home and get rid of bad energy with a rune candle HAG.
Find Your Spell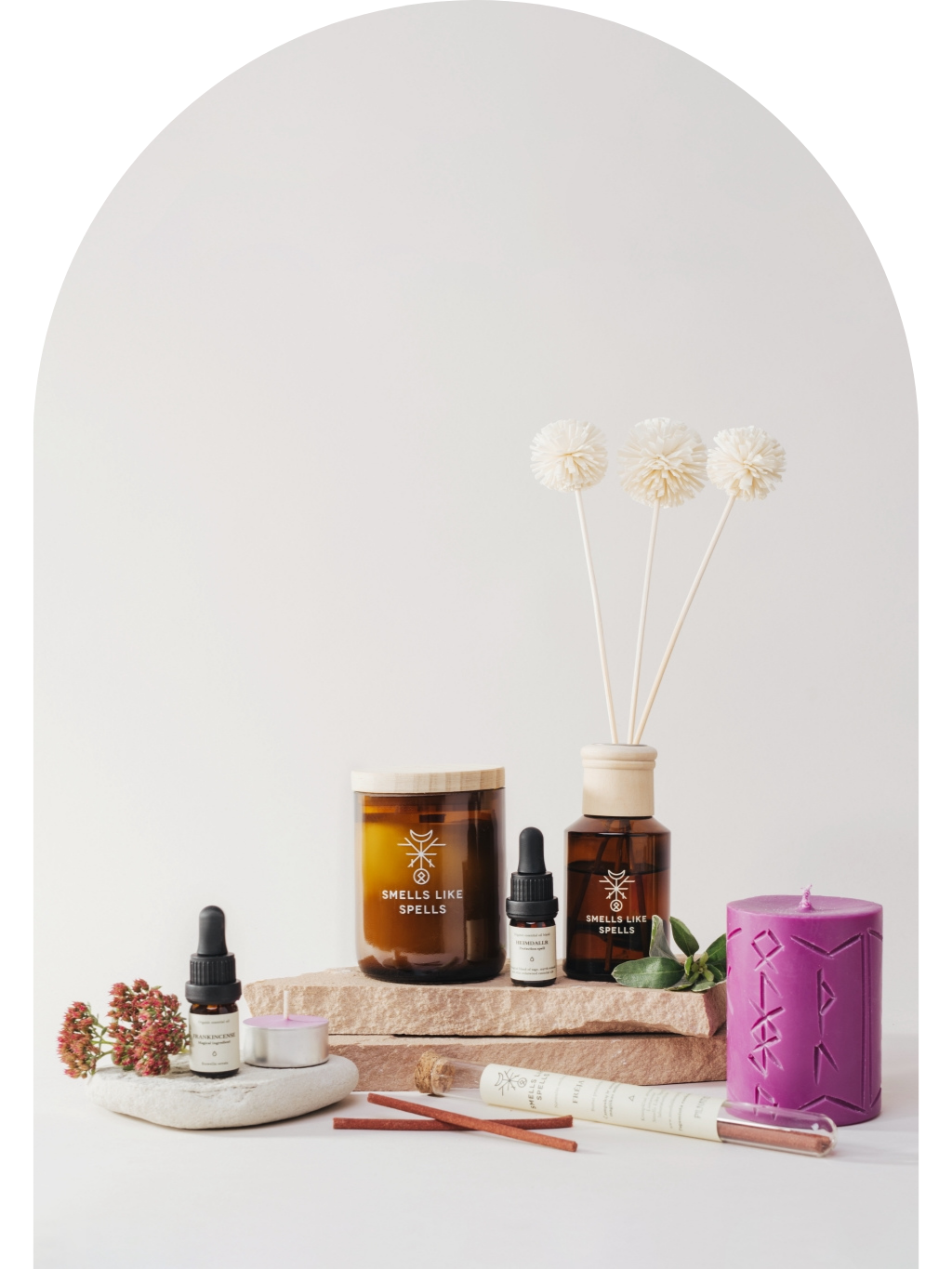 Lithuanian brand Smells Like Spells offers us a selection of magical home goods - candles, incense, essential oil blends - fragranced with incredible natural scents. Each product is handcrafted using traditional folk wisdom combined with modern perfumery, candle, and incense craft methodology.
⥈
Each unique fragrance recipe, rune sign, or color is created or chosen following folk wisdom and magical qualities of plants which could help attract love, abundance, happiness, and luck into your life.
⥈
When you are choosing the magic product for yourself or as a gift, you should answer the most important question: What would you like to wish for yourself or for your loved ones?