Scented Tealight Candles FRIGGA - Home Spell
Soy wax tealight candles with Myrtle, Almond, and Oriental spices' essential oils
Regular price
€11,00
Sale price
€11,00
Unit price
per
Sale
Sold out
This product comes with labels in English.
These handmade soy-wax aromatic tealight candles with a magical aroma are for those who search for coziness and warmth of the family hearth, who protect their home and family like the apple of their eye, whose home is their fortress. These tealight candles and a simple meditation/affirmation ritual might help to:
Create harmony at home and among the family members;
Protect your home from anger;
Protect your home and family members from uninvited guests and their evil thoughts;
Bring prosperity and financial wealth.
In Norse mythology, Frigga, the chief god Odin's wife, is the goddess of the household. She is the ideal guardian and keeper of the home's hearth, the only one who is allowed by her husband to sit on his throne and look out over the whole world.
♪ Base note: Oriental spices
Myrtle: has a positive effect on neurological disorders, depression; it calms, relaxes, and soothes. The scent of myrtle is believed to act as an aphrodisiac and stimulant of reproductive functions. It is believed to be an effective helper in getting rid of bad habits, therefore it is a common ingredient in many mixtures for those willing to give up smoking or drug addiction. In magic, myrtle is used for love spells and the strengthening of household and family bonds.

Almond: almond nuts and wood have been used for magical purposes since very ancient times. Almond wood was even used for producing magic wands. Almond is a symbol of wealth, material goods, and abundance. Almond scent calms, creates an atmosphere of safety, tranquility, warmth, and harmony. Almond also protects from negative energetic environmental impacts, evil eye, or curses.
Oriental spices: the scent of oriental spices mixture will warm you up and spread the feeling of harmony, safety, and tranquility. The mixture of various herbs and spices contains the aromas of pepper, coriander, fennel, anise, and saffron. The concoction strengthens energy fields, harmonises, and calms.
Dimensions: 4 × 4 × 24 cm
Wick: Cotton and paper wick. Please do not forget to trim the wick before each time you light the candles
Wax: Natural soy wax that does not emit toxic chemical compounds when burning; burns three times as long as ordinary candles; does not leave any stains, the spills are easy to clean; does not get hot, as it burns at a lower temperature than paraffin, therefore the aroma of the candle emanates slowly and unchanged.
Burning time: Estimated tealight candle burning time 4 hours.
Together with this soy wax candle, you will get a  detailed description of the tealight candles' purpose; a description of the aromatherapeutic effect of different scents; a simple meditation/affirmation ritual that may help you to create harmony at home and among your family members, protect your home and family members form uninvited guests and their evil thoughts.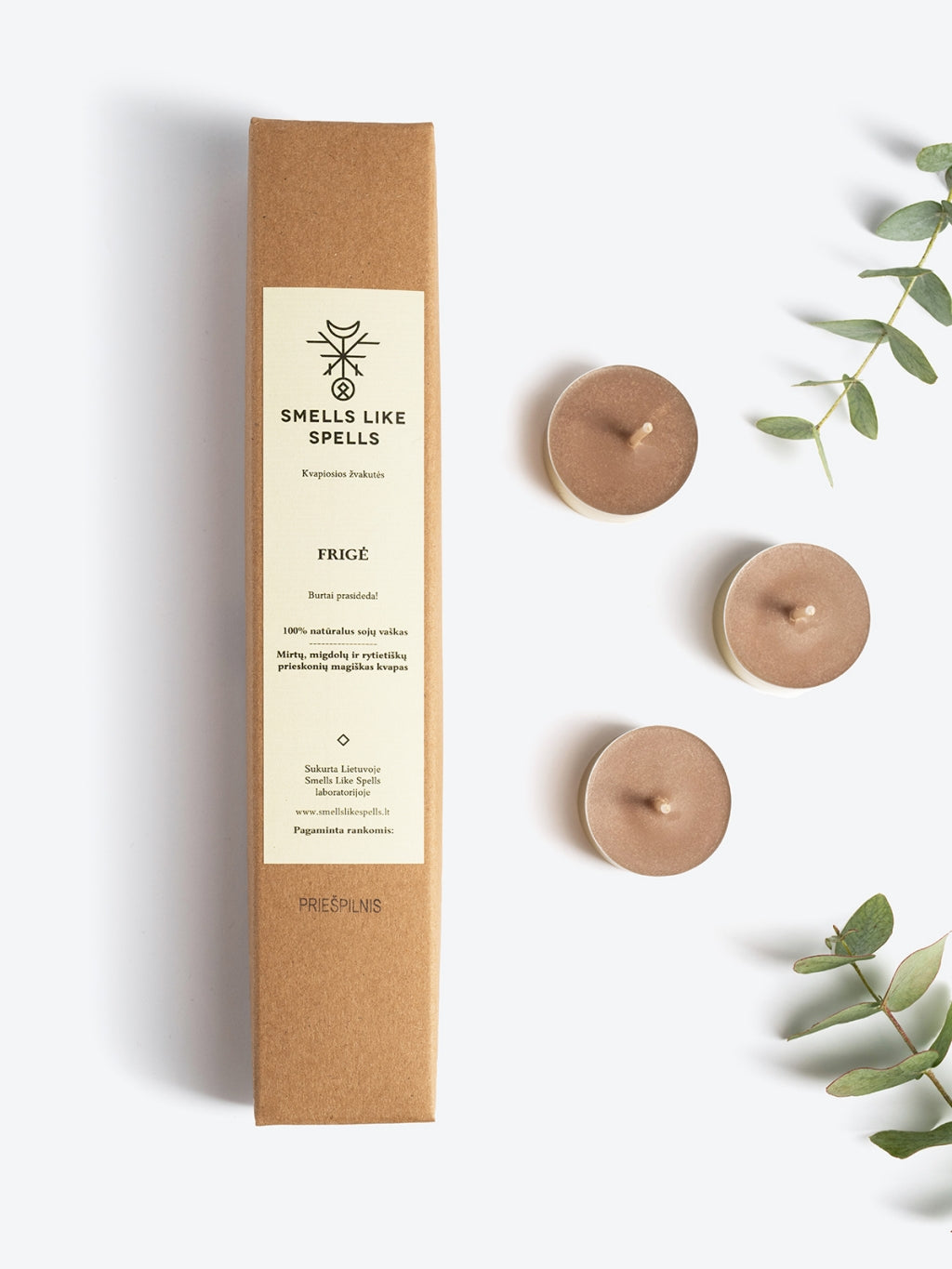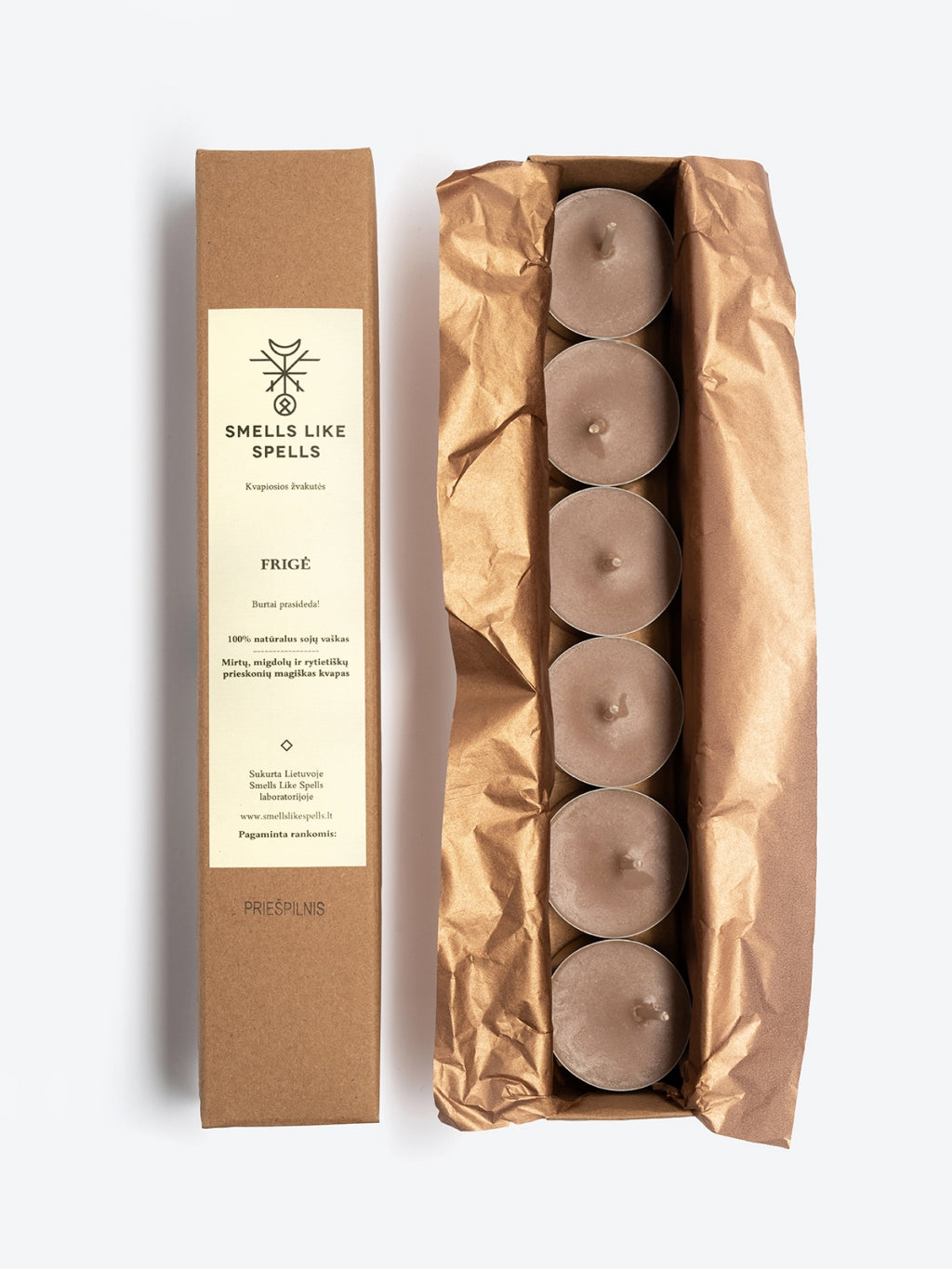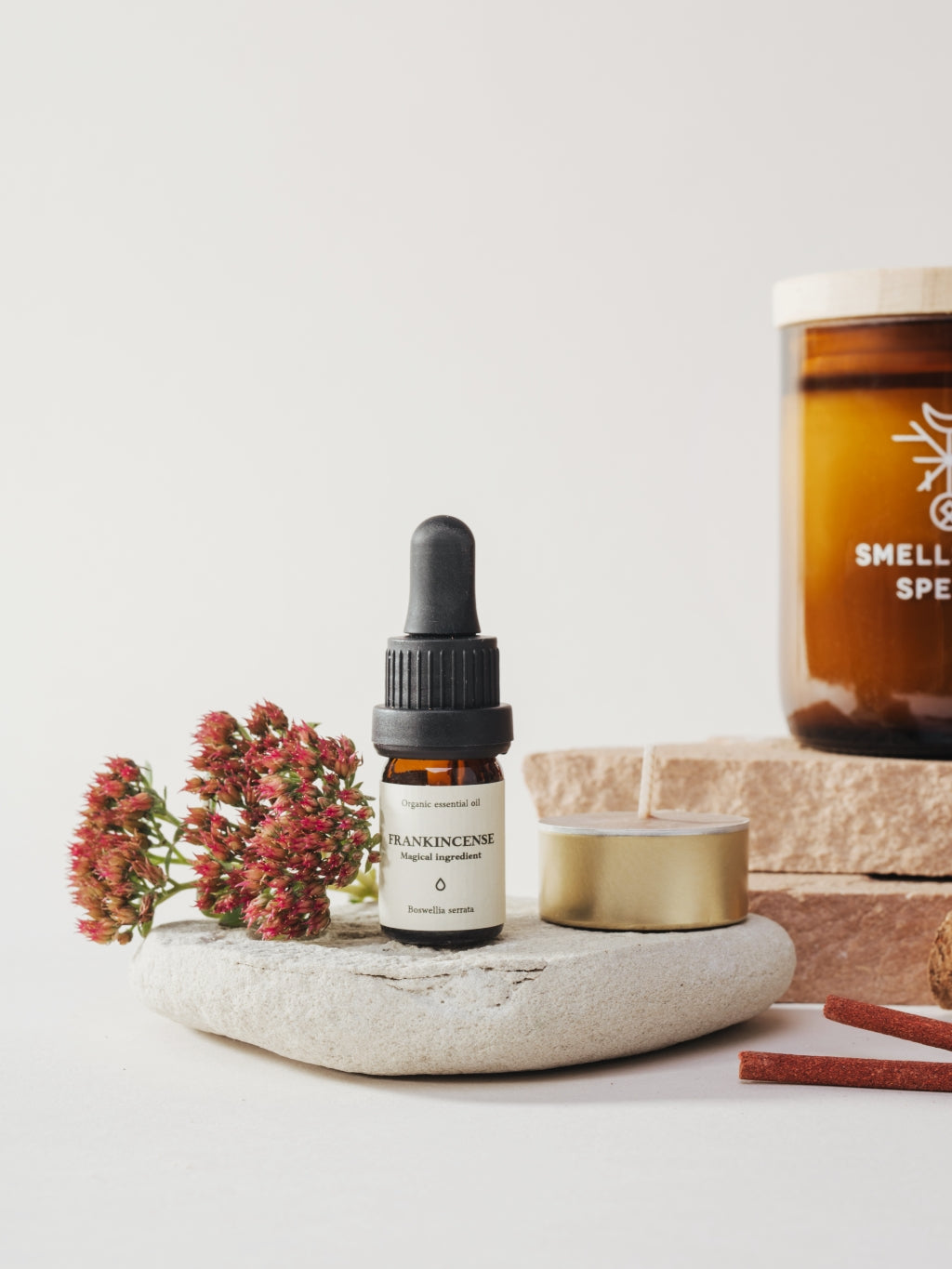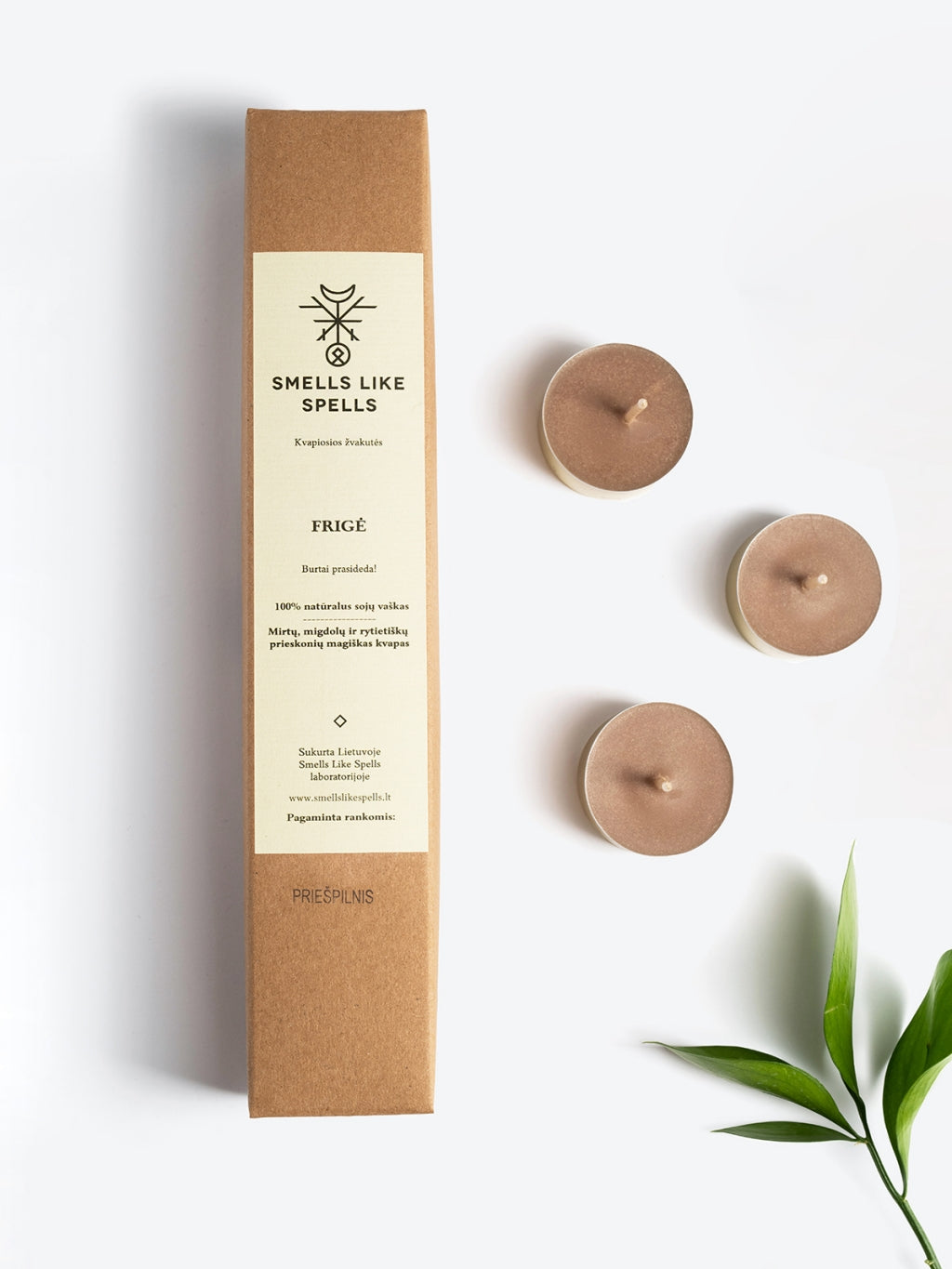 ☽ Smells Like Spells ☾
Everybody needs a little bit of magic in their daily life!
Cast a love spell by burning natural handmade incense FREYA, attract money and success with an organic essential oil blend NORNS, or cleanse your home and get rid of bad energy with a rune candle HAG.
Find Your Spell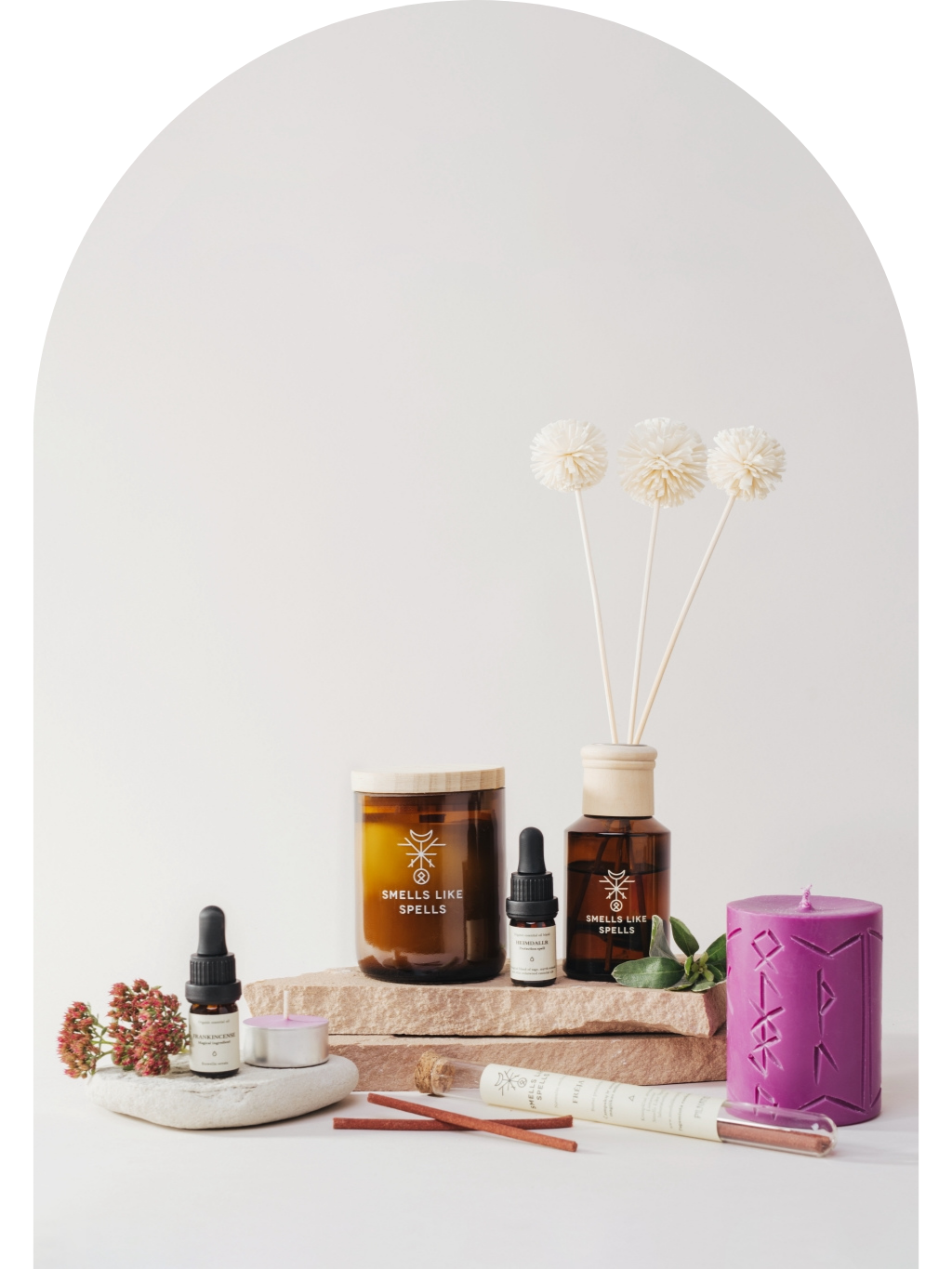 Lithuanian brand Smells Like Spells offers us a selection of magical home goods - candles, incense, essential oil blends - fragranced with incredible natural scents. Each product is handcrafted using traditional folk wisdom combined with modern perfumery, candle, and incense craft methodology.
⥈
Each unique fragrance recipe, rune sign, or color is created or chosen following folk wisdom and magical qualities of plants which could help attract love, abundance, happiness, and luck into your life.
⥈
When you are choosing the magic product for yourself or as a gift, you should answer the most important question: What would you like to wish for yourself or for your loved ones?