Scented Tealight Candles HAG - Purification Spell
Soy wax tealight candles with Lavender, Rosemary, and Myrrh essential oils
Regular price
€11,00
Sale price
€11,00
Unit price
per
Sale
Sold out
This product comes with labels in English.
These handmade soy-wax scented tealight candles with a magic aroma were crafted to be like a broom that will sweep off the everyday energetic filth and cleanse the home environment from negative energy clusters. Energetic cleansing, like everyday chores, not only cleans our energetic field but also gives a certain level of "immunity". The tealight candles' magical fragrances might help to:
Get rid of bad energy;
Dispose of accumulated anger and negative emotions;
Absorb the negative energy of the evil eye, ill wishes, and curses.
Cleanse the home's energy field.
In Norse mythology, the goddess Hag is the infamous witch that spreads destruction, disasters, and misfortune, as well as causes nightmares while we sleep. However, in this case, she will help us to destroy all the negative energy, jealousy, grudge, and anger that we accumulated by ourselves and that others sent towards us.
Lavender: has a calming and soothing effect, removes aches, and is one of the most effective anti-inflammatory oils. Lavenders also have a positive effect on blood circulation and boost immunity. The energy of the essential oil helps to know and understand oneself, restores strength, and is suitable for meditation. It ensures thorough energetic relaxation, also reduces aggression, helps to avoid envy and jealousy.
Rosemary: the sharp aroma of rosemary possesses rejuvenating, stimulating, anti-depressant qualities, helps to reduce weariness of mind and body. It can also help to concentrate, improve memory and boost working capacity. In traditional magical rituals of various nations, rosemary is used for warding off evil spirits, cleansing energy fields, and fighting the negative influence of surroundings.
Myrrh: the Bible tells us a story of the Three Kings, who came to honor baby Jesus and brought him myrrh as one of the presents. Myrrh was valued equally to gold, and Greeks still consider it sacred. For about one-and-a-half thousand years myrrh was one of the most valuable commodities in the world and thus Arab traders who sold incense were amongst the wealthiest people. Myrrh is the symbol of wealth, health, and prosperity. This scent is particularly suitable for meditation, as it helps to ward off egocentric thoughts, restores the objectivity and adequacy of one's psychological state, calms irritation, and improves sleep.
Dimensions: 4 × 4 × 24 cm
Wick: Cotton and paper wick. Please do not forget to trim the wick before each time you light the candles
Wax: Natural soy wax that does not emit toxic chemical compounds when burning; burns three times as long as ordinary candles; does not leave any stains, the spills are easy to clean; does not get hot, as it burns at a lower temperature than paraffin, therefore the aroma of the candle emanates slowly and unchanged.
Burning time: Estimated tealight candle burning time 4 hours.
Together with this soy wax candle, you will get a  detailed description of the tealight candles' purpose; a description of the aromatherapeutic effect of different scents; a simple meditation/affirmation ritual that might help to get rid of bad energy, anger, negative emotions, and envy. This rune candle will absorb the negative energy of the evil eye, ill wishes, and curses.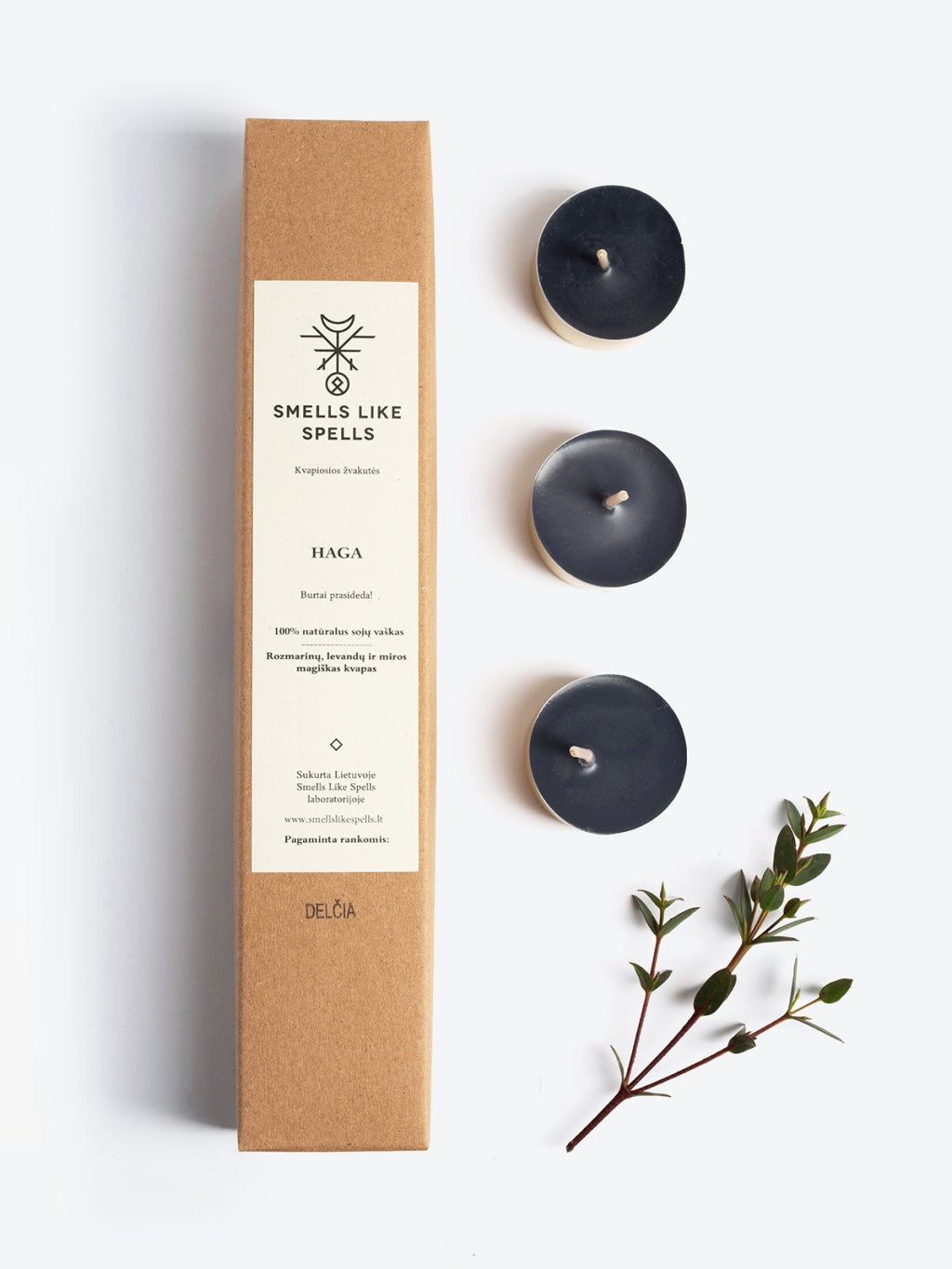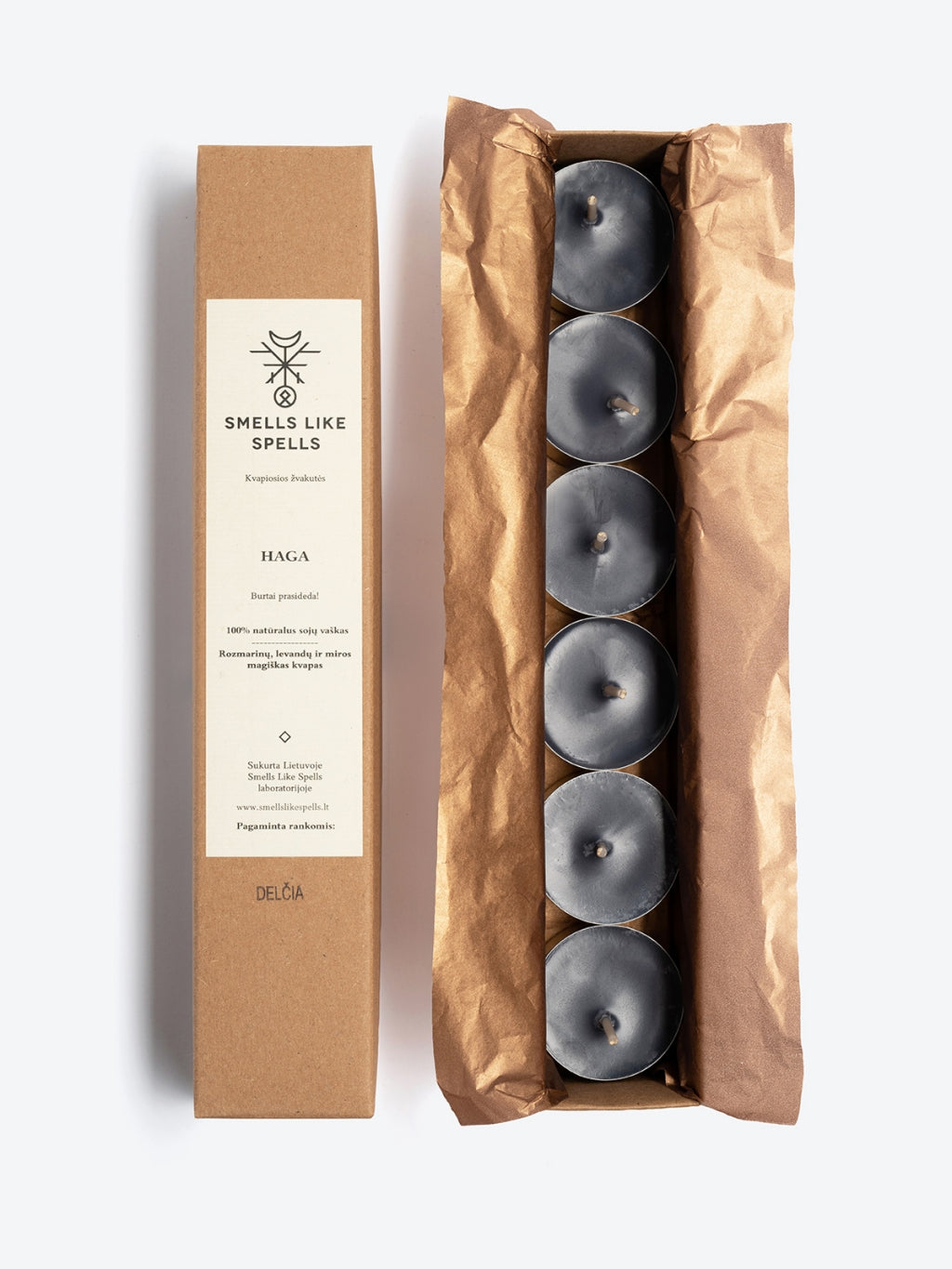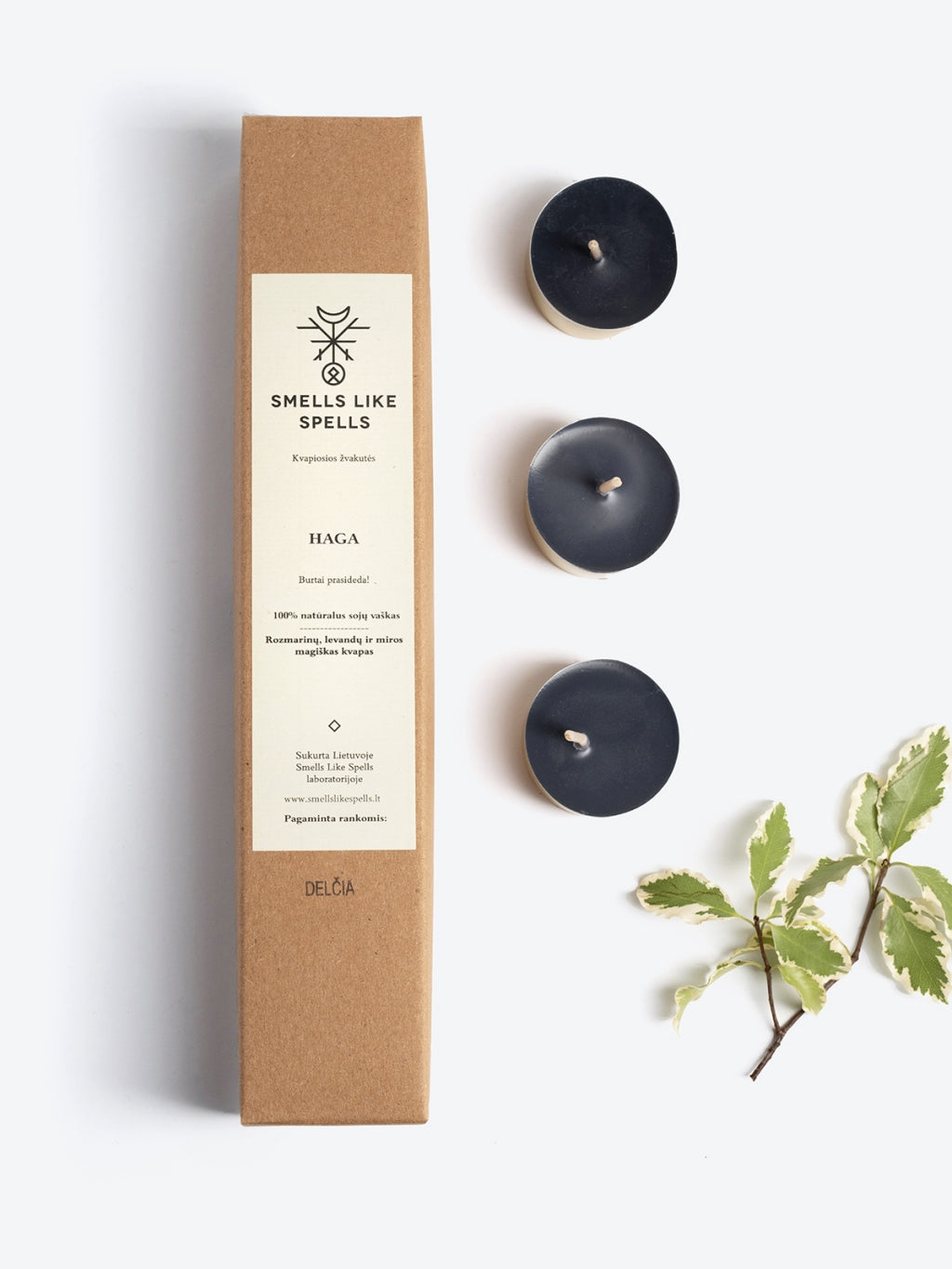 ☽ Smells Like Spells ☾
Everybody needs a little bit of magic in their daily life!
Cast a love spell by burning natural handmade incense FREYA, attract money and success with an organic essential oil blend NORNS, or cleanse your home and get rid of bad energy with a rune candle HAG.
Find Your Spell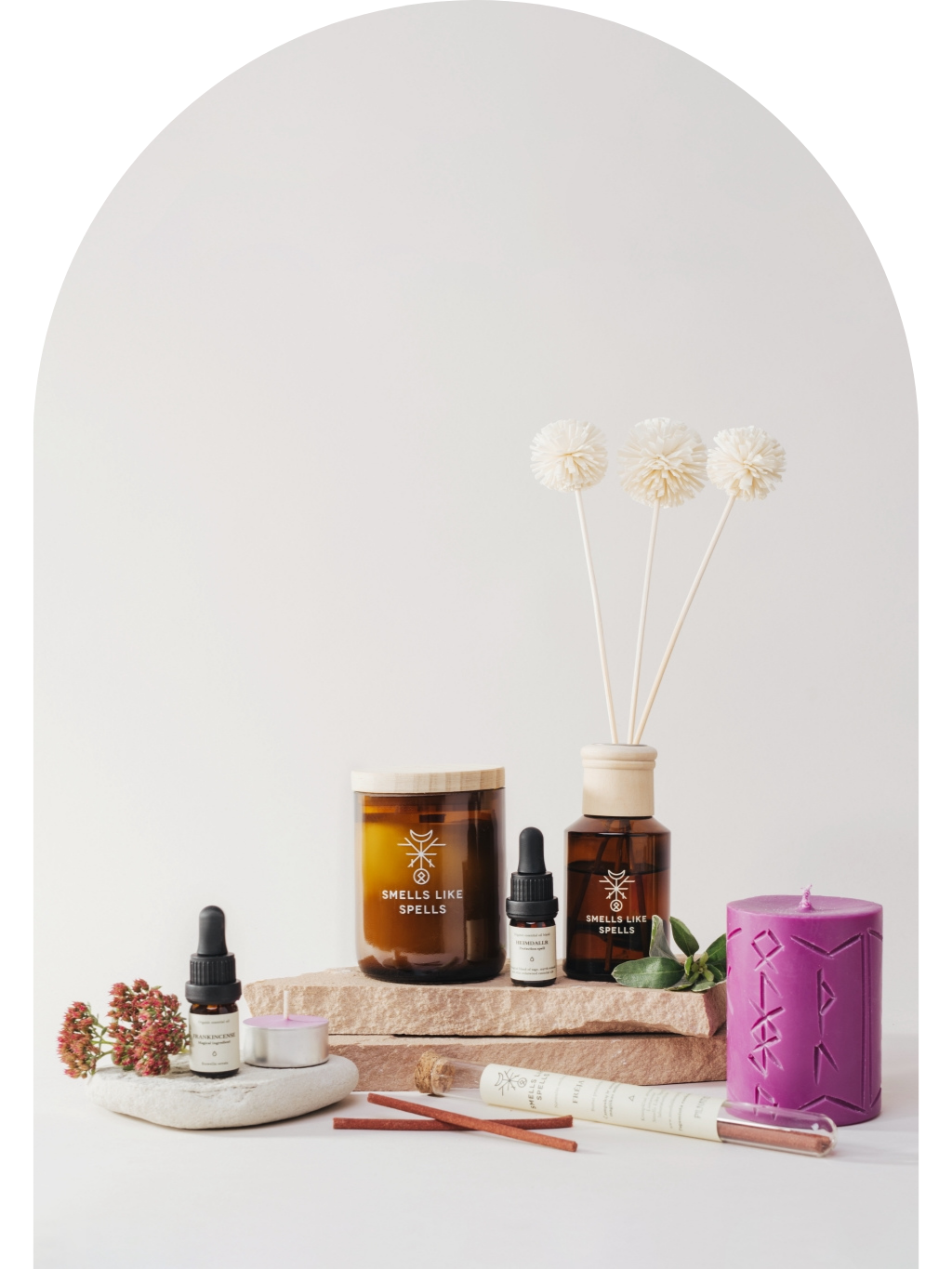 Lithuanian brand Smells Like Spells offers us a selection of magical home goods - candles, incense, essential oil blends - fragranced with incredible natural scents. Each product is handcrafted using traditional folk wisdom combined with modern perfumery, candle, and incense craft methodology.
⥈
Each unique fragrance recipe, rune sign, or color is created or chosen following folk wisdom and magical qualities of plants which could help attract love, abundance, happiness, and luck into your life.
⥈
When you are choosing the magic product for yourself or as a gift, you should answer the most important question: What would you like to wish for yourself or for your loved ones?